English
Published by Malaysiakini, Malay Mail, The Malaysian Insight & Sin Chew, images from Malaysiakini.
The coronavirus crisis may prove to be a turning point for food security in Malaysia. As the pandemic causes border closures and export restrictions, it has exposed our weaknesses in supply chain complexities, the volatility of commodity markets and challenges related to food distribution and delivery.
In these situations, countries that don't want to habitually rely upon global relief must empower their own farmers to grow more crops, yes, but also to store them more efficiently to ensure longer resiliencies.
A combination of critical infrastructure and cutting-edge technology can help normalise volatility in local food markets from shortages due to political sanctions, market inefficiencies, environmental issues or public health crises.
Modern storage technologies radically improve food security, safety and quality by reducing food spoilage, building reserves of commodities and ensuring optimal long-term storage. It balances an urgency to alleviate sudden shortages with the quest for durable solutions.
Over the next decades we must prepare for natural disasters, high population densities, and recurrent waves of new pandemics – all of which highlight the urgent need to build farming systems that are more durable and resilient.
Countries that proactively integrate new methods into their development plans will emerge from this most recent crisis better able to handle the next, and with a superior foundation for sustainable growth.
Nations that have prospered the most economically in the past decades have a few traits in common: their leaderships are clearly committed to self-reliance and good governance; their support for long-term planning that includes public sector commitments to infrastructure; and the use of the latest technologies to encourage support and bring efficiencies to private sector development of agronomical ecosystems.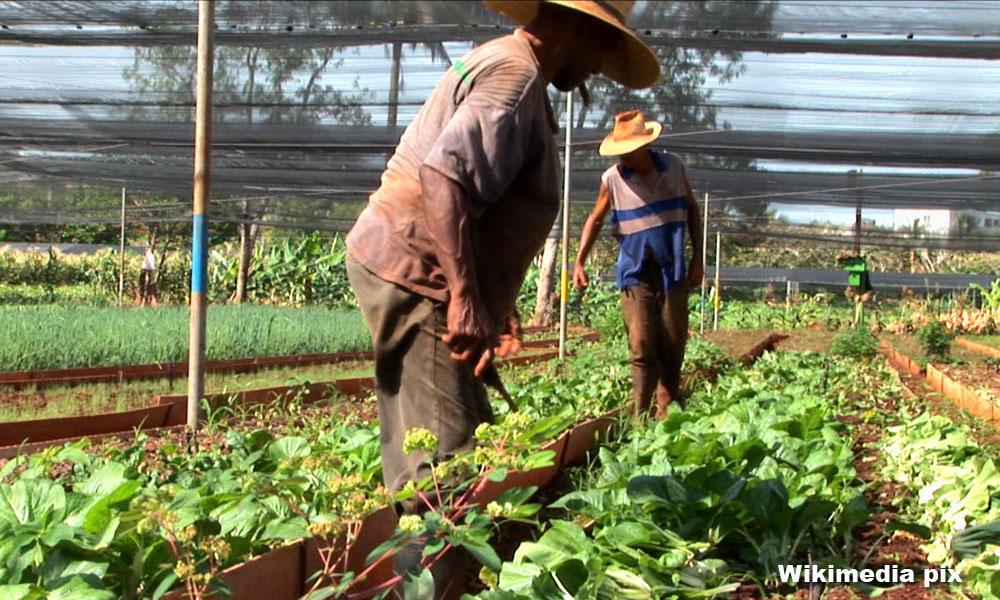 Agricultural development is more holistic when we assess the entirety of the agricultural value chain. A winning strategy integrates the participation of key stakeholders who are responsible and accountable; and requires access to training and education, to adequate inputs and resources, and to finance and markets.
This, in turn, increases the incomes of farmers and improves the operational efficiencies of food processors and manufacturers. Consumers enjoy better quality from food which is locally sourced and benefit from less price volatility from deeper reserves of stored commodities.
The use of advanced storage technologies to stockpile large volumes of grains and pulses (and even other commodities) when production levels are high and prices are under pressure will allow for the purchase of crops when prices are dropping. This same action helps farmers by stabilising prices while concurrently building volumes of stored commodities.
These commodities can be held for years and are accounted for as an asset in the same way assets are treated by a traditional bank.
The end-goal is the creation of a bankable ecosystem which will attract investment from the government, sovereign funds, institutional funds and other private investors – all backed by physical reserves of commodities, which arguably have even more practical underlying value than most fiat currencies do.
During this or any other crisis, nations must take the opportunity to upgrade their agricultural ecosystems to better the lives of their citizens. The time is now for Malaysia to improve its agronomical efficiencies and its storage facilities.
For a better outcome tomorrow, we need to undertake a different approach today. Without which it will be foolhardy to think that we can attain food security, food safety and food sovereignty.
Dr. Rais Hussin is President & CEO of EMIR Research, an independent think tank focused on strategic policy recommendations based on rigorous research.
Bahasa Melayu
Diterbitkan oleh Sinar Harian.
KRISIS koronavirus (Covid-19) mungkin menjadi titik perubahan kepada sekuriti makanan di Malaysia.
Oleh kerana pandemik itu menyebabkan penutupan dan sekatan eksport, ia secara tidak langsung menampakkan kelemahan Malaysia untuk mengatasi kesulitan rantaian bekalan makanan, turun naik pasaran komoditi dan cabaran berkaitan pengedaran serta penghantaran bekalan makanan.
Dalam situasi seperti itu, negara yang biasanya tidak bergantung kepada bantuan global harus memperkasakan para petani mereka untuk menanam lebih banyak tanaman.
Pada masa yang sama, mereka juga harus mempunyai simpanan yang cukup dan berkesan bagi memastikan hasil tanaman mereka dapat bertahan untuk tempoh masa yang lama.
Kombinasi infrastruktur dan teknologi yang canggih amat kritikal dalam membantu menormalkan turun naik harga pasaran makanan tempatan daripada kekurangan bekalan, yang disebabkan oleh sekatan politik, ketidakcekapan pasaran, masalah alam sekitar, atau krisis kesihatan awam.
Teknologi penyimpanan makanan secara radikalnya akan meningkatkan tahap sekuriti, keselamatan dan kualiti makanan dengan mengurangkan kadar kerosakan bekalan makanan, membangunkan simpanan komoditi dan memastikan penyimpanan untuk jangka masa panjang yang optimum. Ini secara tidak langsung akan mengimbangi pengurangan bekalan secara mengejut.
Untuk beberapa dekad lagi, kita harus bersiap sedia menghadapi bencana alam, kepadatan penduduk yang tinggi, kemungkinan kemunculan pandemik baharu yang berulang − kesemuanya menekankan keperluan yang mendesak untuk membina sistem pertanian berdaya tahan.
Negara yang secara proaktif mengintegrasi kaedah baharu ke dalam rancangan pembangunan mereka akan lebih bersedia berhadapan dengan krisis terbaru kelak dan dengan asas yang kukuh untuk pertumbuhan lestari.
Negara yang makmur dari segi ekonomi untuk beberapa dekad yang lepas memiliki beberapa ciri yang sama iaitu kepimpinan komited untuk berdikari dan menjalankan pentadbiran dengan baik; menyokong perancangan jangka masa panjang merangkumi sektor awam terhadap pembangunan infrastruktur dan menggunakan teknologi terkini untuk menyokong dan memberi kecekapan kepada pembangunan ekosistem agronomi swasta.
Pembangunan sektor pertanian menjadi lebih holistik apabila kita menilai keseluruhan rantaian pertanian.
Bantu
Strategi yang berjaya adalah hasil gabungan; penyertaan pihak berkepentingan terutamanya mereka yang bertanggungjawab dan boleh dipercayai dan keperluan akses latihan dan pendidikan serta memenuhi input dan sumber termasuk kewangan dan pasaran.
Ini seterusnya dapat meningkatkan pendapatan petani dan meningkatkan kecekapan operasi pemprosesan dan pengilangan makanan.
Pengguna dapat menikmati kualiti makanan yang lebih baik daripada sumber makanan tempatan dan mendapat keuntungan daripada harga yang lebih rendah daripada rizab komoditi yang lebih mendalam.
Penggunaan teknologi penyimpanan makanan canggih untuk menyimpan bijirin dan kekacang dalam jumlah yang besar (dan komoditi lain) ketika tahap pengeluaran tinggi dan harga di bawah tekanan, membolehkan pembelian tanaman semasa pada harga rendah.
Tindakan itu sama seperti membantu para petani dengan menstabilkan harga pasaran sambil membina jumlah komoditi untuk disimpan.
Komoditi ini dapat disimpan untuk bertahun-tahun dan diambil kira sebagai aset − dengan cara yang sama aset diterima bank tradisional.
Matlamat akhir proses itu adalah untuk mewujudkan ekosistem yang boleh disimpan dalam bank yang akan menarik pelaburan daripada kerajaan, dana mahsul (sovereign funds), dana institusi dan pelabur swasta lain − semuanya disokong rizab fizikal komoditi yang boleh dikatakan mempunyai nilai asas praktikal berbanding mata wang fiat.
Semasa krisis ini atau krisis yang lain, negara harus mengambil kesempatan untuk meningkatkan ekosistem pertanian mereka dalam usaha memperbaiki kehidupan rakyatnya.
Sekarang adalah masa yang sesuai untuk Malaysia meningkatkan kecekapan agronomi dan kemudahan penyimpanan bekalan makanan.
Dr. Rais Hussin merupakan Presiden & CEO EMIR Research, sebuah organisasi pemikir bebas yang berfokuskan kepada pencernaan saranan-saranan dasar strategik berteraskan penyelidikan yang terperinci, konsisten dan menyeluruh.
中文
刊登在:星洲网 (Sin Chew).
冠病危机可能是大马粮食安全的转折点。由于大流行而导致封锁边境和限制出口,曝露了我们供应链的复杂性、原产品市场动荡、以及粮食分配和运送方面的弱点。
在这种情况下,不希望习惯性地依赖世界救援的国家必须让自己的农民有能力种植更多的农作物,是的,而且还必须更有效率地储存农作物,以确保更长的复原能力。
由于政治制裁、市场效率低下、环境问题、或公共卫生危机,关键基础设施和尖端科技的结合可以帮助本地粮食因短缺而出现的市场波动变回正常。
现代储存技术通过减少食物变质、建立原产品储存库、以及确保最佳的长期储存,从根本上改善了粮食安全和品质。在寻求持续解决方案的同时,可以缓解突然短缺的紧迫性。
在接下来的几十年内,我们必须为自然灾害、以及新一波的大流行而做好准备,所有这些都凸显了建立更加持久和更具弹性的农业系统的迫切性。在发展计划中积极整合新方式的国家,将从最近的这场危机中脱颖而出,且能够更好地应付下一场危机,并为可持续增长奠定了良好的基础。
在过去的几十年内,经济发展最为繁荣的国家都有一些共同点:其领导层清楚意识到自力更生和善政;支持长期计划,其中包括公共部门对基础设施的承诺;并利用最新科技来支援和提高私人界农业生态系统的效率。
当我们对整个农业价值链做出评估时,农业发展才会更加全面。制胜的策略必须整合关键利益相关者的参与;提供培训和教育,适当的投入和资源,以及提供财务支援和推广市场。
如此可以增加农民的收入,并改善粮食加工和制造商的运作效率。消费者可以从本地出产的粮食中享有更高的品质,并在拥有更多的原产品储备量时,在受到更少的市场价格波动影响下受惠。
在生产水平高且价格承受压力时,使用先进的储存技术来储存大量的谷物和豆类(甚至其他原产品),将允许我们在价格下滑时购买更多原产品。这样的行动能够在稳定价格的同时增加原产品储存量,从而帮助农民。
这些原产品可以储存数年,并采用传统银行处理资产的相同方式,将这些原产品视为一项资产。
最终目标是建立一个可获利的生态系统,该生态系统将吸引政府、主权基金、机构资金、和其他私人投资者的投资,所有这些都以实际的原产品储存支持,这些原产品甚至比大多数的法定货币有更实际的潜在价值。
在这场危机或任何其他危机期间,各国必须抓住机会来提升他们的农业生态系统,以改善其公民的生活。现在是大马提高农业效率和其储存设施的时候了。为了明天取得更好的结果,我们今天需要采取不同的方式。否则,我们将很难实现粮食安全和粮食主权。
莱斯福贤是EMIR Research的总裁兼首席执行官,EMIR Research是一个独立的智囊团,专注于根据严格的研究提出战略政策建议。
In this article