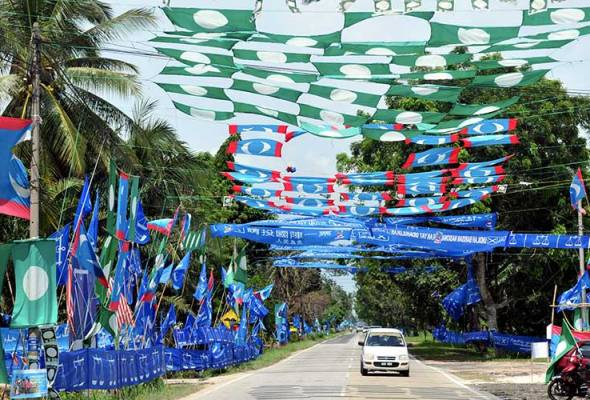 English
Published in Astro Awani, image by Astro Awani.
Although environmental experts and opposition politicians have warned about holding the 15th General Election (GE15) during the monsoon season, caretaker Prime Minister Ismail Sabri Yaakob went ahead to announce the dissolution of Parliament when Malaysians were enjoying the (extended) Prophet Muhammad's birthday holiday on October 10.
During the past few weeks, our weather forecast government agency, i.e., the Malaysian Meteorological Department (MetMalaysia), cautioned numerous times that heavy rain and thunderstorms were imminent during the monsoon transition phase from October to November. Yet, all the warnings and appeals appeared not to be heeded.
Notwithstanding, Yang di-Pertuan Agong Sultan Abdullah Sultan Ahmad Shah has expressed his concern over the readiness level of government agencies to deal with year-end floods.
There is increasing worry that the "imperviousness" of the Umno-led federal government to flood warnings might eventually result in more losses of lives and economic carnage.
We can discern some parallels with the recently released six-episode "High Water" series on Netflix.
"High Water" is based on a true event when Poland experienced one of the deadliest natural disasters, the so-called "Millennium Flood", that took 114 lives away with an estimated economic costs of around USD4.5 billion in 1997 – "masterminded" by none other than climate change.
This, of course, applies equally to our situation in Malaysia as well.
Although the protagonist Jaśmina Tremer, a female hydrologist, had warned the relevant authorities about an impending flood in Wrocław and southwest Poland, her warning was not taken seriously – resulting in much of city and Lower Silesia being underwater.
Back to the off-screen world: Rightfully, the 14th Parliament was only due to expire on July 16, 2023, five years after the first meeting of the first session of Parliament on July 16, 2018.
Nevertheless, when the Yang di-Pertuan Agong consented to the recommendation/request by the then Prime Minister to dissolve Parliament, it paved the way to hold GE15 within this year, meaning before December 9. This is due to the 60-day limit as enshrined under Article 55(4) of the Federal Constitution.
As flash floods started to occur in several states such as Perak, Johor, Pahang and Sabah, does that mean that Malaysians staying in low-lying, flood-prone areas have to wade through knee-length (or even waist level) waters or even row rubber dinghies just to reach the polling centre to cast votes for their desired candidate or political party during this GE15?
Since the dissolution of Parliament, our local Twitterati have sarcastically commented that people need life jackets, life buoys, boats and rafts in order to fulfil their civic duty of voting. Alongside this were cartoons mocking and parodying those political leaders who have been gung-ho in wanting to have a GE amidst the monsoon season.
With these additional hassles, does that imply the monsoon season will be an obstacle for Malaysians to vote that will contribute to a lower voter turnout at GE15, as per Melaka, Johor and Sarawak state elections?
The latest Melaka, Johor and Sarawak state polls recorded voter turnouts below 70 per cent – at 65.85 per cent, 54.92 per cent and 60.67 per cent, respectively.
Although 173,177 youths aged between 18 and 20 were eligible to cast their ballots during the Johor state election on March 12, the Undi18 implementation failed to mobilise many young Johoreans, resulting in even lower voter turnout than Melaka and Sarawak.
Part of the reason contributing to low voter turnouts mainly arose from the sudden call of state elections.
Many residing in other states or overseas (like Singapore) could not return to their respective state constituencies to cast votes. Some voters were also disillusioned with the political instability and discord, which discouraged them from voting.
Many even have come (or lapsed back) to the conclusion that no matter which apple they choose, it does not make any difference.
They feel disappointed with the service quality of some of the elected representatives whether from Barisan Nasional (BN), Perikatan Nasional (PN) or Pakatan Harapan (PH), for instance. And furthermore, none of the political coalitions are seen as capable of addressing the economic woes of the rakyat.
While Malaysia is trying to get back on the track of economic recovery, the Russia-Ukraine war, extreme weather patterns, China's zero Covid policy, impact of the Fed's aggressive interest rate hikes, etc. are some of the global crises which continue to prevent many from reverting to pre-pandemic levels.
Due to the unusual and increasing volume of rainfalls over the past months, some Malaysians stay in low-lying, flood-prone areas with no option but to absorb unmitigated costs and damages from flooding – affecting necessities such as electrical appliances, furniture and cars.
Moreover, the continuously depreciating ringgit and rising food price inflation have drastically reduced disposable income among middle- and low-income Malaysians. They have started to feel the pain of needing to spend more money out of their pockets due to increasingly expensive imported food and goods.
Thus, the climate change threat has become a very concerning issue due to the impact on the severity of flooding.
Flood damages will further shrink people's available income to spend. Not only do they have to pay more in terms of food, but they also have to fork out more money to repair their cars and repurchase home furniture.
Eventually, they may reduce the amount of food intake or sacrifice their nutrition intake to survive.
Furthermore, the overnight policy rate (OPR)'s triple hike this year (so far) has worsened situation by compelling more vulnerable Malaysian households to pay additional accrued interest for their housing and car instalments (on a monthly basis).
As the current OPR has increased by 0.5% (from 2% in May to 2.5% in September), more Malaysian individuals and families are expected to be vulnerable in managing various expenses ranging from utilities and food to children's education.
A 0.25% increase in OPR for an RM500,000 home loan with a 30-year tenure implies that Malaysian households have to pay an additional RM71 monthly instalment. Over a 30-year period, the borrower has to pay an additional RM25,560 in total for interest payments.
Free Malaysia Today reported on October 18 that economic stability and job security are the "rice bowl" issues that concern young voters the most.
Political analyst James Chin opined that young people are relatively more worried about their future prospects due to the pandemic, as they are just starting out their adult lives and career in an unpromising and dampened economic environment.
Despite food and income accessibility having worsened since the emergence of the Covid-19 pandemic, Budget 2023 did not emphasise how to generate more revenue for the rakyatto better cope with the risks associated with extreme weather events (particularly floods) and increasing costs of inflation.
Thence, GE15 is an opportune time for political parties/coalitions to think about feasible solutions associated with these issues.
In order to win the hearts of the voters once again and ensure that they go out to vote during this GE15, an important national election that will determine the direction of the country for the next decade, at least, climate change, food and income are major issues that political parties/coalitions should champion as the core themes of their electoral pledges.
Following are some policies that politicians could consider introducing during their campaign period:
Instead of continuously turning empty land into commercial or residential building development projects, political parties/coalitions could propose more green spaces – acting as urban water (artificial) "catchment" areas and sponges to divert excess water from the heavy downpours.
Parks, walking trails and community gardens are the green lungs that could integrate the natural environment well with the built environment. Residents also could relax their minds with jogging, walking and cycling activities.
However, to minimise frequent flash flood occurrences, political parties/coalitions have to express commitment to improving the carrying capacity of rivers and drains – either widening, deepening or both.
Political parties/coalitions could introduce food aid vouchers (both paper and electronic/digital) among the B40 and the hardcore poor households and individuals.
In ensuring low-income groups have sufficient access to nutritious food (i.e., eggs, vegetables, chicken and rice), political parties/coalitions could work alongside private sector donors to specify the food items that could be claimed with food vouchers from the supermarkets, hypermarkets, etc.
Via fostering public-private partnerships (PPPs), food aid vouchers can be a form of initiative that would reduce the financial burden of low-income earners.
With lesser money needed to spend on food, vulnerable and struggling households could allocate money to purchase digital devices, Internet data and upskilling courses, among others, that could enhance their employability, and business prospects if they wish to become entrepreneurs.
Instead of encouraging Malaysians to look for gig economy jobs (i.e., e-hailing drivers or delivery riders), political parties/coalitions have to show their aspiration to create more high-skilled, high-income jobs in major cities such as Kuala Lumpur, Petaling Jaya, Georgetown, Johor Bahru, Kuching and Kota Kinabalu.
However, high-skilled job creation has to come with a great emphasis on research & development (R&D), whereby academia and industries can identify the latest industrial trends in a strategic collaboration with the government.
Designing jobs based on current market demand would enhance the country's productivity. At the same time, it would raise the disposable income level of Malaysians, enabling Malaysia to move towards a high-income nation in the next decade or so.
For Malaysians in rural areas, handicraft and other related survival skills workshops would enable them to sustain themselves economically without leaving their villages.
A "one kampung, one industry" agricultural development policy could also be initiated to improve the earning prospects of rural folks.
Nonetheless, effective monitoring mechanisms are required to ensure the policies are implemented based on the desired input (I), output (O), outcome (O) and impact (I).
The IOOI model framework has always been advocated by EMIR Research (see Figure 1: Input-Output-Outcome-Impact model).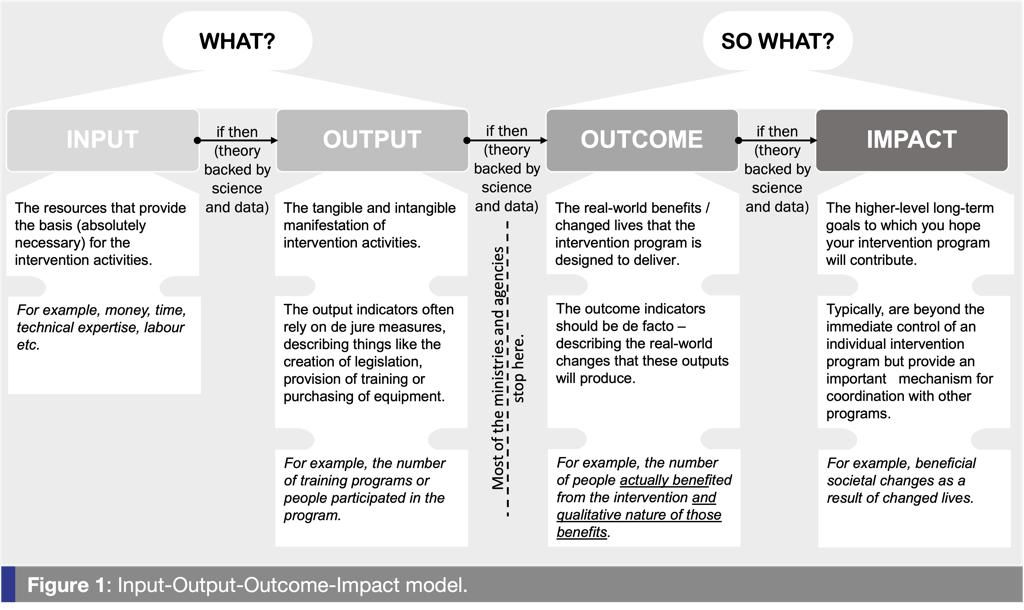 Let us pray that Malaysia will have stable and good governance after GE15, enabling the country not to fall into a quadruple whammy – of climate change, pandemic, recession and inflation and, hence, possibly stagflation.
Amanda Yeo is Research Analyst at EMIR Research, an independent think tank focused on strategic policy recommendations based on rigorous research.
In this article