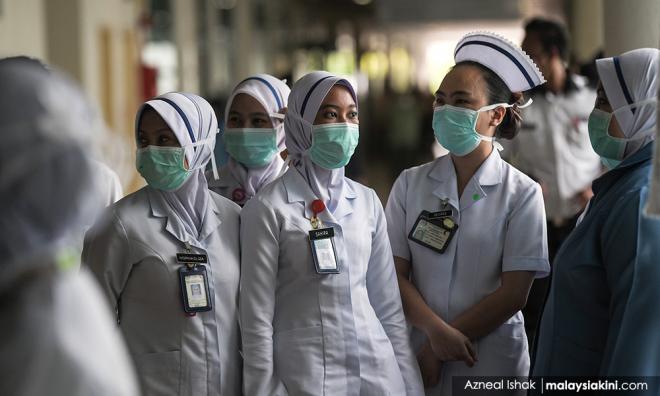 English
Published by Malaysiakini, images from Malaysiakini.
Combating a highly infectious virus such as Covid-19 requires the coming together of people as one nation determined to give their best in a concerted effort to curb the spread of and ultimately, exterminate the virus.
What this means is the time has come for politics to be left on the backburner, along with criticisms that were done for the sake of putting down the authorities, as the situation is indeed very critical because of the triple digits growth in the number of new cases for the past several days – which also seen the first two deaths – with total infections ballooning to 790 as of March 18.
Let's put the issue of why Pakatan Harapan menteri besars and chief ministers were left out of a special meeting to coordinate enforcement of the movement control order (MCO) in all states behind us, together with the issue of the lack of thinking through in introducing some measures related to the order.
Instead, let us focus on the rationale on why the order was introduced in the first place.
To sum it up, the order was introduced to flatten the curve on the spread of Covid-19. Simply put, this means to reduce the spread of the virus by influencing its transmission rate to below one.
Transmission of the disease is measured using the effective reproduction number (otherwise known as R), which tells us how many other people a typical Covid-19 case will infect on average.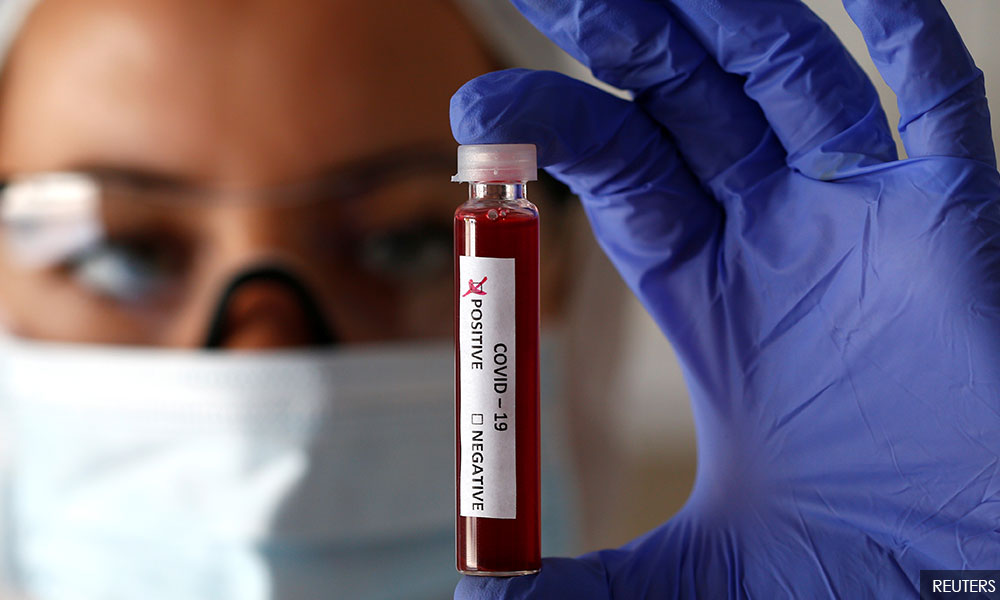 If one person is expected to infect more than one other person, the infection will grow and create an outbreak. If a person infects less than one other, the infection will peter out.
Thus, the larger the value of R, the easier the virus spreads through a population and the higher the number of infections. For seasonal flu, experts estimate one infection leads on average to 1.4 new infections.
For Covid-19, one infection leads to 2-3 others in the early stages of an outbreak and we were there at that early stage. Now, one study has estimated the latest reproduction number for Malaysia is 8.8.
This is very serious, and the government must be commended for introducing the MCO. The order, in a nutshell, consists of several social distancing measures aimed at reducing the number of contacts between people, each of which is an opportunity for passing on an infection.
And unlike the lockdown in Wuhan or Italy, the government is implementing the order with some form of mercy. People are still allowed to go out to buy food (but no dining-in, please), and travel within a state is also allowed (no balik kampung, please).
As individuals, we must all reduce the number of different people we come into contact with daily and be prepared to do so for a prolonged period, as long as the reproduction number is above one.
This is the most important thing to bear in mind. Let's use common sense about this.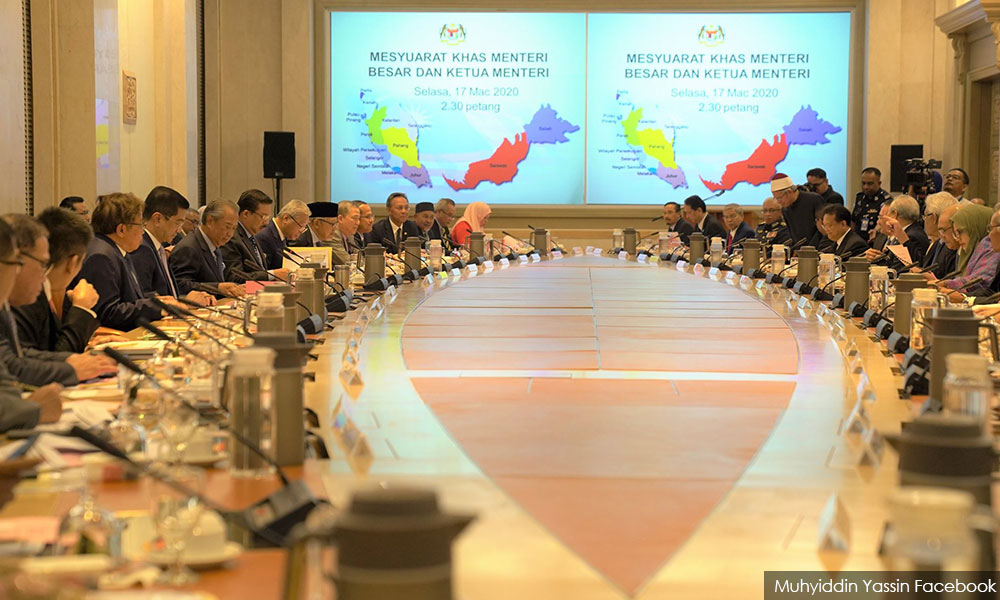 Will fretting about the absence of Pakatan's MBs and CMs in the coordination meeting help in social distancing? Will criticising the police endlessly for making it a requirement for people who want to travel interstate collect forms at the police stations and seek their permission, which had caused the formation of crowds at police stations, help in social distancing? Obviously, all these do not help.
What is helpful is to convince those you know who have attended the tabligh event at Sri Petaling Mosque to report to the health authorities so that they can be quarantined or tested for Covid-19.
There were an estimated 14,500 Malaysians at the event and so far, only 8,776 of them had been identified. Where are the rest – some 5,724? They are time-bombs that might cause the reproductive number to move north if their identities are not known or identified.
As of March 15, out of those who had been identified, 7,633 had already undergone screening. This leaves 1,143 (8,776 minus 7,633) of those identified who were not screened. Again, what happened to them? Are they not screened because they did not report to the nearest health centres?
Meanwhile, out of those who had been screened, 3,439 had been tested. What happened to the remaining 4,194 (7,633 minus 3439)? Were they not tested because the hospitals and clinics were being overwhelmed by being inundated with screenings and testing?
Out of those tested, 338 were positives, 934 were negatives, while 2,273 had their results pending. The total of those admitted to hospitals were 526 while those under home surveillance were 5,652.
It is now clear and meaningful why under the MCO, all houses of worship are put on lockdown.
In the case of the tabligh cluster, those attending the religious event were definitely practising Muslims who prefer to perform the five obligatory daily prayers in a congregation at a mosque rather than at home, because the reward for doing so is 27 times more than doing them individually at home.
The point is, during a time of pandemic when mosques are not closed, these 5,724 missing in action tabligh participants – who are still not identified – will prefer to do the five daily prayers congregationally at mosques and the implication is clear – mosques will become one of the clusters for the spread of the Covid-19 virus.
With the closure of mosques under the MCO, these people will be at home and their identities will be known once they or their family members show symptoms.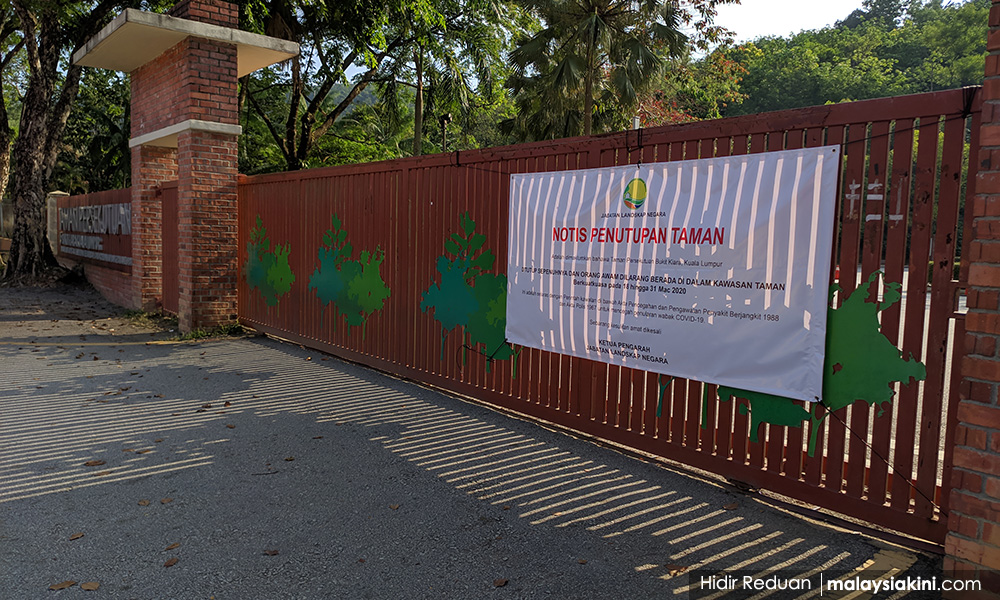 So, the MCO is not about a simple case of just cancelling events and closing schools for a couple of weeks. It's about keeping ourselves at home to prevent the spread of the virus, while the authorities continue to track those infected who remain unidentified or refuse to report to the health services.
In the meantime, if this order is not successful in bringing the reproduction number of Covid-19 to below one, the order could be extended as clearly explained by Prime Minister Muhyiddin Yassin in his address to the nation last night.
In fact, I would expect more severe measures will be necessary to bring infections to low enough levels to keep the pressure off the healthcare system in the long run.
In this regard, it is urgent and necessary that all must come together as one people and one nation to combat this virus. All must cooperate. All must complement each other.
Jamari Mohtar is Director of Media & Communications at EMIR Research, an independent think-tank focused on strategic policy recommendations based upon rigorous research.
Bahasa Melayu
Diterbitkan oleh Berita Harian.
MEMBANTERAS virus seperti COVID-19 memerlukan kebulatan tekad bersama sebagai satu bangsa dan satu negara dalam memberikan usaha bersepadu terbaik demi mengekang penyebaran yang akhirnya membasmi sama sekali wabak berkenaan.
Ini bermakna masanya sudah tiba untuk membelakangkan politik berserta kritikan yang hanya semata-mata untuk memperkecilkan pihak berkuasa, memandangkan keadaan kritikal yang menyaksikan bilangan kes baharu berada dalam tiga angka buat empat hari berturut-turut hingga akhirnya mengorbankan dua jiwa dengan jumlah jangkitan meningkat kepada 1,030 kes pada hari ini.
Lantaran itu, marilah kita meletakkan isu kenapa Menteri Besar dan Ketua Menteri Pakatan Harapan (PH) tidak disertakan dalam mesyuarat khas penyelarasan penguatkuasaan Perintah Kawalan Pergerakan di belakang.
Sebaliknya, marilah kita memberi tumpuan kepada tujuan sebenar Perintah Kawalan Pergerakan diperkenalkan pada mulanya.
Secara ringkas, perintah itu diperkenalkan dengan tujuan meratakan lengkung (flatten the curve) pada penyebaran COVID-19. Secara mudah, ini bermakna mengurangkan penyebaran virus mempengaruhi kadar jangkitannya pada tahap kurang dari 1.
Jangkitan penyakit diukur menggunakan nombor pembiakan sebenar (atau dikenali sebagai R) yang memberitahu kita berapa banyak lagi orang lain yang akan dijangkiti secara purata oleh seorang pesakit biasa COVID-19.
Sekiranya seseorang pesakit dijangka menjangkiti lebih daripada seorang lagi, jangkitan akan merebak dan mencetuskan wabak; jika seseorang pesakit hanya menjangkiti kurang daripada seorang lagi, jangkitan akan berkurangan.
Oleh itu, semakin besar nilai R, lebih mudah virus merebak dan lebih tinggi lagi bilangan jangkitan. Untuk selsema bermusim, pakar menyimpulkan satu jangkitan akan membawa kepada purata 1.4 jangkitan baharu.
Bagi COVID-19 pula, satu jangkitan akan membawa kepada dua hingga tiga orang lain dijangkiti di peringkat awal wabak dan inilah dialami Malaysia pada peringkat awal. Kini satu kajian menganggarkan nombor pembiakan terkini untuk Malaysia ialah 8.8.
Ini sangat serius dan kerajaan mesti dipuji kerana memperkenalkan Perintah Kawalan Pergerakan. Ia terdiri daripada beberapa langkah penjarakan sosial (social distancing) yang bertujuan untuk mengurangkan bilangan kontak atau pertemuan antara orang yang setiap seorang masing-masing adalah peluang untuk penyebaran jangkitan.
Dan tidak seperti penguncian kota Wuhan atau Itali, kerajaan melaksanakan perintah itu dengan penuh ihsan. Orang ramai masih dibenarkan keluar membeli makanan (tetapi jangan makan di sana) dan perjalanan dalam negeri kerana sebarang kecemasan dibenarkan (tetapi jangan balik kampung).
Sebagai individu, kita semua mesti mengurangkan bilangan orang yang kita temui setiap hari dan bersedia untuk melakukannya untuk tempoh masa lama, selagi nombor pembiakan virus Covid-19 berada di atas angka 1.
Ini adalah perkara paling penting untuk diingat. Mari kita gunakan akal berkenaan dengan ini.
Adakah mengungkit-ungkit mengenai ketiadaan MB dan CM PH dalam mesyuarat penyelarasan dapat menghasilkan penjarakan sosial? Atau mengkritik polis tanpa kesudahan kerana mewajibkan perjalanan antara negeri memerlukan persetujuan pihak berkuasa melalui pengisian borang yang mengakibatkan ramai orang ke balai polis dapat menghasilkan penjarakan sosial? Jelas sekali, semua ini tidak membantu.
Apa yang dapat membantu adalah untuk meyakinkan orang yang kita kenali yang menghadiri acara tabligh di Masjid Seri Petaling untuk melaporkan kepada pihak berkuasa kesihatan supaya mereka dapat dikuarantin atau diuji untuk COVID-19.
Sekitar 14,500 rakyat Malaysia dianggarkan menghadiri acara itu dan sejauh ini 10,650 daripada mereka berjaya dikesan, hasil kerja keras pihak berkuasa. Namun, di mana bakinya – sekitar 3,850? Mereka adalah 'bom masa' yang mungkin menyebabkan nombor pembiakan meningkat jika kewujudan mereka tidak diketahui atau dikesan.
Dalam catatan Facebook Ketua Pengarah Kesihatan, Datuk Dr Noor Hisham Abdullah, beliau berkata: "10,553 orang jemaah tabligh yang menghadiri perhimpunan di Masjid Jamek Seri Petaling telah diperiksa, 4,986 sampel diambil dan 513 positif.
"Salah seorang jemaah tabligh berusia 34 tahun meninggal hari sebelumnya. Kementerian Kesihatan menggesa jemaah tabligh yang belum datang untuk pemeriksaan untuk tampil ke hadapan untuk diperiksa oleh Kementerian Kesihatan."
Ia kini menjadi jelas dan lebih bermakna mengapa di bawah Perintah Kawalan Pergerakan, semua rumah ibadat ditutup.
Dalam kes tabligh, mereka yang menghadiri acara agama pastinya mereka yang soleh dan memilih untuk melaksanakan lima solat wajib sehari dalam berjemaah di masjid dan bukan di rumah kerana ganjaran untuk berbuat demikian adalah 27 kali lebih banyak daripada melakukan secara individu di rumah.
Apa yang perlu digarap ialah semasa wabak ketika masjid tidak ditutup, 3,850 orang yang menyertai acara tabligh yang masih belum dikesan akan lebih suka melakukan solat lima waktu berjemaah di masjid, menjadikan masjid sebagai salah satu kelompok untuk penyebaran virus COVID-19 virus.
Dengan penutupan masjid di bawah Perintah Kawalan Pergerakan, orang ini akan berada di rumah dan identiti mereka akan diketahui apabila mereka atau ahli keluarga mereka menunjukkan tanda-tanda dijangkiti.
Oleh itu, Perintah Kawalan Pergerakan bukanlah semata-mata perkara mudah untuk membatalkan acara dan menutup sekolah selama beberapa minggu.
Ia perintah penting untuk senantiasa berada di rumah dalam suasana wabak demi mengelakkan penularan dalam penyebaran virus, sementara pihak berkuasa terus mengesan mereka yang masih belum dikenali atau enggan melaporkan kepada pihak berkuasa.
Sementara itu, jika perintah ini tidak berjaya membawa nombor pembiakan COVID-19 ke bawah 1, perintah itu dapat dilanjutkan tempohnya seperti dijelaskan Perdana Menteri, Tan Sri Muhyiddin Yassin dalam perutusannya sebelum ini.
Malah, saya menjangkakan langkah lebih tegas lagi perlukan untuk membawa jangkitan ke tahap yang cukup rendah untuk mengurangkan tekanan jangka panjang kepada sistem kesihatan kita.
Lantaran itu adalah amat genting dan penting untuk kita semua merapatkan saf dalam suasana satu bangsa dan satu negara untuk memerangi virus ini.
Semua mesti bekerjasama. Semua mesti saling melengkapi. Dan akhir sekali semua mesti duduk di rumah!
Jamari Mohtar ialah Pengarah, Media dan Komunikasi di EMIR Research, sebuah organisasi pemikir bebas yang fokus kepada pencernaan saranan-saranan dasar strategik berteraskan penyelidikan yang terperinci, konsisten dan menyeluruh.
In this article