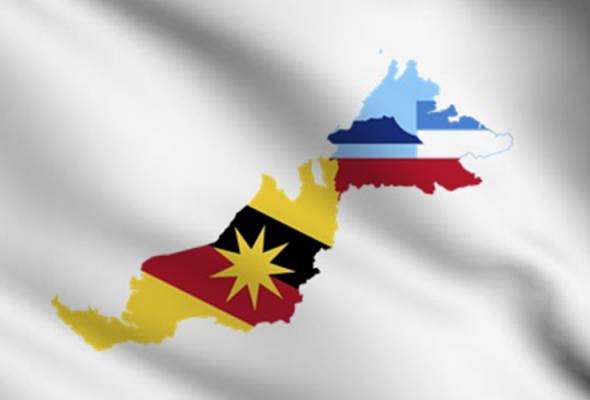 Englis
Published in Astro Awani, and Asia News Today, image by Astro Awani.
While the call to allocate more parliamentary seats for Sabah and Sarawak has gained traction and momentum, the income and development disparity between Peninsular and East Malaysia remains a primary obstacle to the forging and fostering of a closer and more unified relations between the two regions of the nation.
Currently, East Malaysia is allocated 56 parliamentary seats, with Sarawak having 31 and Sabah with 25. The endorsement from the Special Council on the Malaysia Agreement 1963 (MKMA63) would (further) empower the push for the 78 parliamentary seats (35 per cent out of 222 parliamentary seats) to finally see the light of the day.
However, Sabah and Sarawak still face enormous challenges in enjoying better access to basic infrastructure – ranging from water, electricity, and well-paved roads to health and education facilities.
The Covid-19 pandemic further exacerbated the difficulties among rural Sabahans and Sarawakians in accessing digital content. Children in rural districts of Sabah and Sarawak cannot follow up on the learning syllabuses due to insufficient digital infrastructure. They also have to share electronic devices such as mobile phones or laptops with their parents and siblings.
As a result, many rural Sabahans and Sarawakians are disconnected from the outside world, posing additional barriers to communicating with family members across the South China Sea, especially those working and living in the Peninsular.
Dietary constraints also indirectly result in an existential barrier between West and East Malaysians getting along and fraternising together on a deeper and more meaningful level.
Although the three main ethnic groups in Malaysia can have and enjoy cross-communal dining activities during special occasions or festivities, nonetheless when it comes to the regular rhythm of life and as a matter of routine lifestyle, West Malaysian Malays and Muslims usually choose to have their meals in halal-certified restaurants only when eating out for obvious reasons.
In Sabah and Sarawak, the culture is slightly different. Most Malays living in East Malaysia can accept dining in non-halal-certified restaurants provided halal food is also available in the same place. They also do not mind Chinese, Indians, Kadazan-Dusun (as representing the non-Muslim Bumiputera Sabah) and Ibans (as representing the non-Muslim Bumiputera Sarawak), etc. drinking alcohol and eating pork over the meal session within the same location/site.
As there is a substantial difference in social conditions and culture between Peninsular and East Malaysia, there also exists the perception and view that West Malaysians have never been able to appreciate the more diverse and inclusive cultural dynamics and customs of Sabah and Sarawak.
On the other hand, Sabahans and Sarawakians view West Malaysians with a degree of suspicion, especially vis-à-vis federal government officials and politicians who are perceived to tend to "impose" their worldview and bring their institutional and political culture into Sabah and Sarawak, which is alien to the local setting.
Many Sabahans and Sarawakians see this imposition and dominance of West Malaysia as a form of colonisation.
Although Gabungan Parti Sarawak (GPS) has successfully re-branded its political identity and image by putting forward the concept and motto of "Sarawak First", Sabah, on the other hand, is still struggling to move away from Peninsula influence.
To date, the GPS-led state administration purely consists of local parties such as Parti Pesaka Bumiputera Bersatu (PBB), Sarawak Peoples' Party (PRS), Progressive Democratic Party (PDP) and Sarawak United Peoples' Party (SUPP).
In contrast, the Sabah state administration comprises not only local parties such as Parti Bersatu Sabah (PBS), Parti Solidariti Tanah Airku (STAR), Sabah Progressive Party (SAPP) and United Sabah National Organisation (USNO), but also peninsula-based parties such as Parti Pribumi Bersatu Malaysia (Bersatu), United Malays National Organisation (UMNO), Malaysian Chinese Association (MCA), Parti Islam Se-Malaysia (PAS) and Parti Gerakan Rakyat Malaysia (Gerakan).
Although the current Chief Minister of Sabah Datuk Seri Hajiji Noor constantly claims that Gabungan Rakyat Sabah (GRS) is a local party coalition fighting for Sabahan rights, the alliance itself is not Sabah-based, by its very nature. Bersatu – the leading coalition party – is a peninsula-based party.
Despite the different political narratives between Sabah and Sarawak, both states, in general, are blessed with a multi-ethnic and multi-religious population as well as enthralling natural beauty of the landscape (not least of the mountains, hills, cavern terrain, etc.) and seascape, not to mention abundance of land for food production.
At present, the total land area of Sabah and Sarawak is larger than entire Peninsular Malaysia. Sabah and Sarawak (including the Federal Territory of Labuan) have a total land area of 198,100 square kilometers (km²), accounting for 60 per cent of the total area of Malaysia.
This is why the United Progressive Kinabalu Organisation (UPKO) President Datuk Seri Panglima YB Wilfred Madius Tangau has called for East Malaysia to be acknowledged as the mainland of the nation.
But, as it is, the richness and wealth in natural resources have rung hollow for the vast majority of Sabahans and Sarawakians.
Although both East Malaysian states contribute tens of billions of ringgit of oil revenue to the federal government every year, Sabah and Sarawak have not reaped the many economic benefits, much less the spill-over effects, from the oil and gas production.
Taking Budget 2022 as an example, Peninsular Malaysia still received the most development allocation – at RM322.3 billion.
On the flip side, Sabah and Sarawak only received a mere 3 per cent of the total development allocation.
Sabah collected 1.6 per cent of total development allocation (RM5.2 billion), while Sarawak got 1.4 per cent of total development allocation (RM4.6 billion).
Thus, when comparing the annual development funding between Peninsular and East Malaysia, the federal government still focusses on and prioritises the interests of Peninsular Malaysia.
Fair financial allocation and development budget would gradually enhance the relationship between Peninsular and East Malaysia.
The current administration could consider allocating state development grants based on the total land area of each Malaysian state during the tabling of Budget 2023 on October 7, bridging the development gap between Peninsular and East Malaysia effectively.
When Sabah and Sarawak have enough development funding to build basic infrastructure, both East Malaysian states could catch up with the development pace of Peninsular Malaysia.
In the next decade or so, Malaysia could benefit by drawing more revenue from Sabah and Sarawak.
The Department of Statistics Malaysia (DOSM) shows that Kuala Lumpur (including Putrajaya), Selangor, Penang, Johor, Sabah and Sarawak's gross domestic product (GDP) share in 2021 are at 16.7 per cent, 24.8 per cent, 7.1 per cent, 9.6 per cent, 6.7 per cent, and 9.6 per cent, respectively.
With plenty of land available in Sabah and Sarawak, East Malaysian states could contribute more economic benefits to Malaysia through agriculture, manufacturing and tourism industries. The combined future GDP share of Sabah and Sarawak could even surpass the current GDP share of the Klang Valley (i.e., Kuala Lumpur, Putrajaya and Selangor) at 41.5 per cent.
On this coming Malaysia Day 2022 on Friday (September 16), all the political leaders should continue advocating for the ongoing struggles of Sabahans and Sarawakians so that they are not "deprived" of access to good basic infrastructure.
We should bear in mind the rapacity displayed in the case involving the former Prime Minister's wife, Datin Seri Rosmah Mansor, which has led to the failure of the RM1.25 billion solar hybrid power system to be installed in 369 rural schools in Sarawak.
Not to forget the remaining four issues that have yet to be resolved under MA63.
One of these is the respective territorial rights of Sabah and Sarawak over their continental shelves (i.e., the coastal land or seafloor submerged under waters as self-limited by a certain level of depth), including the sea, the seabed and the subsoil, which are the layer of soil underneath the seabed.
The remaining three issues include oil royalty issues and petroleum cash payments, oil minerals and oil fields, as well as the Territorial Sea Act 2012 [Act 750].
Ideally, Sabah and Sarawak's exclusive control of the continental shelves should be up to 200 nautical miles. Nonetheless, through legal manoeuvrings by the federal government, both East Malaysian territories have only up to 12 nautical miles from their shores.
And then the Territorial Sea Act 2012 [Act 750] went further to delimit Sabah and Sarawak's control of its seabed/continental shelf to only three nautical miles (5.5km) from the coast.
Although a huge mistake was made in the 1976 Petroleum Agreement, Sabah and Sarawak still have the full autonomy to regain control of their continental shelves by challenging the Territorial Sea Act 2012 [Act 750] as unconstitutional and contrary to the Malaysia Agreement of 1963.
Therefore, regaining control of the continental shelves of Sabah and Sarawak should come along by rejecting the Territorial Sea Act 2012 [Act 750].
Opposing the Territorial Sea Act 2012 [Act 750] would enable Sabah and Sarawak to expand their economic potential by building more oil refineries within their states, among other policy measures to boost economic and infrastructural development.
In a nutshell, Sabah and Sarawak leaders should always bear in mind the commitments listed under MA63 and voice out on behalf of the people, ensuring Sabahans and Sarawakians are able to enjoy the welfare and benefits that they deserve.
Sabahans and Sarawakians would feel a stronger sense of belonging in their beloved country, Malaysia which in turn further strengthens national unity and nation-building.
Finally, East Malaysian leaders should constantly champion an "ideology" of love and tolerance and total acceptance of the differences to be fully emulated by Peninsular Malaysia. Thence, West Malaysians, like their East Malaysia compatriots, can come to embrace the beauty of cultural inclusivity and plurality which, in effect, is the character of the nation at its heart.
Amanda Yeo is Research Analyst at EMIR Research, an independent think tank focused on strategic policy recommendations based on rigorous research.
In this article