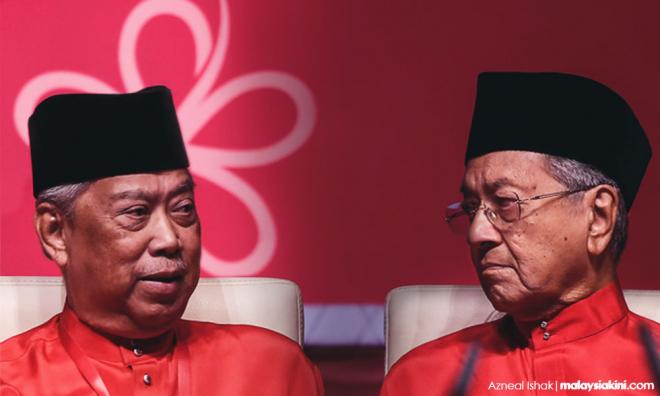 English
Published by Malaysiakini, images from Malaysiakini.
While Malaysia is now at a crossroads with its government trying its best to balance between life and livelihood during this difficult time, history seems to be repeating itself when the country once again is on the brink of a political crisis with politicians still trying to play their Game of Thrones by calling for a vote of no confidence against the government amid the Covid-19 pandemic.
Let's review the situation when the politicians first played their political game in late February. At that time, Covid-19 was just an outbreak that had not been declared yet by the World Health Organisation (WHO) as a pandemic.
From Feb 15 to Feb 27, the total number of infections remained at 22 cases before it went up to 25 cases on Feb 28. This means there was zero new infection from Feb 16 to Feb 27 (a total of 12 days of zero new case) before the new infections went up to three cases on Feb 28.
Remember that from Feb 24 to March 1, those were the days when the Game of Thrones was enacted by the politicians resulting in a political crisis that ended up with a new prime minister being duly sworn-in on March 1. There was nothing extraordinary then because on March 1, new Covid-19 cases went up by four, making total infections at 29 cases and the new cases thereafter were still at a one-digit figure.
What was extraordinary then, was the resignation of Dr Mahathir Mohamad on Feb 24 as prime minister and his immediate appointment as interim PM, and the government operating on standby mode with no cabinet ministers.
It was during this "vacuum" that the fateful tabligh event was organised at the Sri Petaling Mosque attracting the attendance of some 14,500 people from Feb 27 to March 1, with March 1 being the day that WHO declared the Covid-19 outbreak as a pandemic.
The upshot of all these was after March 1, total daily infections spiked from a two-digit figure (29 total cases) to a three-digit one beginning March 9 (117 total cases) and a four-digit figure on March 20 (1,030 total cases).
While daily new cases followed likewise from one digit on March 1 (four new cases) to two digits on March 4 (14 new cases) and went on to spike to a three-digit figure on March 15 (190 new cases), with the first deaths on March 17 (two deaths).
It was the bold decision of the government then in introducing the unprecedented movement control order (MCO) on March 18 (total cases at 790, new cases at 117) that finally brought down new infections back to a two-digit number on Apr 15 (85 cases).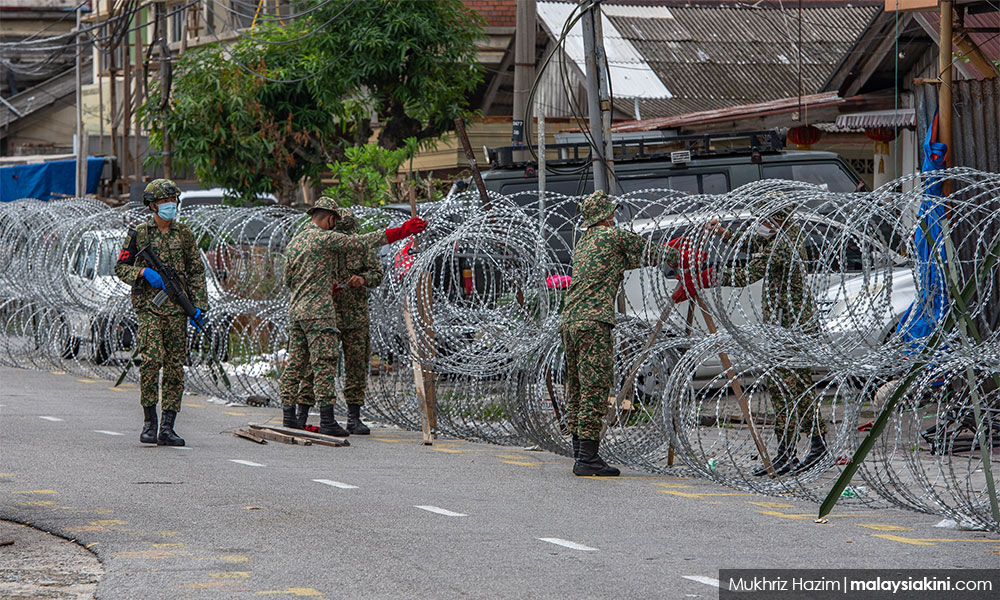 As of May 9, new infections are at 54 cases (still at double digits) while the total infection is at 6,589; fatalities at 108; and 4,929 have recovered, leaving us with just 1,552 active cases including 18 in ICU.
Malaysia has still a long way to go for as long as we don't see a single-digit new infection soon, especially when vaccines and effective medications are still a long shot from coming into the market.
Although not out of the woods yet, the situation has improved a lot, with the government introducing a conditional MCO with some relaxations on May 4 in order to restart the economy by opening it on a controlled basis.
The government did this because the MCO has cost the country some RM63 billion in economic losses while facing the grim reality of Malaysia's unemployment rate spiking to 3.9 percent in March, with the number of unemployed persons increasing 17.1 percent year-on-year to 610,500, based on the latest statement of Chief Statistician Mohd Uzir Mahidin on Friday (May 8).
This compares with the unemployment rate of 3.3 percent in February, and with that the Department of Statistics Malaysia (DOSM) said the unemployment rate in the first quarter of 2020 (1Q20) also rose to 3.5 percent – the highest since 2Q17.
Although there is really a pressing need to address the economic or livelihood dimension, the government is still mindful of the public health safety dimension. This is because of the real possibility of a second wave of infections, which could be more severe, that is expected to occur if all the new norms pertaining to social distancing and personal hygiene are abandoned by the rakyat.
Hence, the constant reminder of the need to adhere to the standard operating procedure (SOP) for businesses intent on reopening during the conditional MCO and the SOPs for rakyat to dine-in, and the greater encouragement for digitalisation and e-commerce.
At this critical juncture, comes the political dimension to have a vote of no confidence against the government. Have the politicians lost their sense of priorities? How does a vote of no confidence help to uplift the sagging economy or how does it ensure that a second wave of infections will not occur?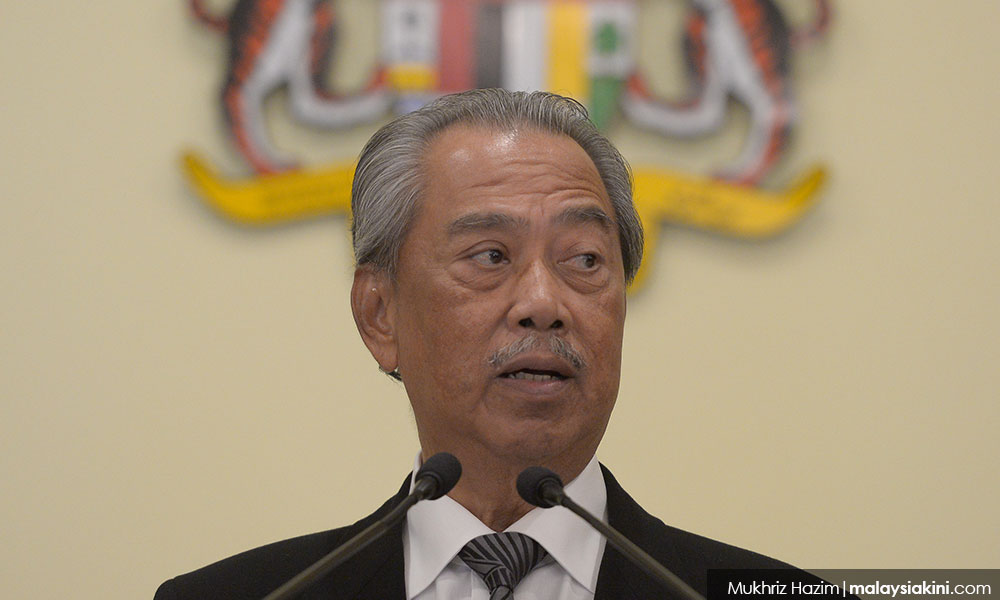 Suppose the vote of no confidence materialises, does that mean Prime Minister Muhyiddin Yassin (above) will no longer be PM? Of course, he will still be because he will have to seek an audience with the Agong in his capacity as PM to brief the King on the political situation.
And according to some constitutional lawyers, it all depends on how Muhyiddin briefs the Agong. If in his briefing, he requests for a dissolution of Parliament and this is agreed to by the King, then a snap election is in the offing.
At any rate he will still be the PM, albeit in a caretaker capacity, until the election is over and a new PM (could be him again) is sworn-in.
If the request for dissolution is not granted, he will have to resign and a new PM will be appointed by the Agong as provided for in the Constitution, the same provision which the King had used to solve the political crisis in February.
On the other hand, if in his briefing all he says is, "I have lost the majority in Parliament", then the King cannot dissolve Parliament as the Constitution allows His Majesty to do so only on the advice of the PM. Then a new PM will be appointed by the King in the same manner provided for by the Constitution.
So, unless a snap election is called, it is all back to square one in that it is the King who'll decide on a new PM. In the meantime, the damage to the country due to the government being on standby mode may well mean the further collapse of the economy and the return of Covid-19 with full vengeance.
Jamari Mohtar is Director of Media & Communications at EMIR Research, an independent think-tank focused on strategic policy recommendations based upon rigorous research.
Bahasa Melayu
Diterbitkan oleh Malaysia Gazette.
KETIKA Malaysia berada di persimpangan jalan dengan kerajaan berusaha sebaik mungkin untuk mengimbangi antara keselamatan kesihatan awam dengan menghidupkan semula ekonomi, sejarah nampaknya berulang ketika negara sekali lagi berada di ambang krisis politik dengan para ahli politik masih lagi terlibat dengan permainan perebutan kuasa apabila gesaan undi tidak percaya terhadap kerajaan kedengaran dalam suasana negara masih dilanda wabak Covid-19.
Mari kita mengkaji semula keadaan ketika ahli politik buat pertama kalinya bermain politik pada akhir Februari lalu. Pada masa itu, Covid-19 belum lagi diisytiharkan oleh Pertubuhan Kesihatan Sedunia (WHO) sebagai satu pandemik. Dari 15 Februari hingga 27 Februari, jumlah jangkitan kekal pada 22 kes sebelum meningkat kepada 25 kes pada 28 Februari. Ini bermakna tidak ada jangkitan baharu dari 16 Februari hingga 27 Februari (selama 12 hari berturut-turut kes baharu adalah sifar) sebelum jangkitan baru meningkat kepada 3 kes pada 28 Februari.
Perlu diingatkan 24 Februari hingga 1 Mac adalah tempoh permainan politik ala Permainan Singgahsana (Game of Thrones) yang telah mencetuskan krisis politik sehingga berakhir dengan pelantikan seorang Perdana Menteri baru yang mengangkat sumpah pada 1 Mac. Tidak ada yang luar biasa ketika itu kerana pada 1 Mac, kes Covid-19 baharu meningkat sebanyak 4 kes, menjadikan jumlah jangkitan kepada 29 kes, dengan kes baru selepas itu masih berada pada angka satu digit.
Yang luar biasa pada ketika itu adalah dengan peletakan jawatan Tun Dr Mahathir Mohamad pada 24 Februari sebagai Perdana Menteri dan pelantikannya semula sebagai PM interim, kerajaan beroperasi tanpa adanya barisan Menteri Kabinet. Ketika kekosongan inilah, acara Tabligh diadakan di Masjid Sri Petaling yang menarik kehadiran kira-kira 14,500 orang dari 27 Februari hingga 1 Mac, dengan 11 Mac adalah hari WHO mengisytiharkan wabak Covid-19 sebagai pandemik.
Kesan daripada pergolakan ini adalah selepas 1 Mac, jumlah jangkitan harian meningkat dari angka dua digit (29 kes keseluruhan) menjadi angka tiga digit bermula 9 Mac (117 kes) dan seterusnya ke angka empat digit pada 20 Mac (1,030 kes). Kes baru pula mengikuti jejak yang sama – dari angka satu digit pada 1 Mac (4 kes baharu) hingga dua digit pada 4 Mac (14 kes baru) dan terus meningkat menjadi angka tiga digit pada 15 Mac (190 kes baru), dengan kematian harian pertama pada 17 Mac (2 kematian).
Kerajaan buat pertama kalinya dalam sejarah telah membuat langkah yang berani dengan memperkenalkan perintah kawalan pergerakan (PKP) pada 18 Mac (jumlah kes 790, kes baharu 117) yang akhirnya membawa jangkitan baru kembali ke angka dua digit pada 15 April (85 kes). Sehingga 9 Mei, jangkitan baru berjumlah 54 kes (masih dua digit) sementara jumlah jangkitan keseluruhan 6,589 kes; 108 kes kematian; dan 4,929 telah pulih, dengan hanya 1,552 kes aktif termasuk 18 di ICU.
Perjalanan mengatasi krisis Covid-19 masih lagi jauh selagi kita tidak melihat angka satu digit kes jangkitan baru dalam masa yang terdekat ini terutama sekali, apabila vaksin dan ubat-ubatan yang berkesan masih belum berada di pasaran. Namun, secara amnya keadaan telah bertambah baik, dengan kerajaan memperkenalkan PKP Bersyarat dengan beberapa kelonggaran pada 4 Mei untuk menghidupkan semula ekonomi dengan membukanya secara terkawal.
Kerajaan melakukan ini kerana PKP telah menelan kerugian RM63 bilion terhadap ekonomi negara di samping menghadapi kenyataan pahit kadar pengangguran meningkat 3.9% pada Mac, dengan jumlah penganggur meningkat 17.1% kepada 610,500 orang, berdasarkan kenyataan terbaru Ketua Statistik Negara, Datuk Seri Dr Mohd Uzir Mahidin pada hari Jumaat (8 Mei). Ini dibandingkan dengan kadar pengangguran 3.3% pada Februari dan dengan itu Jabatan Perangkaan Malaysia memaklumkan kadar pengangguran pada suku pertama 2020 (1Q20) juga meningkat kepada 3.5% – tertinggi sejak 2Q17.
Walaupun terdapat keperluan mendesak mengatasi dimensi ekonomi ini, kerajaan masih prihatin terhadap dimensi keselamatan kesihatan awam. Ini kerana kemungkinan besar berlakunya gelombang jangkitan kedua yang lebih berbahaya sekiranya semua norma baru berkaitan dengan penjarakan sosial dan kebersihan diri diabaikan oleh rakyat. Lantaran itulah, peringatan terus-menerus mengenai keperluan mematuhi SOP untuk perniagaan yang ingin dibuka semula semasa PKP Bersyarat, dan SOP untuk rakyat berjamuan di luar serta dorongan pelaksanaan digitalisasi dan e-perniagaan.
Pada saat genting ini, muncul pula dimensi politik untuk mengadakan undi tidak percaya terhadap pemerintah. Adakah para ahli politik telah kehilangan keutamaan? Bagaimanakah undi tidak percaya itu boleh membantu menghidupkan semula ekonomi negara atau bagaimanakah ia dapat memastikan gelombang jangkitan kedua tidak akan terjadi?
Marilah kita buat seketika mengandaikan undi tidak percaya itu berlaku. Adakah ini bermakna Perdana Menteri Tan Sri Muhyiddin Yassin tidak akan lagi menjadi PM? Sudah tentu beliau masih menjadi PM kerana beliau harus mengadap sembah Yang Di-Pertuan Agong (YDPA) dalam kedudukannya sebagai PM untuk memberi nasihat kepada Raja mengenai keadaan politik negara.
Menurut beberapa peguam perlembagaan, semuanya bergantung pada bagaimana Muhyiddin memberi penerangan kepada YDPA. Sekiranya dalam nasihatnya, beliau meminta Parlimen dibubarkan dan ini dipersetujui Raja, maka pilihan raya akan segera diadakan. Namun, beliau akan tetap menjadi PM, walaupun PM untuk sementara, sehingga pilihanraya selesai dan PM baru (mungkin beliau lagi) mengangkat sumpah.
Jika permintaan pembubaran Parlimen tidak dipersetujui Agong, Muhyiddin harus mengundurkan diri dan seorang PM baru akan dilantik oleh YDPA sebagaimanayang diperuntukkan dalam Perlembagaan, peruntukan yang sama yang telah digunakan Raja untuk menyelesaikan kemelut politik pada Februari lalu. Sebaliknya, jika dalam nasihatnya beliau mengatakan, "Saya telah kehilangan majoriti di Parlimen", maka Raja tidak dapat membubarkan Parlimen kerana Perlembagaan mengizinkan YDPA melakukan demikian dengan nasihat PM. Dalam keadaan ini, seorang PM baru akan dilantik oleh Raja dengan cara yang sama seperti yang diperuntukkan oleh Perlembagaan.
Lantaran itu, kecuali jika Parlimen dibubarkan, semuanya kembali kepada YDPA dalam menentukan siapakah yang akan menjadi PM baru. Dalam pada masa yang sama, sementara menunggu kemelut politik ini berakhir, negara dan rakyatlah yang akan menanggung akibat dalam kegawatan ekonomi yang semakin bertambah buruk, dan kembalinya wabak Covid-19 pusingan kedua dengan penuh dendam berbanding dengan penampilan semulanya pada Mac lalu.
Jamari Mohtar ialah Pengarah, Media dan Komunikasi di EMIR Research, sebuah organisasi pemikir bebas yang fokus kepada pencernaan saranan-saranan dasar strategik berteraskan penyelidikan yang terperinci, konsisten dan menyeluruh.
In this article