English
Published in Malay Mail, The Star, New Straits Times, Astro Awani & MYsinchew, image by Malay Mail.
The government recently announced steps towards national recovery, whereby it aims to "exit" the Covid-19 pandemic in four phases. In addition, EMIR Research believes that the transition into these phases must be accompanied by a comprehensive plan, developed with an understanding of the uniqueness of the crisis and the Malaysian context, with clear targets that can act as indicators of performance and feedback for course corrective measures — all based on science and economic theory.
The famous economic identity, also known as the equation of exchange, that links monetary supply and the real economy, suggests the increase of money supply as a solution to a "normal" financial crisis.
A "normal" financial crisis is always created through an oversupply of money flowing into unproductive sectors of the economy (when the real economy has reached the maximum of its capacity and cannot absorb any additional money), thus causing bubbles and subsequent destruction of money accompanied by the vicious cycle of economic activity contraction (increasing slack capacity and unemployment) and more money destruction.
The increase of money supply and other stimulus is required then to reverse the cycle. Then, money can start again flowing into the real economy, which now has a substantial excess capacity, and the real economic sector will begin growing.https://29cbb3c2cbe46d2eab660f7e04b6a02b.safeframe.googlesyndication.com/safeframe/1-0-38/html/container.html
But this is where the current pandemic-induced crisis fundamentally differs. We do have a massive slack of the capacity in the real economy right now due to devastation by Covid-19. However, the main problem is reopening the economy is coupled with the great amount of uncertainty and hiccups that subsequently rest on our ability to manage the pandemic. As such, any attempts to stimulate the economy may do very little unless the pandemic uncertainty is taken out of the equation.
Therefore, we suggest the following strategy based on 3 + 1 main strategic thrusts:
1. Protecting lives and livelihoods
2. Education emergency response
3. National reconciliation
4. National economic recovery plan
The first three strategic thrusts are immediate short-term responses to eliminate the uncertainty associated with the pandemic as fast as possible and minimise the negative impacts on the rakyat.
While the last strategic thrust focuses on what can be done to stimulate economic growth immediately once the pandemic uncertainty is over and the economy can reopen at full or near full capacity on the basis that the first three strategic thrusts are followed through successfully — which could be at the start of 2022.
This strategic thrust is composed mainly of action items that would become fruitful in the mid-term to long term. However, their implementation must start immediately so that we are ready to stimulate the economy exactly when it is the right timing.
The article herein covers the first strategic thrust, while the subsequent thrusts shall be covered in sequential releases.
First strategic thrust — protecting lives and livelihood
The first strategic thrust concerns the immediate and drastic actions needed to protect lives and livelihoods through three goals, namely extension of "full" lockdown, extension of social and business safety nets, and pandemic management strategies.
Protecting lives and livelihoods must be the first and foremost thrust, as it forms the prerequisites prior to the transitioning into subsequent phases of the movement control order (MCO) and the phases towards exiting the pandemic – aligned with the intention of the government.
The three main goals with corresponding objectives are as follows:
Goal 1: Extend a "full" lockdown — Continue with full national lockdown until it is safe to start gradually reopening various areas.
Objective 1: Extend the duration of MCO3.0 at least until July 13 2021 — SIX (6) weeks in total for Phase 1.
Taking lessons learned from the relationship of lockdowns and downward progression of cases locally and in other countries, the total duration of MCO 3.0 should be at least until July 13, i.e., the total Phase 1 duration is 6 weeks in total.
Objective 2: Ensure MCO3.0 strictness that it is indeed only essential sectors of the economy are allowed to operate.
Definition of essential sectors and specific applications should go through a committee or a task force consisting of Miti, MOH, and Mosti prior to approval. This is to ensure the list has been vetted by a balanced consideration of lives vs livelihoods.
The following figure summarises the proposed targets of each respective objectives to track the progress of these proposed objectives.
Goal 2: Extend social and business safety net – Provide a safety net to those at risk due to shutting down economic activities and those facing prolonged unemployment.
Objective 1: Automatic loan moratorium for all micro, small and medium enterprises (MSMEs), B40 and M40 households while targeted for other individuals for at least THREE (3) months or 50% loan payment reduction for SIX (6) months.
Despite the targeted mechanism suggested, an automatic blanket moratorium for all would be preferred due to ease and speed of implementation.
Objective 2: Wage subsidies for THREE (3) months for the private sector and daily wage earners.
Objective 3: Targeted direct cash transfers for THREE (3) months to the deserving B40s and low M40s, especially for daily wage earners and gig economy workers.
Objective 4: Renters' protections for at least THREE (3) months.
EMIR Research has re-iterated the above four objectives numerous times in our earlier publications. These propositions are all grounded in the heart-beat of the rakyat as discovered in the EMIR Research qualitative and quantitative studies in the aftermath of the MCO1.0.
EMIR Research is grateful the government has implemented much of it. However, minor improvements in terms of time-frame and expansion of the deserving categories can be made as underscored above.
In addition to the above four objectives, EMIR Research believes that the other two objectives are essential to make the overall goal of extending safety-net to the rakyat workable.
Objective 5: Lift the debt to GDP ratio ceiling to 65 per cent as a temporary measure until the pandemic is over.
Lifting the limit to 65 per cent of GDP for Malaysia Government Securities (MGS), Malaysian Government Investment Issues (MGIIs) and Malaysia Islamic Treasury Bills (MITB) borrowings as defined and provided for in the Temporary Measures for Government Financing [Coronavirus Disease 2019 (Covid-19)] Act 2020 (Covid-19 Act) as approved by the Parliament last year doesn't necessarily mean the government will use up the limit.
However, it'd allow some breathing space so that, if need be, government borrowings can cross the current 60 per cent threshold — to perhaps 62 per cent at most — just to see the rakyat through the impact of the deficit, which is already expected to be higher than 6.1 per cent. This measure would also reduce excessive politicking around this issue, which is not helpful to the rakyat situation.
Objective 6: Implement tax-cutting measures (on a temporary basis — with some exceptions).
Corporate income tax should be reduced from 24 per cent to between 18 per-cent- 20 percent across the board. The tourism sector should be zero taxed for two years. Interestingly, the G7 countries, worried that countries would seek to reduce corporate tax in view of the ongoing pandemic, have agreed that the minimum level should be set at 15 per cent.
The sales and service tax (SST) threshold for tourism operators should be increased from RM500,000 to RM1.5 million.
Income tax should be reduced by 50 per cent across the board — which is out of the progressive schedule of 0 percent to 30 per cent — except for those earning RM300,001 and above, for example.
For the purpose of those who do not qualify to pay income tax, the Inland Revenue Board (IRB/LHDN) could, under the broader oversight of the Malaysian Social Protection Council (MySPC, tentatively access the BPN & BPR database prior to the implementation of the single Social Protection Database (PDPS) in the future.
This for the purpose of negative income tax, i.e., payment by the government to the recipient who does not qualify for income tax. Payment would, therefore, come from the existing source of revenue, i.e., tax collection and not from borrowings. Otherwise, every working adult should be encouraged to register and open an income tax account.
The government should consider imposing a (one-off/yearly) windfall tax on the glove and commodities sector (to counterbalance the reduction in corporate tax).
At the same time, the government should consider introducing capital gains tax (CGT) — for dividends amounting to RM1 million and above, for example.
Goal 3: Pandemic management — Focus resources on fast-tracking the National Covid-19 Immunisation Programme (NIP) and expanding Covid-19 testing.
Objective 1: Ensure a stable and timely supply of the vaccines.
It is noted that the authorities have the least control in this aspect, and the issue could be a "bottleneck" for the NIP. Nevertheless, efforts include (but not limited to) widening all sources of vaccine procurement, accepting all donations of vaccines approved by the National Pharmaceutical Regulatory Agency (NPRA), participating in international platforms calling for ways to promote equitable access to vaccines, faster Covax delivery fulfilment, and active monitoring and purchase of any surplus from any countries (open up diplomatic channels to support and report to JKJAV).
Malaysia's NPRA should consider expanding the list of conditional emergency approval of vaccines. NPRA's priority and diligence on safety evaluations are well-placed and should not be questioned. It is also noted that it may not solve the issue in the near term due to overall global production limits. However, unprecedented times require unprecedented measures, and the authorities should explore any and all options that may increase the chance of faster vaccine delivery.
Objective 2: Increase daily vaccination throughput.
In addition to increasing the number of vaccination centres (PPVs), the government should expedite the decentralisation strategies such as the designation of general practitioner (GP) clinics and private hospitals as vaccination centres, rolling out drive-through vaccinations, and the use of Government vehicles to help bring vaccines to the elderlies and people living far away from vaccination centres.
Objective 3: Widen Covid-19 testing in terms of quantitative and qualitative reach.
One of the indicators of sufficient testing is a positive rate below 5 per cent. However, this is still subject to sampling bias. Therefore, in addition to increasing the number of testing, there is a need to widen the sampling quality.
Mapping Malaysia pandemic journey in terms of three dimensions — daily new cases, daily new tests and positivity rate indicates that, currently, Malaysia needs to perform at least 150,000 to 200,000 tests a day.
To ensure that the sample is wide enough to capture asymptomatic individuals and individuals with no obvious exposure, completely random sampling should be applied to the Malaysian population by zip-code areas — red spot zones or otherwise. Under the mass testing programme, schools should be used for mass testing of students, followed by randomised testing thereafter upon reopening.
If a lower test positive rate isn't achievable despite a significant increase in testing and broader sampling as mentioned above for a minimum of 14 days, then it would suggest that the spread of infection in the community is already too widespread and would indicate the insufficiency of current measures.
Objective 4: Prioritisation of economic sectors in "Phase 4" of the National Immunisation Programme.
Following the completion of the focus of vulnerable groups in earlier phases of the NIP, vaccination should gradually shift focus to as many economic actors as possible in the following months of June, July, to mid-August, i.e., 1.5 to 2 months focus for economic sectors.
The focus shall be the manufacturing sectors and other essential sectors that are vital economic contributors but an integral part of the historical and potential cluster contributors.
This coincides with the Private Partnership Industrial Covid-19 Immunisation Programme (PIKAS), which is considered as Phase 4 of the National Immunisation Programme, whereby Phase 4 should be extended to focus on as many economic sectors and businesses as possible, ensuring mid-tier companies (MTCs) and MSMEs to be prioritised (not just limited to manufacturing sectors).
Other non-essential workforce (to be re-defined as above) of the economy, particularly businesses and organisations that are not profit oriented may be considered for a selective and extended lockdown.
During June, July, and mid-August, non-essential sectors should be considered for continued lockdown until and unless they have been fully vaccinated.
Objective 5: Ensure sufficient manpower through the deployment of existing resources optimally.
For example, existing workforce from Rela, the armed forces, civil defence force and local community associations to be deployed to supplement the healthcare workforce in related efforts such as conducting mass testing programmes, assisting at quarantine centres and vaccination campaigns.
The second part will be discussing the strategics thrusts related to education emergency response and national reconciliation.
Rais Hussin, Margarita Peredaryenko, Jason Loh & Ameen Kamal are part of the research team of EMIR Research, an independent think tank focused on strategic policy recommendations based on rigorous research.
Bahasa Malaysia
Diterbitkan di Sinar Harian.
KERAJAAN baru-baru ini mengumumkan pelaksanaan menuju pemulihan nasional, di mana ia bertujuan untuk 'keluar' dari pandemik Covid-19 melalui empat fasa.
Di samping itu, EMIR Research percaya bahawa peralihan ke fasa-fasa ini harus disertai dengan rancangan komprehensif, yang dikembangkan bersama pemahaman tentang keunikan krisis ini serta konteks Malaysia.
Pelan ini mesti dilengkapi dengan sasaran jelas yang dapat bertindak sebagai petunjuk prestasi dan maklum balas untuk pembetulan langkah-langkah halatuju – semuanya berdasarkan sains dan teori ekonomi.
Formula ekonomi yang terkenal, juga dikenali sebagai "pertukaran persamaan" (equation of exchange), yang menghubungkan pembekalan monetari dan ekonomi nyata, menunjukkan peningkatan pembekalan wang sebagai penyelesaian kepada krisis kewangan yang "normal".
Krisis kewangan 'normal' selalu berlaku melalui lebihan wang yang mengalir ke sektor ekonomi yang tidak produktif (ketika ekonomi nyata telah mencapai maksimum kemampuannya dan tidak dapat menyerap wang tambahan), sehingga menyebabkan gelembung dan pemusnahan wang seterusnya disertai pusingan kejatuhan pengecutan aktiviti ekonomi (pengurangan kapasiti dan peningkatan pengangguran) dan kemusnahan wang tambahan.
Peningkatan pembekalan wang dan rangsangan lain diperlukan kemudian untuk mengembalikan kitaran.
Kemudian, wang dapat mulai mengalir kembali ke ekonomi nyata, yang kini mempunyai kelebihan kapasiti yang besar, dan sektor ekonomi nyata akan mulai berkembang.
Tetapi di sinilah krisis yang disebabkan pandemik pada dasarnya berbeza.
Negara mempunyai kekurangan besar dalam ekonomi nyata sekarang kerana kehancuran disebabkan Covid-19.
Namun, masalah utama adalah membuka semula ekonomi ditambah dengan sejumlah besar ketidakpastian dan gangguan yang kemudiannya bergantung pada kemampuan kita untuk menangani wabak tersebut.
Oleh itu, sebarang percubaan untuk merangsang ekonomi mungkin tidak begitu berkesan melainkan ketidakpastian pandemik dikeluarkan daripada situasi yang sedia ada.
Oleh itu, kami mencadangkan strategi berikut berdasarkan teras strategi utama 3 + 1:
Melindungi nyawa dan sara hidup
Tindak balas kecemasan pendidikan
Pendamaian nasional
Pelan pemulihan ekonomi negara
Tiga teras strategi pertama adalah tindak balas jangka pendek untuk menghilangkan ketidakpastian secepat mungkin yang berkaitan dengan pandemik dan meminimakan kesan negatif terhadap rakyat.
Sementara teras strategi terakhir memfokuskan pada apa yang dapat dilakukan demi mendorong pertumbuhan ekonomi dengan segera setelah ketidakpastian pandemik berakhir dan ekonomi dapat dibuka semula dengan kapasiti penuh atau hampir penuh atas dasar bahawa tiga teras strategi pertama dilaksanakan dengan berjaya – yang mungkin dapat dimulakan pada awal 2022.
Teras strategik ini terdiri terutamanya dari senarai tindakan yang akan membuahkan hasil dalam jangka masa pertengahan hingga jangka masa panjang. Namun, pelaksanaannya harus dimulakan segera agar kita bersiapsiaga merangsang ekonomi tepat pada waktunya.
Artikel ini merangkumi teras strategik pertama, sementara teras berikutnya akan diliputi dalam artikel seterusnya.
Teras Strategik Pertama – Melindungi Nyawa dan Sara Hidup
Teras strategik pertama berkaitan dengan tindakan segera dan drastik yang diperlukan untuk melindungi nyawa dan sara hidup melalui tiga matlamat, iaitu penyambungan penutupan 'penuh', perluasan jaringan keselamatan sosial dan perniagaan, dan strategi pengurusan pandemik.
Perlindungan nyawa dan sara hidup mesti menjadi teras utama dan terpenting, kerana ini merupakan prasyarat sebelum peralihan ke fasa Perintah Kawalan Pergerakan (PKP) berikutnya dan fasa-fasa keluar daripada pandemik – selaras dengan hasrat kerajaan.
Tiga matlamat utama dengan objektif-objektif bersesuaian adalah seperti berikut:
Matlamat 1: Memperpanjangkan penutupan 'penuh' – Teruskan dengan penutupan nasional sepenuhnya sehingga keadaan membenarkan untuk pembukaan semula secara beransur-ansur di pelbagai kawasan.
Objektif 1: Memanjangkan tempoh PKP 3.0 sekurang-kurangnya sehingga 13 Julai 2021 — ENAM (6) minggu secara keseluruhan untuk Fasa 1.
Dalam mengambil pengajaran daripada hubungan di antara penutupan dan perkembangan kes yang berlaku secara tempatan dan di negara lain, jumlah keseluruhan PKP 3.0 sepatut sekurang-kurangnya hingga 13 Julai, iaitu, tempoh Fasa 1 adalah 6 minggu keseluruhannya.
Objektif 2: Memastikan ketegasan PKP 3.0 supaya hanya sektor ekonomi perlu yang dibenarkan beroperasi.
Definisi sektor perlu dan permohonan khusus harus melalui jawatankuasa atau pasukan petugas yang terdiri daripada Miti, KKM, dan Mosti sebelum mendapat persetujuan.
Ini untuk memastikan senarai tersebut telah disemak berdasarkan pertimbangan seimbang terhadap nyawa dan sara hidup.
Rajah berikut merangkumi sasaran yang dicadangkan dari setiap objektif untuk mengesan kemajuannya.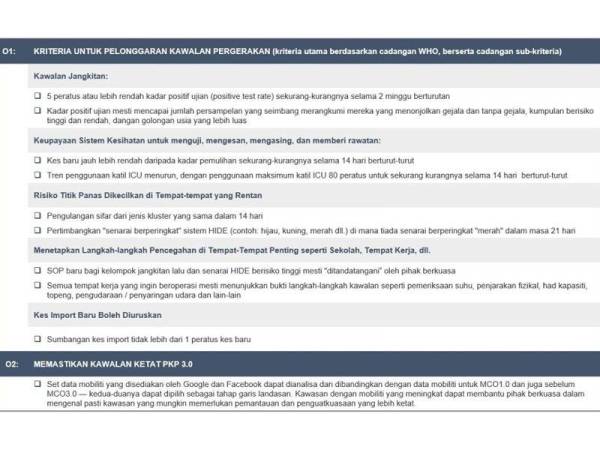 Matlamat 2: Memperluas jaringan keselamatan sosial dan perniagaan – Menyediakan jaring keselamatan kepada mereka yang berisiko kerana diberhentikan aktiviti ekonomi dan mereka yang menghadapi pengangguran yang berpanjangan.
Objektif 1: Moratorium pinjaman automatik untuk semua perniagaan mikro, kecil dan sederhana (PMKS), isi rumah B40 dan M40 sementara disasarkan untuk individu lain sekurang-kurangnya untuk TIGA (3) bulan atau pengurangan pembayaran pinjaman 50% selama ENAM (6) bulan.
Walaupun mekanisme tersasar disarankan, moratorium automatik pukal untuk semua lebih popular kerana lebih mudah dan pantas dilaksanakan.
Objektif 2: Subsidi upah selama TIGA (3) bulan untuk sektor swasta dan pencari gaji harian.
Objektif 3: Peruntukan wang tunai langsung bersasar untuk TIGA (3) bulan kepada golongan B40 yang layak dan M40 yang rendah, terutama bagi pekerja berpendapatan harian dan pekerja ekonomi gig.
Objektif 4: Perlindungan penyewa untuk sekurang-kurangnya TIGA (3) bulan.
EMIR Research telah mengemukakan empat objektif tersebut berkali-kali dalam penerbitan kami yang terdahulu.
Semua cadangan ini berdasarkan pada denyut nadi rakyat seperti yang didapati dalam kajian kualitatif dan kuantitatif penyelidikan EMIR Research pasca PKP 1.0.
EMIR Research bersyukur bahawa kerajaan telah melaksanakan sebahagian besar usul-usul dasar kami. Walau bagaimanapun, penambahbaikan kecil dari segi jangka masa dan pengembangan kategori yang layak dapat dibuat seperti digarisbawahi di atas.
Sebagai tambahan kepada empat objektif di atas, EMIR Research percaya bahawa dua objektif lain adalah penting untuk memastikan matlamat keseluruhan memperluas jaringan keselamatan kepada rakyat dapat dilaksanakan dengan lebih berkesan.
Objektif 5: Menaikkan kadar nisbah siling hutang kepada KDNK menjadi 65% sebagai langkah sementara sehingga wabak itu berakhir.
Melonggarkan had bagi mencapai 65% daripada KDNK untuk Sekuriti Kerajaan Malaysia (MGS), Terbitan Pelaburan Kerajaan Malaysia (MGII) dan pinjaman Bil Perbendaharaan Islam Malaysia (MITB) seperti ditentukan dan diperuntukkan dalam Langkah-langkah Sementara Bagi Pembiayaan Kerajaan [Penyakit Coronavirus 2019 (Covid -19)] Akta 2020 seperti diluluskan Parlimen tahun lalu tidak semestinya bermaksud kerajaan akan menggunakan had tersebut.
Namun, ia akan memberikan ruang lebihan, jika perlu, supaya pinjaman kerajaan dapat melintasi ambang 60% – hingga mungkin 62% paling tinggi – bagi memastikan kesinambungan kesan defisit terhadap rakyat, yang sudah dijangkakan mencecah 6.1%.
Langkah ini juga akan mengurangkan politik yang berlebihan dalam isu ini, yang tidak membantu dalam situasi rakyat.
Objektif 6: Melaksanakan langkah-langkah pemotongan cukai (secara sementara – dengan beberapa pengecualian).
Cukai pendapatan korporat harus dikurangkan dari 24 peratus menjadi di antara 18 peratus hingga 20 peratus.
Sektor pelancongan harus dikenakan cukai sifar selama dua tahun. Menariknya, negara-negara G7, yang bimbang negara-negara sedunia akan berusaha untuk mengurangkan cukai korporat memandangkan pandemik yang berterusan, telah bersetuju bahawa tahap minimum harus ditetapkan pada 15%.
Ambang cukai jualan dan perkhidmatan (SST) untuk pengusaha pelancongan harus dinaikkan dari RM500,000 menjadi RM1.5 juta.
Cukai pendapatan harus dikurangkan sebanyak 50 peratus secara keseluruhan – daripada jadual progresif 0 peratus hingga 30 peratus – kecuali mereka yang berpendapatan RM300,001 dan ke atas, misalnya.
Untuk mereka yang tidak memenuhi syarat membayar cukai pendapatan, Lembaga Hasil Dalam Negeri (LHDN) boleh, di bawah pengawasan yang lebih luas dari Majlis Perlindungan Sosial Malaysia (MySPC), untuk tempoh terhad mengakses pangkalan data BPN & BPR sebelum pelaksanaan Pangkalan Data Perlindungan Sosial (PDPS) tunggal pada masa akan datang.
Ini untuk tujuan cukai pendapatan negatif, iaitu pembayaran oleh kerajaan kepada penerima yang tidak memenuhi syarat cukai pendapatan.
Oleh itu, pembayaran akan datang daripada sumber pendapatan yang ada, iaitu pungutan cukai dan bukan daripada pinjaman. Dan setiap orang dewasa yang bekerja harus digalakkan untuk mendaftar dan membuka akaun cukai pendapatan.
Kerajaan harus mempertimbangkan penetapan (satu kali/tahunan) cukai "durian runtuh" pada sektor sarung tangan dan komoditi (untuk mengimbangi pengurangan cukai korporat).
Pada masa yang sama, kerajaan harus mempertimbangkan untuk memperkenal cukai keuntungan modal (CGT) – misalnya, untuk dividen berjumlah RM1 juta ke atas.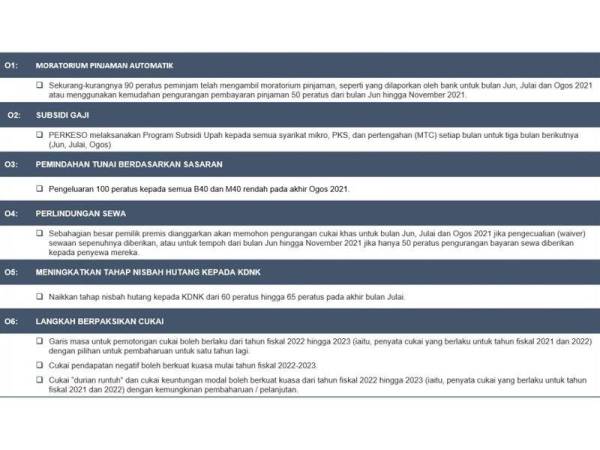 Matlamat 3: Pengurusan pandemik – Memfokuskan sumber bagi merancakkan Program Imunisasi COVID-19 Nasional (NIP) dan memperluas ujian Covid-19.
Objektif 1: Memastikan bekalan vaksin yang stabil dan tepat pada masanya.
Telah diperhatikan bahawa pihak berkuasa mempunyai kekurangan dalam aspek ini, dan masalahnya dapat menjadi "kegendalaan pembekalan" bagi NIP.
Walaupun begitu, usaha termasuk (tetapi tidak terbatas pada) memperluas semua sumber pemerolehan vaksin, menerima semua sumbangan vaksin yang disetujui Bahagian Regulatori Farmasi Malaysia (NPRA), penglibatan dalam platform antarabangsa yang mendorong usaha mempromosikan akses yang lebih saksama, penghantaran bekalan vaksin di bawah naungan Covax yang lebih pantas, dan pemantauan aktif dan pembelian lebihan dari mana-mana negara (pembukaan saluran diplomatik sebagai langkah tambahan dan seterusnya melaporkan kepada JKJAV).
NPRA harus mempertimbangkan bagi memperluas senarai kelulusan vaksin kecemasan bersyarat.
Fokus utama dan ketekunan NPRA dalam penilaian keselamatan adalah bertepatan dan tidak boleh dipersoalkan. Juga diperhatikan bahawa ia mungkin tidak menyelesaikan masalah dalam waktu terdekat kerana had pengeluaran global secara keseluruhan.
Walau bagaimanapun, masa kini sangat luar biasa dan oleh itu memerlukan tindakan luar biasa, dan pihak berkuasa harus mengambil kira semua pilihan yang dapat meningkatkan peluang pemberian vaksin yang lebih cepat.
Objektif 2: Meningkatkan jumlah pengeluaran vaksinasi setiap hari.
Selain meningkatkan jumlah pusat vaksinasi (PPV), kerajaan harus mempercepatkan strategi penyahpusatan/pembahagian (decentralisation) peranan seperti mengatur penggunaan klinik doktor umum dan hospital swasta sebagai pusat vaksinasi, memperkenalkan vaksinasi pandu lalu, dan penggunaan kenderaan kerajaan untuk menyampaikan vaksin kepada orang tua dan orang yang tinggal jauh dari pusat vaksinasi.
Objektif 3: Meluaskan ujian Covid-19 dari segi jangkauan kuantitatif dan kualitatif.
Salah satu petunjuk ujian saringan yang mencukupi adalah kadar positif di bawah 5 peratus. Walau bagaimanapun, ini masih terdedah kepada sampel yang terhad. Oleh itu, selain meningkatkan jumlah ujian, ada keperluan untuk memperluas kualiti persampelan.
Merancang dan menetapkan halatuju pandemik Malaysia dari segi tiga dimensi – kes baru harian, ujian baru harian dan kadar positif menunjukkan bahawa, pada masa ini, Malaysia perlu melakukan sekurang-kurangnya 150,000 hingga 200,000 ujian sehari.
Untuk memastikan bahawa sampel cukup luas bagi merangkumi individu tanpa gejala dan individu tanpa pendedahan yang jelas, persampelan rawak sepenuhnya harus dikenakan pada populasi Malaysia mengikuti kawasan poskod – zon bintik merah atau sebaliknya.
Di bawah program ujian massa, sekolah harus digunakan untuk ujian massa pelajar, diikuti dengan ujian rawak setelah pembukaan semula.
Sekiranya kadar positif ujian yang lebih rendah tidak dapat tercapai walaupun terdapat peningkatan yang signifikan dalam ujian dan pengambilan sampel yang lebih luas seperti disebutkan di atas selama 14 hari yang minima, maka ini menunjukkan bahawa penyebaran jangkitan dalam masyarakat sudah terlalu luas serta menonjolkan kekurangan langkah-langkah semasa.
Objektif 4: Keutamaan sektor ekonomi dalam "Fasa 4" Program Imunisasi Nasional.
Setelah selesainya fokus terhadap kumpulan rentan pada tahap awal NIP, vaksinasi secara beransur-ansur mengalihkan fokus kepada sebanyak mungkin pelaku ekonomi pada bulan-bulan berikutnya – bulan Julai, hingga pertengahan Ogos, iaitu, fokus bagi 1.5 hingga 2 bulan untuk sektor ekonomi.
Sektor perkilangan dan sektor penting lain yang merupakan penyumbang ekonomi penting tetapi merupakan bahagian yang tidak terpisah dari penyumbang kelompok dulu dan berpotensi menjadi fokus.
Ini bertepatan dengan Program Imunisasi Industri Covid-19 Kerjasama Swasta (Pikas), yang dianggap sebagai Fasa 4 Program Imunisasi Nasional, di mana Fasa 4 harus diperluas untuk memfokuskan pada sebanyak mungkin sektor ekonomi dan perniagaan, memastikan syarikat tahap pertengahan (MTC) dan PKSM harus diutamakan (tidak hanya terhad kepada sektor pembuatan).
Tenaga kerja lain yang dianggap tidak penting (akan ditakrifkan semula seperti di atas), terutama perniagaan dan organisasi yang tidak berorientasikan keuntungan boleh dipertimbangkan untuk penutupan selektif dan diperpanjangkan.
Selama bulan Jun, Julai, dan pertengahan Ogos, sektor yang tidak perlu harus dipertimbangkan untuk terus berkurung sehingga dan kecuali jika mereka telah divaksinasi sepenuhnya.
Objektif 5: Memastikan tenaga kerja yang mencukupi melalui pengerahan sumber-sumber yang ada secara optimum.
Sebagai contoh, tenaga kerja yang sedia ada dari Rela, angkatan bersenjata, angkatan pertahanan awam dan persatuan akar umbi yang akan dikerahkan untuk menambah tenaga kerja kesihatan dalam usaha yang berkaitan seperti menjalankan program ujian massa, membantu di pusat kuarantin dan kempen vaksinasi.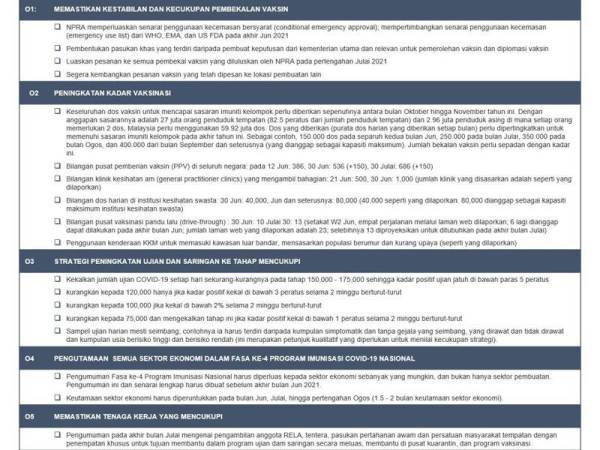 Bahagian kedua akan membincangkan teras strategik yang berkaitan dengan tindak balas kecemasan sektor pendidikan dan usaha pendamaian nasional.
Dr Rais Hussin, Dr Margarita Peredaryenko, Jason Loh & Ameen Kamal merupakan sebahagian daripada pasukan penyelidik di Emir Research, sebuah organisasi pemikir bebas yang berfokuskan kepada pencernaan saranan-saranan dasar strategik berteraskan penyelidikan yang terperinci, konsisten dan menyeluruh.
In this article