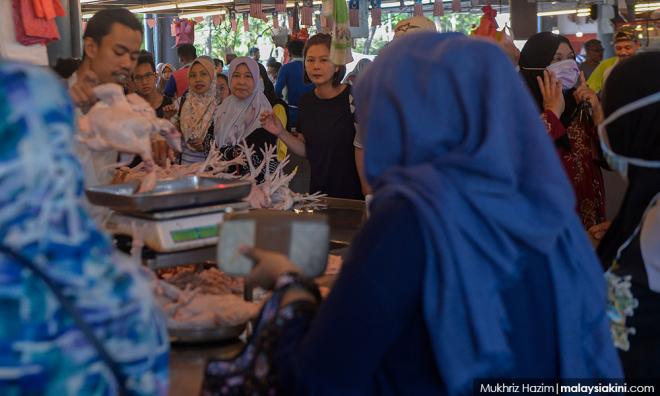 English
Published by Malay Mail, Malaysiakini, The Star & New Straits Times, image from Malaysiakini.
As bad as the effects of the Covid-19 pandemic have been on China, the American response was: Hold my corona.
Trump will do anything to ensure his re-election in November, and the greatest looming threat is a stock market free-fall and an economic recession. So, in one manic week, we've seen the Fed cut rates to zero and quantitative easing 3.0.
Cast your mind back to 2008 for the consequences of the last coupling of low rates and excess liquidity. The ill-fated offspring was the global financial crisis.
How real is the threat of a global recession right now? Global consulting powerhouse McKinsey anticipates a best-case result of "a fall in China's GDP from nearly 6 per cent growth to about 4.7 per cent; a one-percentage-point drop in GDP growth for East Asia; and drops of up to 0.5 percentage points for other large economies around the world."
The worse case scenarios anticipate bigger hits to GDP in the large economies and longer recovery periods. So the situation is bad, and can rapidly deteriorate now that American mass media has made this a minute by minute assault on the hive mind so that rationality is fast being overcome by hysteria.
By contrast, Malaysians have shown great empathy and maturity in our societal response to this threat. Though the restricted movement measures comes into effect tomorrow, we must do our part in the interests of both our own public safety as well as our responsibilities towards neighbors and visitors.
I will leave it to the experts to propose the appropriate medical precautions, which we should all duly respect, and instead offer my opinion to the economic precautions that we should undertake to protect ourselves:
First, provide support to employees and SME's. Hourly earners and small businesses are at the greatest risk to suspended income as parts of the economy lock down or slow down. The government must treat this as a national emergency, providing support and relief by way of supplemental income and other allowances and subsidies.
Hong Kong, for instance, granted each and every resident a cash alllowance of RM5,000. Big business and MNC's, though they have the loudest lobbying power with government, are better equipped to fend for themselves. We need to look out for the little guy.
Second, ensure liquidity in the economy. The easiest trigger to widespread panic is scarcity. Not just cash and credit, but also groceries, medicines, power, and, yes, toilet paper. I have long advocated the necessity for domestic food security, food safety and food sovereignty.
If supply chains were cut off due to an "act of God," Malaysia reportedly has only few weeks of fresh meat and vegetables reserves — one of the worst self-sufficiencies in the world.
Third, integrate supply chains. China has shown the world how reliant we are upon them for not only finished products, but also every component that goes into them. The Chinese government response — as well as the fact they they went into the eye of the storm first — ensured that they are recovering ahead of other large economies in the West which are now entering the pandemonium.
But neither is this epidemic over nor will it be the last of its kind, so we should learn the lesson of securing our supply chains across business verticals. For this we can look to our neighbors in Asean.
Not only are we fortunate to be a leading member of the most dynamic economic zone on the planet today, but also those offering the most competitive alternatives to China in manufacturing and services (ourselves included).
Fourth, leapfrog the physical channels. Another lesson from China is that trade and consumption has significantly moved online as a consequence of the coronavirus epidemic. The trend towards the digital infrastructure superimposing the physical one was already underway.
The tech giants already dominate the rankings of the world's largest enterprises, but there is another massive disruption coming in the form of the Fourth Industrial Revolution (4IR).
If you read my commentaries then you know my central theme is the migration of Malaysia from a low cost, low wages economy to a high wage, innovation economy to prepare ourselves for the digital transformation led by Fintech, AI, blockchain, and crypto; and amplified by global black swan crisis events such as the one upon us now.
Finally, clear-headed and stable leadership. We need to ask ourselves right now, as we brace for harder times ahead, do we have a determined, committed leadership who will guide us through rough waters with a steady hand.
I am not advocating that we should be as heavy handed as China, or as hyperbolic as America. Rather, our leadership must simply put the interests of people first, favouring the 99 per cent of society who face the greatest risks and exposure.
Dr. Rais Hussin is President & CEO of EMIR Research, an independent think tank focused on strategic policy recommendations based on rigorous research.
Bahasa Melayu
Diterbitkan oleh Malaysiakini.
Kesan buruk pandemik Covid-19 telah berlaku di China, dan respons Amerika Syarikat adalah: "Hold my Corona" (atau dalam kata lain, lihat apa yang bakal saya lakukan).
Trump akan lakukan apa sahaja untuk memastikan dirinya dilantik semula pada November 2020, dan cabaran besar yang dihadapi beliau adalah penurunan harga pasaran saham dan kemelesetan ekonomi.
Jadi, dalam masa seminggu yang sibuk ini, kita melihat kadar potongan Fed kepada sifar dan pengurangan kuantitatif 3.0.
Ingat kembali kesan daripada kadar rendah dan aset yang berlebihan pada tahun 2008. Krisis ekonomi global disebabkan langkah yang salah diambil pada perancangan awal.
Apakah ancaman sebenar keadaan kemelesetan global sekarang ini? Konsultan global yang terkenal, McKinsey, menjangkakan hasil terbaik daripada "kejatuhan KDNK China – pertumbuhan hampir 6 peratus jatuh kepada 4.7 peratus" adalah penurunan satu-peratus-mata dalam pertumbuhan KDNK untuk Asia Timur, dan penurunan sehingga 0.5 peratus mata untuk ekonomi besar yang lain di seluruh dunia.
Senario yang paling buruk boleh berlaku dengan tamparan hebat terhadap KDNK dalam ekonomi berskala besar dan tempoh pemulihan yang memakan masa.
Keadaan ekonomi kini tidak baik, dan merosot dengan cepat, dengan pihak media AS setiap saat seperti menuang minyak tanah ke dalam api sehingga tahap rasional menjadi histeria.
Namun, rakyat Malaysia telah menunjukkan empati dan tahap kematangan yang tinggi dalam memberi respons sosial terhadap ancaman ini. Walaupun perintah kawalan pergerakan berkuatkuasa esok, kita mesti lakukan apa yang perlu dilakukan demi kepentingan keselamatan orang awam, termasuk tanggungjawab terhadap pelawat dan negara jiran.
Mengenai langkah berjaga-jaga yang perlu diambil untuk melawan wabak ini, biarlah orang yang pakar memberi nasihat, dan kita harus hormati serta patuhi.
Saya hanya memberi pandangan terhadap langkah berjaga-jaga dalam ekonomi yang perlu diambil untuk melindungi kewangan negara:
Pertama, memberi bantuan kepada pekerja dan Perusahaan Kecil & Sederhana (PKS). Individu yang mengambil upah mengikut jam dan peniaga kecil berhadapan dengan risiko besar dalam mengekalkan pendapatan mereka dengan keadaan sekarang ini (Perintah Kawalan Pergerakan).
Pihak kerajaan harus memberi tumpuan terhadap golongan ini, dengan memberi bantuan dan sokongan melalui pendapatan tambahan, elaun dan subsidi lain.
Melihat Hong Kong sebagai contoh, mereka memberi setiap penduduknya wang tunai sebanyak RM5,000.00. Para peniaga besar dan syarikat MNC di sana, walaupun mereka melobi kuasa dengan kerajaan, demi kepentingan mereka, namun mereka menyokong tindakan kerajaan dengan memberi bantuan sama. Kita boleh melakukan hal yang serupa.
Kedua, memastikan kelancaran ekonomi. Cara paling mudah untuk panik apabila berlaku kekurangan sesuatu benda. Bukan sahaja wang tunai dan kredit, tetapi juga barangan runcit, ubat-ubatan, kuasa, dan, ya, tisu tandas.
Saya telah lama mengemukakan keperluan untuk sekuriti makanan domestik, keselamatan makanan dan akses kepada makanan. Sekiranya rantaian bekalan terputus kerana 'telah ditentukan oleh Tuhan', Malaysia hanya mempunyai beberapa minggu sahaja untuk bertahan dengan bekalan daging dan sayur segar – salah satu tahap kebergantungan (self-sufficiency) yang paling buruk di dunia.
Ketiga, mengintegrasikan rantaian bekalan. China telah menunjukkan kepada dunia betapa kita bergantung kepada mereka, bukan sahaja produk akhir, malah setiap komponen yang diperlukan untuk proses pembuatan sesebuah produk.
Namun, bagi kerajaan China – memandangkan mereka adalah di kalangan yang pertama menghadapi krisis ini – akan memastikan bahawa mereka akan pulih terlebih dahulu sebelum ekonomi besar lain di Barat yang kini sedang memasuki fasa hura hara.
Tetapi jika wabak ini berakhir atau akan menjadi yang terakhir dari jenisnya, kita harus belajar daripada kesilapan ini untuk menyelamatkan rantai bekalan kita di setiap pelosok perniagaan.
Dalam hal ini, kita perlu melihat jiran-jiran kita di ASEAN. Bukan sahaja kita bernasib baik untuk menjadi ahli utama zon ekonomi yang paling dinamik di bumi, tetapi juga menawarkan alternatif yang paling kompetitif kepada China dalam pembuatan dan perkhidmatan (termasuk negara kita).
Keempat, melancarkan saluran fizikal. Satu lagi pengajaran yang boleh diambil dari China adalah perdagangan dan perbelanjaan yang telah banyak berpindah secara dalam talian (online), kesan daripada wabak coronavirus. Trend ke arah infrastruktur digital yang melampaui infrastruktur fizikal telah pun dibangunkan.
Teknologi gergasi telah pun menguasai kedudukan syarikat terbesar dunia, tetapi terdapat satu lagi kuasa besar yang datang dalam bentuk Revolusi Perindustrian ke-4 (4IR). Jika anda membaca ulasan saya, anda pasti tahu topik utama saya iaitu penghijrahan Malaysia dari kos rendah, ekonomi gaji yang rendah kepada pendapatan yang tinggi, inovasi ekonomi bagi mempersiapkan diri dengan transformasi digital yang diketuai oleh Fintech, AI, blockchain dan crypto; dan mengambil iktibar dengan peristiwa angsa hitam (peristiwa yang jarang berlaku) global seperti sekarang.
Akhir sekali, kepimpinan yang jelas dan stabil. Tanya pada diri kita sendiri, di saat kita sedang mempersiapkan diri untuk masa susah, adakah kita mempunyai kepimpinan yang teguh dan komited untuk membimbing kita melalui perjalanan yang sukar dengan tenang dan mantap.
Saya tidak mengatakan bahawa kita perlu menjadi cekap seperti China, atau bercakap besar seperti Amerika. Sebaliknya, pemimpin kita perlu meletakkan kepentingan rakyat dahulu, di mana 99 peratus daripadanya berisiko tinggi dan terdedah dengan wabak ini.
Dr. Rais Hussin merupakan Presiden & CEO EMIR Research, sebuah organisasi pemikir bebas yang berfokuskan kepada pencernaan saranan-saranan dasar strategik berteraskan penyelidikan yang terperinci, konsisten dan menyeluruh.