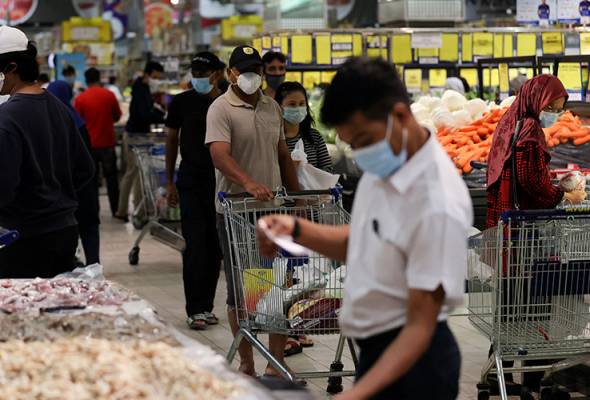 English
Published in Astro Awani, image by Astro Awani.
The new minimum wage implementation effective from May 1 could well be timely for the low-wage earners and young university graduates who often have to endure stagnant or even regressive market entry pay. However, in general, the persistent rise in the cost of living prevents Malaysians from all walks of life, especially those in the middle 40% (M40) and bottom 40% (B40) categories, from enjoying their desired level of lifestyle.
The Department of Statistics Malaysia (DOSM) revealed recently that Malaysia's Consumer Price Index (CPI) increased moderately by 2.2% – from 122.5 in February 2021 to 125.2 in February 2022. The increase in the CPI was mainly due to a rise in food inflation.
According to Chief Statistician Datuk Seri Mohd Uzir Mahidin, the 3.7% increase in the Food & Non-Alcoholic Beverages category was mainly due to the rise in the sub-category of "food at home" by 4.1% over the same period. As supply-side and supply chain issues persist, chicken and eggs have witnessed a price increase of 14.2% and 13.5%, respectively.
This could be due to more individuals and households choosing to purchase groceries for both immediate and longer-term cooking and consumption.
On the other hand, the other sub-category, namely "food away from home", increased from 3.1% in January 2022 to 3.6% in February 2022. The relaxation of Covid-19 related standard operating procedures (SOPs) has resulted in more Malaysians eating out once again, among other social activities.
Cooked beef (6.4%), murtabak (6.2%), rice with side dishes (6.0%) and satay (5.4%) are among the items that contributed to the increase in the index for "food away from home".
Aside from the rise in Food & Non-Alcoholic Beverages category, the transport category also recorded an increase of 3.9% due to the low base effect with the setting of the RON95 unleaded petrol ceiling price effective March 2021 at RM2.05. It was higher compared to the average price of RM1.96 per litre in February 2021.
What is even worse is that the average price of RON97 unleaded petrol increased by a whopping 42.04% within one year. According to DOSM, it rose from RM2.26 per litre in March 2021 to RM3.21 per litre in March 2022. If we refer to the weekly updated prices for petrol from the Ministry of Finance Malaysia (MOF), the price of RON97 rose to RM3.83 per litre between March 24 to 30, 2022.
Therefore, private vehicle owners who use RON97 petrol have to spend more on transport expenditure. For example, imagine a Myvi car owner who owns the latest 2017-2020 Myvi III model with 36 litres full-tank capacity initially only having to pay RM81.36 (i.e., RM2.26 per litre multiplied by 36 litres) for pumping full-tank. Nonetheless, an increase in world oil prices and the Russia-Ukraine geopolitical conflict may disrupt the supply chain of petrol. As a result, the individual now has to pay a whopping RM137.88 – an additional RM56.52 to enjoy full-tank capacity.
Hence, if the individual has to pump RON97 petrol full tank at least once a week, the total petrol expenses per month could be at least RM551.52 (assuming four weeks in one month). This is in addition to a monthly parking pass in the workplace around Klang Valley which would cost at least RM150 per month.
Excessive rainfalls during recent months also resulted in more frequent flash floods in the different states. If the individual parks in the basement or flood-prone areas, it would increase the risk of car submerging in floodwaters. If the car has massive flood-caused damage and cannot be repaired, that individual has no choice but to purchase a new one for replacement.
In turn, this will increase the associated costs among private vehicle owners. Not only spending in terms of petrol and parking fee, but they also have to consider purchasing flood insurance in addition to their existing insurance package to compensate for further losses from future floods.
In addition, public transport users in the Klang Valley also require spending an additional RM20 in commuting when the Rapid KL unlimited travel pass has increased from RM30 to RM50 per month effective from January 1. If some places are not accessible by public transport, they still have to book e-hailing services such as Grab and AirAsia Ride to reach a particular destination within Klang Valley.
For a public transport user in the Klang Valley, the estimated monthly transport cost required would be at least RM500 if travelling by Grab at least twice a day (excluding the cost of the current Rapid KL My50 unlimited travel pass).
Other categories such as Furnishings, Household Equipment & Routine Household Maintenance (3.2%), Restaurant & Hotels (2.6%) and Recreation Services & Culture (1.6%) also contributed to the rise of CPI in February 2022.
Moreover, core inflation – which measures changes in the prices of all goods and services but excludes prices of volatile items of fresh food and goods controlled by the government – went up to 1.8% in February 2022.
Transport recorded the highest at 3.5%, followed by Food & Non-Alcoholic Beverages (3.2%), Furnishings, Household Equipment & Routine Household Maintenance (3.2%), Restaurant & Hotels (2.6%), Recreation Services & Culture (1.6%) and Miscellaneous Goods & Services (1.1%).
Although Malaysia will reopen the international borders from April 1, it remains uncertain if we are already out of the woods.
On March 16, the government has allowed another round of EPF withdrawals of up to RM10,000, hoping to provide additional financial relief to those who still struggle to make ends meet with the payouts date on April 20, 2022.
As shown from the previous state elections in Sabah, Melaka, Sarawak and Johor during the pandemic, the rakyat appeared to be more concerned about the "perut" economy (bread-and-butter issues). They are worried about their cost of living expenses, employment and income over who will form the next state government.
Hence, to ensure the rakyat could benefit from raising the minimum wage that is still not commensurate with the rising cost of living, there are several policies that EMIR Research would like to recommend to the current administration for consideration:
1) Introduce three-month grocery, food and petrol subsidies in vouchers among individuals and households in the lower M40 and the B40 income groups from April to June 2022.
Instead of merely providing a one-off financial assistance, it would be more effective for the government to provide different subsidy rates based on their income levels, as shown in Table 1.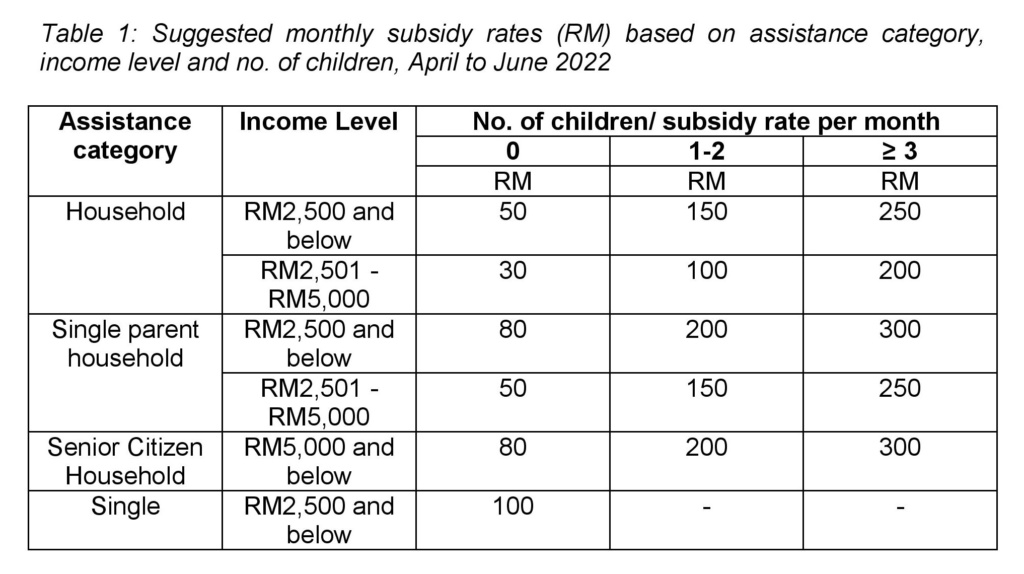 A household earning less than RM2,500 with three or more children could receive a total of RM750 (RM250 multiplied by three subsidy payouts) per month until June 2022. If divided among five family members, each family member would have at least RM150 government subsidy to spend per month.
In an EMIR Research article, "Budget 2022 towards a more comprehensive welfare system" (November 3, 2021), we argued that Bantuan Keluarga Malaysia (BKM) under Budget 2022 does not sufficiently address and alleviate the financial burden among the B40 and M40 income groups.
The government could assess whether M40 and B40 income groups are better off after receiving various subsidies in the next three months.
Or else, the government could extend the provision of various subsidies for another three months (i.e., from July to September 2022).
2) Introduce lower minimum wage levels in non-city and town areas.
The Pakatan Harapan government increased the minimum wage from RM1,100 to RM1,200 in 57 towns and city areas effective on January 1, 2020, but left the minimum wage in non-city and town areas at RM1,100.
While introducing the new minimum wage at RM1,500 on May 1, it would be more context-specific and business-friendly/accommodating to offer a lower minimum wage of RM1,400, as suggested by Bangi Member of Parliament (MP) YB Ong Kian Ming in non-city and town areas.
At the same time, the current administration should consider allowing micro, small and medium enterprises (MSMEs) with cash buffer constraints to hire employees at the previous minimum wage level of RM1,200.
To ensure employees hired by MSMEs receive the desired minimum wage level of RM1,500, the government could top up a wage subsidy of RM300 for one year until March 2023.
When these businesses and companies could generate sufficient cash flow during and aftermath of the border reopening period and the continuing normalisation and endemicity, they would then have sufficient capacity to pay the employees with the minimum wage of RM1,500.
Amanda Yeo is Research Analyst at EMIR Research, an independent think tank focused on strategic policy recommendations based on rigorous research.
In this article