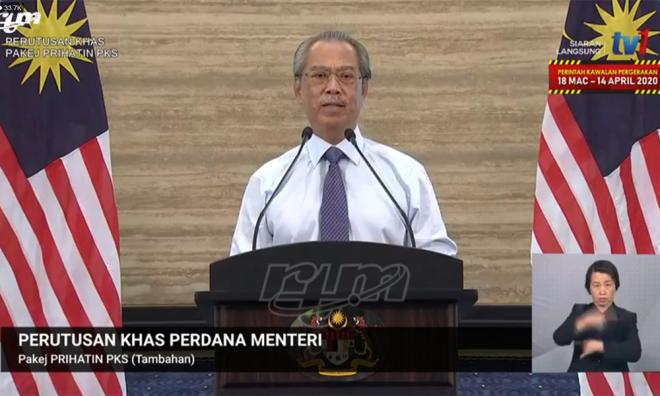 English
Published by Malaysiakini, Business Today & Bernama, image from Malaysiakini.
In the midst of still trying to fight the unprecedented pandemic, many things need to be and have been done to save lives and livelihoods via stimulus packages and vaccine procurement. Given another phase of blanket movement control order (MCO 2.0), many are suffering financially and mentally, and are also affected by flash floods.
The latest stimulus package is rather timely to support the rakyat and businesses, but monitoring is important to see if any enhancements can be made from time to time.
Economists had estimated that MCO 2.0 will slash Gross Domestic Product (GDP) growth this year by 0.7 to 0.9 percentage points, according to The Edge Markets.
However, this projection was based on the several states being under MCO, initially announced last week. Now, the MCO has been imposed on the entire country with the addition of five more states – Kedah, Perak, Negri Sembilan, Terengganu and Pahang except for Sarawak. So, this could paint another picture for the economy although it is said that the impact will not be as bad as in MCO 1.0.
Prior to this announcement, Permai stimulus package worth RM15 billion as announced by Prime Minister Muhyiddin Yassin is welcomed as it tackles segments of the society which have been severely affected by Covid-19 and the heavy floods. It is driven by three main objectives, namely, to combat Covid-19 outbreak, to safeguard the welfare of the people and to support business continuity.
In safeguarding the welfare of the people, some immediate assistances was announced to address the urgent need of emergency funds during this uncertain period.
These include faster disbursement for the last phase of Bantuan Prihatin Nasional (BPN 2.0) and Bantuan Prihatin Rakyat Phase 1 (BPR), increased monthly aid from Department of Social Welfare (JKM), extension of bank loan moratorium and restructuring of loan repayments, one-off financial assistance for tourist guides, taxi, school bus, tour bus, rental car and e-hailing drivers, and advance payments up to RM1,000 from the total amount applied through i-Sinar for EPF members who fall under Category 2.
The crisis has also shaped how people spend on necessities such as food and due to income losses, some have had to cut their spending significantly even for essential expenses.
Taking one example from a survey conducted by Unicef-UNFPA on the urban poor (Families on the Edge Part 2) last year, 70 percent of households said that Covid-19 has affected their ability to meet essential needs with high share on food expenses given that food costs are also rising (37 percent), and bills and utilities (35 percent).
Therefore, the food basket programme under JKM consisting of essential food items valued at RM100 per basket for eligible households should come in helpful for the vulnerable groups.
Since the pandemic, technology has also emerged as a necessity because people have been asked to work from home and students have to adjust themselves to online learning. But not everyone is privileged to adapt to such circumstances like those in the vulnerable and lower-income groups.
Thus, it is a positive move that the government decided to extend the special tax relief of up to RM2,500 on the purchase of digital devices such as mobile phones, computers and tablets until end of this year.
It is the same for Internet access; not everyone can afford it so the extension of free monthly 1GB Internet data to the public and special subscription package for students sitting for SPM and STPM examinations, as well as those in higher learning institutions, are considered as another positive move.
Some initiatives to support the survival of businesses were also included in the Permai package.
One of them is the Wage Subsidy Programme (WSP) which has helped businesses since the economic crisis happened – to help retain employees. Under Budget 2021, the government decided to extend it for another three months with targeted coverage for certain sectors but the limit of employees was raised from 200 to 500.
Given MCO 2.0, the government did the right thing by tweaking the WSP by allowing employers in all sectors under blanket MCO to apply (WSP 3.0) and this initiative is set to go on for a month. Wage subsidy of RM600 will be given to the employers for employees who earn below RM4,000.
Perhaps, an extension of WSP 3.0 can be pursued for another few months, given there is a possibility that MCO will be extended as there have not been signs of daily cases coming down substantially.
Another encouraging measure was the expansion in coverage of Prihatin Special Grant Plus to support SMEs in the states under blanket MCO whereby each SME will be entitled to RM1,000 worth of grant while SMEs in other states would receive RM500 each. Given the increased number of states being under MCO, the number of SME beneficiaries would need to increase as well.
Other key measures to ease the burden for businesses in the near term include accelerating the implementation of microcredit schemes, loan moratorium for businesses and rental discount of 30 percent on business premises by Mara, special tax relief to companies that provide reduction in rental on business premises for SMEs and non-SMEs of at least 30 percent, and discounts on electricity bills for businesses in six sectors.
To ensure that the stimulus measures bring positive impact to Malaysians, there must be effective execution and monitoring coupled with strong political will.
Sofea Azahar is Research Analyst at Emir Research, an independent think tank focused on strategic policy recommendations based on rigorous research.
In this article