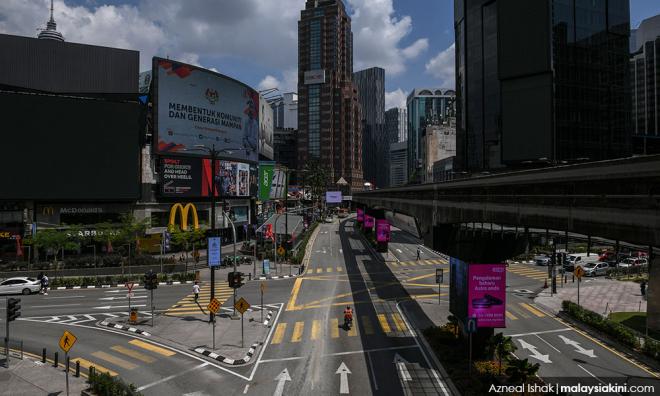 English
Published by Malay Mail, Malaysiakini, Astro Awani & The Star, image from Malaysiakini.
The post-Covid-19 era will have an economy shaped by new habits and regulations based on reduced close-contact interaction, and tighter travel and hygiene restrictions. Malaysia, as a tourism and trade based economy, will not be spared and must adapt accordingly.
Until there is a vaccine or herd immunity, the future scenario is an unprecedented rate of change in how we work and live in the coming year, resulting in new habits long after.
Gradual shifts that were happening over time will now accelerate to become more immediate.
The top 10 trends highlighted in a report by the Board of Innovation, a global strategy firm, are as follows:
Even more anxiousness, loneliness and depression
Diminished trust in hygiene of people and products
Extended travel restrictions, even within country
Optimised work from home setups, beyond typical office jobs
Rising tensions and conflicts in international trade
Unprecedented levels of global unemployment
Take out/home delivery for everything
Increasingly limited contact with older generations
Expansion of one's identity beyond just one's job
Unique value for consumer groups who have certified immunity
The fact is the Fourth Industrial Revolution (4IR) was poised to bring in quantum changes in commerce and society anyway; these technologies will now become indispensable in adapting to the new Low Touch economy.
Those who were playing defence in the face of these changes will have to switch to offense in order to survive. Begging ignorance is no longer a valid excuse, and those who act fast and decisively will seize an advantage.
This is equally true for individuals, companies, societies and countries. In many ways those with the least legacy leadership positions to protect are best adapted to embrace innovation and change.
The Low Touch economy can offer countries like Malaysia the chance to embrace the elusive high-value innovation economy that we have long aspired to. For the naysayers who decried that we could never change our mindset, the day has come when the change is forced upon us: whether we like it or not, the Low Touch Economy is here to stay.
Dr. Rais Hussin is President & CEO of EMIR Research, an independent think tank focused on strategic policy recommendations based on rigorous research.
Bahasa Melayu
Diterbitkan oleh Free Malaysia Today, Sinar Harian & The Malaysian Insight.
Era pasca Covid-19 akan melihatkan ekonomi yang dibentuk oleh kebiasaan baru dan peraturan baru berdasarkan pengurangan interaksi kontak rapat, perjalanan yang terhad dan penjagaan kebersihan yang lebih ketat. Malaysia, ekonomi negara berdasarkan pelancongan dan perdagangan, tidak akan terhindar dan harus menyesuaikan diri dengan sewajarnya.
Selagi tiada penghasilan vaksin atau imuniti kelompok (herd immunity), senario masa depan masih tidak menentu tentang bagaimana cara kita bekerja dan hidup untuk tahun mendatang, yang akan menghasilkan kebiasaan baru.
Peralihan secara beransur-ansur yang berlaku dari semasa ke semasa, kini akan menjadi lebih cepat.
Sepuluh perkara utama yang diketengahkan dalam laporan oleh Lembaga Inovasi (Board of Innovation), sebuah firma strategi global, adalah seperti berikut:
Lebih banyak kegelisahan, kesepian dan kemurungan.
Kurangnya kepercayaan terhadap kebersihan seseorang individu dan produk.
Sekatan perjalanan dilanjutkan, walaupun di dalam negara sendiri.
Menyesuaikan keadaan kerja dari rumah, tidak lagi bekerja di pejabat.
Peningkatan ketegangan dan konflik dalam perdagangan antarabangsa.
Tahap kadar pengangguran global yang belum pernah terjadi sebelum ini.
Penghantaran dari rumah ke rumah untuk semua perkara.
Hubungan semakin terhad dengan generasi yang lebih tua.
Identiti seseorang melebihi pekerjaan seseorang.
Pengiktirafan imuniti mempunyai nilai yang tersendiri bagi golongan pengguna.
Revolusi Perindustrian Ke-4 (4IR) akan membawa perubahan kuantum dalam urusan perdagangan dan gaya hidup masyarakat. Teknologi ini sangat diperlukan untuk menyesuaikan diri dengan Ekonomi Kontak Rendah (Low Touch Economy) yang baru ini.
Mereka yang sukar untuk menerima perubahan terpaksa akur menerima perubahan ini untuk mengharungi cara kehidupan yang baru. Keangkuhan bukan lagi alasan, dan bagi mereka yang bertindak pantas dan cepat, mereka mempunyai kelebihan.
Hal yang sama akan berlaku untuk individu, syarikat, masyarakat dan negara. Bagi mereka yang mempunyai legasi kepimpinan paling kurang untuk dilindungi, mereka yang paling sesuai untuk menerapkan inovasi dan perubahan ini.
Ekonomi Kontak Rendah dapat memberi peluang kepada negara-negara seperti Malaysia untuk menerapkan ekonomi inovasi bernilai tinggi yang telah lama kita impikan. Bagi mereka yang menentang idea ini dengan menyatakan kita tidak akan pernah dapat mengubah gaya pemikiran kita, hari perubahan itu telah tiba secara sendirinya: sama ada kita suka atau tidak, Ekonomi Kontak Rendah akan wujud untuk kita laksanakan.
Dr. Rais Hussin merupakan Presiden & CEO EMIR Research, sebuah organisasi pemikir bebas yang berfokuskan kepada pencernaan saranan-saranan dasar strategik berteraskan penyelidikan yang terperinci, konsisten dan menyeluruh.
In this article