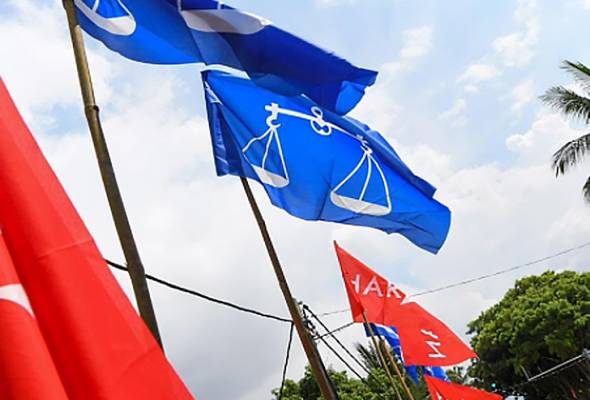 Englishe
Published in Astro Awani, Focus Malaysia, New Straits Times & Asia News Today, image by Astro Awani.
Set against two equally formidable coalition blocs (at least on paper), Barisan Nasional (BN) won handsomely during the recently concluded state election in Melaka.
Instead of securing a simple majority (i.e., 15 out of 28 state seats), BN managed to secure a two-thirds winning majority (i.e., 21 out of 28 seats) in Melaka. On the other hand, Pakatan Harapan (PH) and Perikatan Nasional (PN) only managed to win 5 and 2, respectively.
Out of the 21 seats won by BN, 18 are from the United Malays National Organisation (Umno), two from the Malaysian Chinese Association (MCA) and one from the Malaysian Indian Congress (MIC).
In contrast, PN only won 2 seats – both of them from Parti Pribumi Bersatu Malaysia (Bersatu). Neither Parti Islam Se-Malaysia (Pas) nor Parti Gerakan Rakyat Malaysia (Gerakan) could win any seats during the Melaka state election.
For PH, the Democratic Action Party (DAP) only won half of the contested seats (4 out of 8 seats), followed by one from Amanah but zero from Parti Keadilan Rakyat (PKR).
Could BN be confident enough to go it alone (i.e., abandoning Muafakat Nasional) at the next general election?
It is still too early to tell.
Although Umno managed to win more than 10,000 majority votes for both Chini and Slim by-elections last year, it was in the context of Bersatu and Pas giving their full support during the campaign period.
The same goes for the Sabah state election that took place in September last year. Despite clashing in a proportion of Sabah state seats (i.e., 17 out of 60 state seats), the Gabungan Rakyat Sabah (GRS) coalition managed to win 38 out of 73 state seats in total.
Out of the 38 seats won by GRS, Umno and Bersatu contributed 14 and 11 seats, respectively. The rest of the 13 seats were won by local parties such as Parti Solidariti Tanah Airku (Star) and Parti Bersatu Sabah (PBS).
Despite BN winning a landslide victory in the Melaka state election, The Star revealed under "INTERACTIVE: Breakdown of the Melaka election results" (November 20, 2021) that BN only received 38.39% of the popular vote, followed by PH at 35.65%, PN at 24.47%, independent candidates at 1.32%, Parti Bumiputera Perkasa Malaysia (Putra) at 0.12% and, finally, Parti Perikatan India Muslim Nasional (Iman) at 0.05%.
Among the three coalition blocs, PH experienced a massive drop in vote share by 15.46%. Part of the reason is Bersatu which is no longer with Pakatan Harapan (PH) pulled away the anti-Umno/BN Malay votes. In other words, Bersatu managed to retain more or less similar level of Malay support it had enjoyed at the 14th general election (GE14).
The Bersatu-Pas-Gerakan coalition received 24.47% of the vote share during the Melaka state election. It is 13.69% higher than the vote share of Pas in 2018, which is 10.78%.
Despite PN only securing two Melaka state seats, the coalition took away votes from BN and PH votes received in GE14 altogether. PN came within striking distance of capturing the BN strongholds of Serkam and Tanjung Bidara.
Umno only narrowly retained Serkam and Tanjung Bidara state seats with a 79-vote majority and 364-vote majority, respectively.
In addition, PN managed to win the Sungai Udang state seat despite 42% of the registered voters being police personnel and the military together with their spouses. Normally, the security forces would overwhelmingly vote for the government now helmed and led by an Umno Prime Minister. It could be argued that Tan Sri Muhyiddin's erstwhile reputation as "Abah" was the main factor in clinching the postal votes – with PN winning a slim majority of 328.
Furthermore, PN also secured the Bemban state seat, which consists of 61.22% Malay. Due to the different strategy adoption by PN compared to BN and PH in the form of fielding a Malay candidate, PN managed to receive 4,211 votes. BN came second (3,883 votes) followed by PH (3,095) and independent candidates (980).
However, with a mere 0.64% increase of the overall (popular) vote share by BN, it remains to be seen whether the two-thirds winning majority would be a harbinger of the next elections.
12th Sarawak state election
With four Sarawak parties such as Parti Pesaka Bumiputera Bersatu (PBB), Parti Rakyat Sarawak (PRS), Sarawak United People's Party (SUPP) and Progressive Democratic Party (PDP) exiting from BN after GE14, the Sarawak state election would see Gabungan Parti Sarawak (GPS) contesting for the first time next month.
Coming after the Sabah state election (2020) and Melaka state election (2021), the upcoming 12th Sarawak state election will also see multi-cornered contests. A total of 82 state seats will be contested on December 18, 2021 as the polling day.
The GPS coalition is expected to face-off against Parti Sarawak Bersatu (PSB), PH and PN. Minor parties such as Sarawak People's Aspiration Party (Aspirasi), Parti Bansa Dayak Sarawak Baru (PBDSB), Parti Bumi Kenyalang (PBK), Parti Sedar Rakyat Sarawak (Sedar) and independent candidates are also expected to join in the fray.
Currently, PH Sarawak consists of PKR, DAP and Amanah. On the other hand, PN Sarawak comprises Bersatu and PAS.
However, if PSB and PH cooperate at the end of the day, GPS is expected to encounter a tough battle ahead.
15th General Election (GE15)
Although Parti Warisan Sabah (Warisan) lost in the Sabah state election last year by managing to win only 23 state seats, it is still a force to be reckoned with come GE15. When comparing the respective political parties' performance, Warisan did exceptionally well compared to the other major parties such as Umno (14 seats), Bersatu (11), DAP (6) and PKR (2).
Out of 25 parliamentary seats, Warisan managed to win eight during GE14 – 2 seats less than BN. Both DAP and PKR secured three parliamentary seats, respectively.
The United Progressive Kinabalu Organisation (Upko) which is a Sabah-based political party that was under BN during GE14 switched its support to Warisan and formed the Sabah state government together with PKR and DAP between 2018 to 2020.
Notwithstanding, there might be a high likelihood that Upko would not be able to create a significant impact during GE15 despite its addition to PH since August 2021.
As of now, Upko only have one state seat and one parliamentary seat.
With Warisan's plan to expand its presence to Peninsular Malaysia, it can cooperate with like-minded parties such as Parti Pejuang Tanah Air (Pejuang) and Malaysian United Democratic Alliance (Muda) during GE15.
While PH chose to sign a memorandum of understanding (MoU) with the current Prime Minister Ismail Sabri Yaakob's administration, Warisan, Pejuang and Muda did not share in the same stance.
Warisan President Datuk Seri Mohd Shafie Apdal stated that the MoU should serve the people instead of party-political interests. He also reiterated that ideally, the opposition parties should act as a check-and-balance on the government – ensuring equal financial allocations for all political parties and ethnic groups.
Warisan Deputy President Datuk Darell Leiking added that the opposition MPs from PH are not able to express their dissatisfaction over the unfair distribution of allocations in Budget 2022 due to the MoU with the current administration.
Due to the different stance on the MoU between Warisan and PH, there is a possibility that Warisan, Muda and Pejuang will form a coalition bloc ("third force") to contest against PH at GE15. The Warisan-Muda-Pejuang pact could act as kingmaker if they managed to win draw enough votes away from the main coalition blocs.
And of course, PN which should have a stronger appeal to the rural Malay voters compared to the Warisan-Muda-Pejuang pact would be in a stronger position and better poised to be the definitive kingmaker for GE15.
In conclusion, the coalition which prioritise the concerns of the rakyat especially as arising from Covid-19 in relation to the upcoming Sarawak state election and GE15 would win the trust and confidence necessary to win and thereby become the next government of the day.
Amanda Yeo is Research Analyst at EMIR Research, an independent think tank focused on strategic policy recommendations based on rigorous research.