English
Published by Malay Mail, The Star & Sin Chew, image from Berita Harian.
Facts don't lie, even though truth, is the first casualty of war. When two or more sides start fighting, one of the first things they do is to lie about their true intention or motivation. Senator William Fulbright in the US, who was against the US involvement in the Vietnam War, was the first Senator to understand this. Thus, to this very day, one of the most prestigious scholarships, on par with Rhodes and Truman scholars are the Fulbright Scholarships. Many Malaysians and non Malaysians have studied or visited the US as Fulbright Scholars. They stand for mutual understanding and peace.
The recent decapitation of the top leadership of the Islamic Revolutionary Army Guards (IRAG), otherwise known in Iran as Al Quds, to give them the semblance of trying to reclaim Jerusalem or Baitul Muqaddis, is indeed a risky and dangerous act of aggression by President Donald Trump, granted that he is the US Commander in Chief that gave Pentagon the green light to kill Solemaini, and his Deputy, and the Deputy of Hezbollah, a militia that has grown into some 800 off shoots in and across the Middle East and North Africa (MENA).
Due to the popular standing of Al Solemaini, who enjoys a popularity standing of up to 80 per cent in Iran — if not 95 per cent now, since he has been celebrated in Iran as a martyr — the clerics and Al Quds have vowed 300 revenges.
No one knows how's the Shiah wing in Iran, formed of Ayatollah Ali Khameinei, and President Rouhani and Al Quds, agreed on the 300 revenges as a fair retaliation.
But that number has become the sound bite of the Iranian and Western media, which means there will indeed be some mortars landing in the US embassy, also known as the Green Zone in Baghdad, or, bases in Kirkuk in Iraq. True enough, such tit-for-tat has begun.
But for those trying to decipher if this is a start of another World War, they should be more careful in understanding the context. To begin with, the US has been watching Iran's actions since the days of President Barack Obama. Despite Iran supporting President Bashar Assad, who launched not one, but several chemical warfare against his own people, the US has proceeded on the side of caution by signing the Joint Comprehensive Points of Agreement (JCPOA). The goal was to denuclearize Iran militarily, which to the credit of Iran, it agreed and adhered to until the recent act of aggression by the narcissistic US President Trump.
But when President Trump's team noticed that some 800 Hizballah remain active across MENA, fomenting conflicts, sustaining them, and trying to ensure that evil regimes like Syria remain in power — leading to the prolonged war between Saudi Arabia and United Arab Emirates (UAE) against the Houthis in Yemen — the US unilaterally decided to withdraw from JCPOA in 2017, to the horror and angst of many including their Nato allies.
Slighted and angered by the US withdrawal of JCPOA, which means US and global economic sanctions would continue indefinitely in Iran, President Rouhani, Ayatollah Khamenei, and Al Quds have tried to make sure that the US is punished for reneging on the agreement; which European Union (EU), incidentally, is still supporting, as European statecraft has never truly seen Hizballah or it's 800 militias as a threat, as opposed to the administration of President Donald Trump; for that matter the son in law of President Donald Trump, the Zionists-Israeli friendly Jared Kushner who is supposed to be the point man of the White House on the Middle East.
In the days and weeks ahead, the prices of Brent Crude oil will reflect these confusions and tensions, which is why the price of oil per barrel will hover from US$68 (RM279) to US$70 before dropping down, and potentially going up again. Stock markets across the world have also seen sharp dives albeit possible rebound as Iran so far had been limited in its retaliations to the US military targets only. It also issued a statement that there will be no further retaliations if the US stops its unilateral aggression.
To commentators in CNN like Fareed Zakaria, who has a PhD in Government, from Harvard University, what President Donald Trump did is the near equivalent of a "stupid" fumble. Just as China is growing economically to dominate all ten strategic industries of the world by 2045, consequently to become number 1 in all ten sectors, ranging from digital commerce to space based satellite preponderance, the US is bumbling yet into another conflict, this time with Iran or Persia.
But then again, this aggression has consolidated the voters base of Trump too. And, with an impeachment trial hanging over his head, President Donald Trump has to make the US all hyper nationalistic too. And the best way to do it is to challenge Iran head-on. After all, Wall Street has continued to grow beyond 30 per cent just last week. And this was only the fifth time in the last century in the US. Indeed, Wall Street continues to manage US$47 trillion worth of stocks and various instruments of investments. And the portfolio touches half of the American population in one form or the other through their retirement and social insurance schemes. The fact of the matter is both sides ie US and Iran will continue to use nationalism as the smoke screen of their own domestic purposes, even if the domination of MENA is their ultimate wet dream.
Just last month, Iranians demonstrated in large numbers against Teheran for its inability to hold down the cost of living. Tehran lives in livid fear of being overthrown by their own people. When they are engaged in a bellicose exchange with the US, however, the demonstrators' attention are on defending the country against the US. Understanding this background is more important than trying to wonder if the US and Iran are about to trigger a world war. Although there is always a possibility that this can escalate to a World War. And in any war, as history has shown repeatedly, there will be no victors, only losers. Howsoever one curates the narrative of it, post war!
Dr. Rais Hussin is President & CEO of EMIR Research, an independent think tank focused on strategic policy recommendations based on rigorous research.
Bahasa Melayu
Diterbitkan oleh Berita Harian & Malaysiakini, gambar-gambar daripada Malaysiakini.
Fakta, tidak pernah menipu, walaupun ia betul, tetap menjadi mangsa pertama dalam peperangan. Apabila dua pihak atau lebih mula bergaduh, perkara pertama yang mereka berbohong adalah niat sebenar dan motivasi mereka terhadap sesuatu pergaduhan itu.
Pemimpin Amerika Syarikat (AS) yang menentang penglibatan AS di Vietnam, Senator William Fulbright, sudah pasti menjadi individu pertama yang memahami hal ini. Sebab itu, sehingga ke hari ini, biasiswa yang paling berprestij, setanding biasiswa Rhodes dan Truman, adalah biasiswa daripada Fulbright.
Ramai rakyat Malaysia dan bukan Malaysia yang meneruskan pengajian atau melawat di AS menggunakan biasiswa Fulbright. Mereka ini mengamalkan konsep persefahaman dan kedamaian.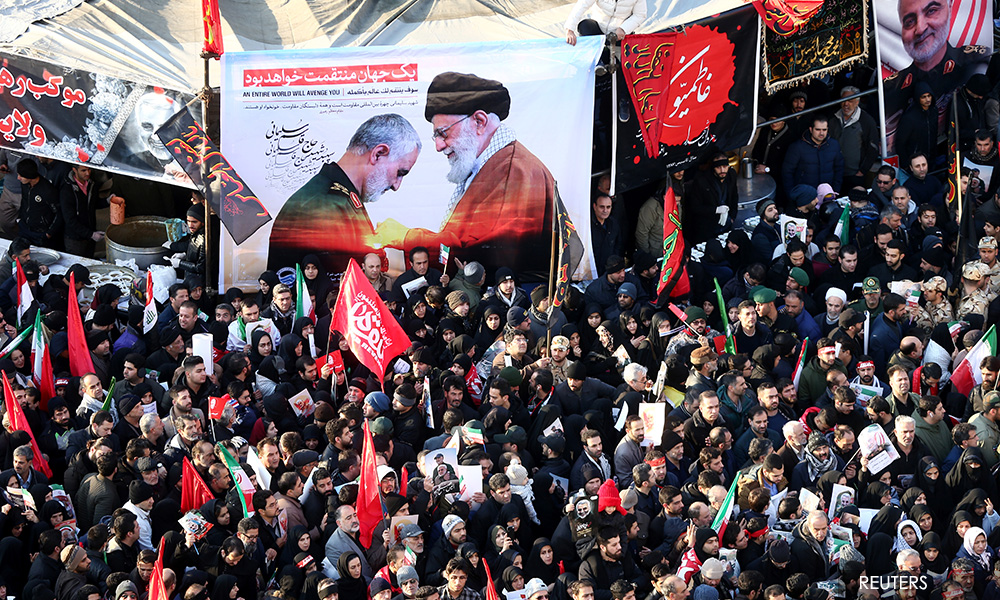 Pembunuhan pemimpin tertinggi pengawal tentera revolusi Islam atau Islamic Revolutionary Army Guards (IRAG) baru-baru ini, yang dikenali sebagai Al Quds di Iran, mirip kejadian ketika percubaan untuk menuntut kembali Jerusalem atau Baitul Muqaddis, sememangnya satu tindakan agresif yang berisiko dan berbahaya oleh Presiden Donald Trump.
Tindakan ini diakui oleh beliau sebagai ketua komander AS, yang memberi lampu hijau untuk membunuh Solemaini, dan timbalannya, termasuk timbalan Hezbollah, militan yang semakin berkembang kepada 800 subsidiari merentasi Asia Barat dan Afrika Utara (MENA).
Disebabkan populariti Al Solemaini, populariti yang melebihi 80 peratus setelah menjadi wira kepada Iran, para ulama dan Al Quds bersumpah untuk membalas dendam.
Tiada siapa yang tahu bagaimana sayap Syiah beroperasi di Iran, ditubuhkan oleh Ayatollah Ali Khameinei, dan Presiden Rouhani dan Al Quds, bersetuju untuk membalas dendam sebagai tindak balas adil, hutang darah dibayar darah.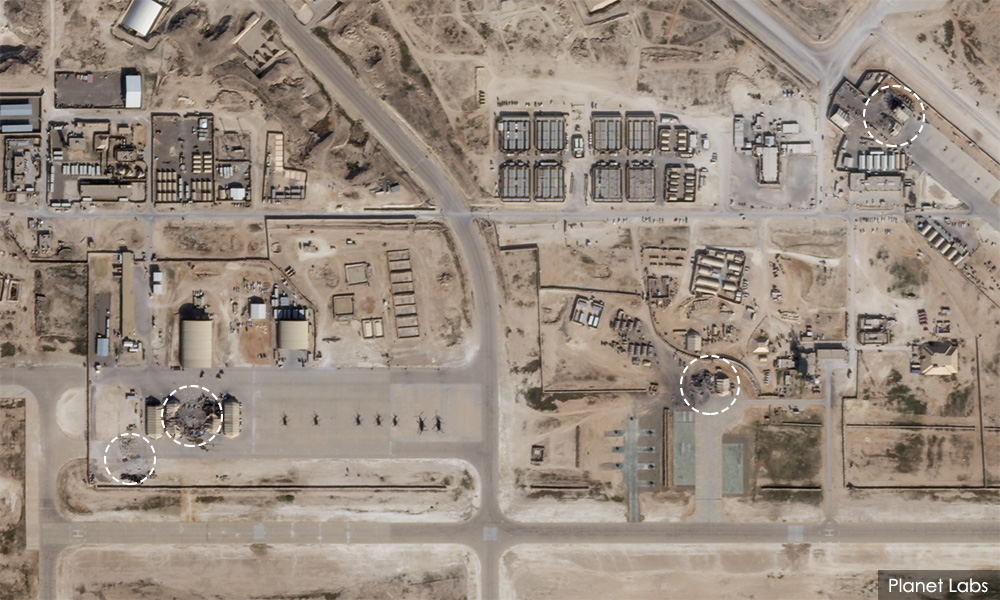 Ungkapan itu telah meresap ke dalam rakyat Iran dan media barat, dan ini bermaksud akan berlaku beberapa pendaratan mortar di kedutaan AS, yang juga dikenali sebagai zon hijau di Baghdad, atau pangkalan Kirkuk di Iraq. Benar, pertempuran sudahpun bermula.
Namun, bagi mereka yang cuba mentafsir ini sebagai permulaan kepada satu lagi Perang Dunia, mereka harus berhati-hati dalam memahami konteks ini. Amerika Syarikat telah memerhati tindakan Iran sejak Presiden Barack Obama lagi.
Walaupun Iran menyokong tindakan Presiden Bashar Assad yang menyerang rakyatnya sendiri menggunakan senjata kimia berulang kali, AS tetap meneruskan tindakan yang berhati-hati dengan menandatangani perjanjian Pelan Tindakan Komprehensif Bersama (JCPOA).
Matlamatnya adalah untuk menyahnuklearkan senjata ketenteraan Iran, yang memberi kredit kepada Iran, dan ia bersetuju serta mematuhinya sehingga tindakan pencerobohan baru-baru ini oleh presiden AS yang narsisistik, Trump.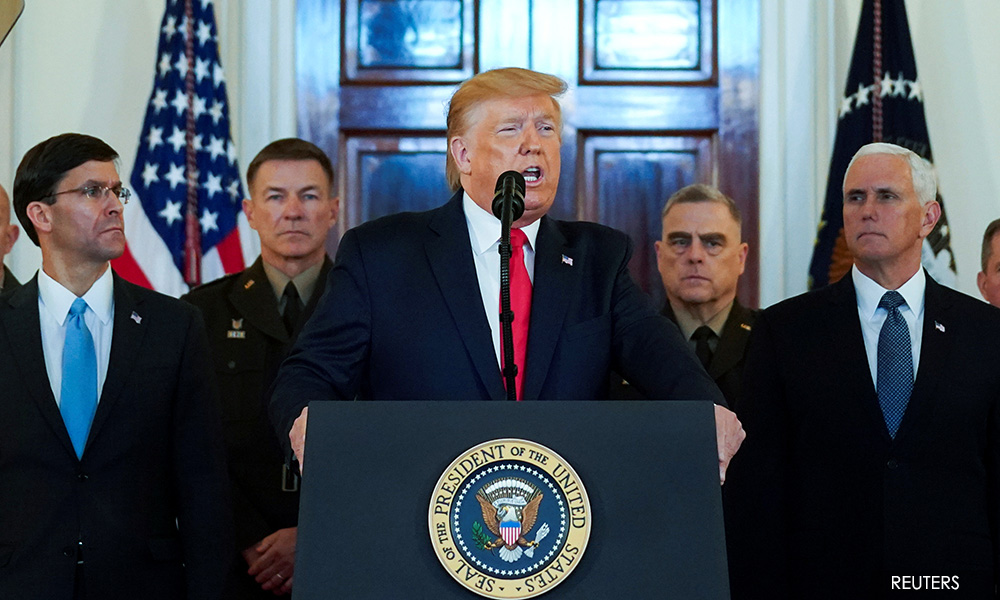 Tetapi apabila pasukan Trump menyedari terdapat lebih kurang 800 Hezbollah masih aktif di MENA, mereka menimbulkan konflik, menahan mereka, dan cuba memastikan rejim kejam seperti Syria tetap berkuasa – yang membawa kepada perang berpanjangan antara Arab Saudi dan Emiriyah Arab Bersatu (UAE) terhadap Houthis di Yemen – AS memutuskan untuk menarik diri daripada JCPOA pada tahun 2017 secara bersendirian, yang mencetuskan kebimbangan ramai termasuk sekutu NATO mereka.
Tersinggung dan marah dengan penarikan JCPOA oleh AS, bermaksud sekatan ekonomi global AS akan berterusan selamanya ke atas Iran, Presiden Rouhani, Ayatollah Khamenei, dan Al Quds telah cuba memastikan AS dihukum kerana tidak bersetuju dengan perjanjian itu; yang mana Kesatuan Eropah (EU), secara kebetulannya, masih menyokong, kerana mereka tidak pernah melihat Hezbollah atau 800 militan ini sebagai ancaman, bertentangan dengan pandangan pentadbiran Presiden Donald Trump.
Untuk itu, anak menantu Trump yang juga teman rapat kepada Zionis-Israel, Jared Kushner seharusnya menjadi orang penting untuk Rumah Putih (White House) di Asia Barat.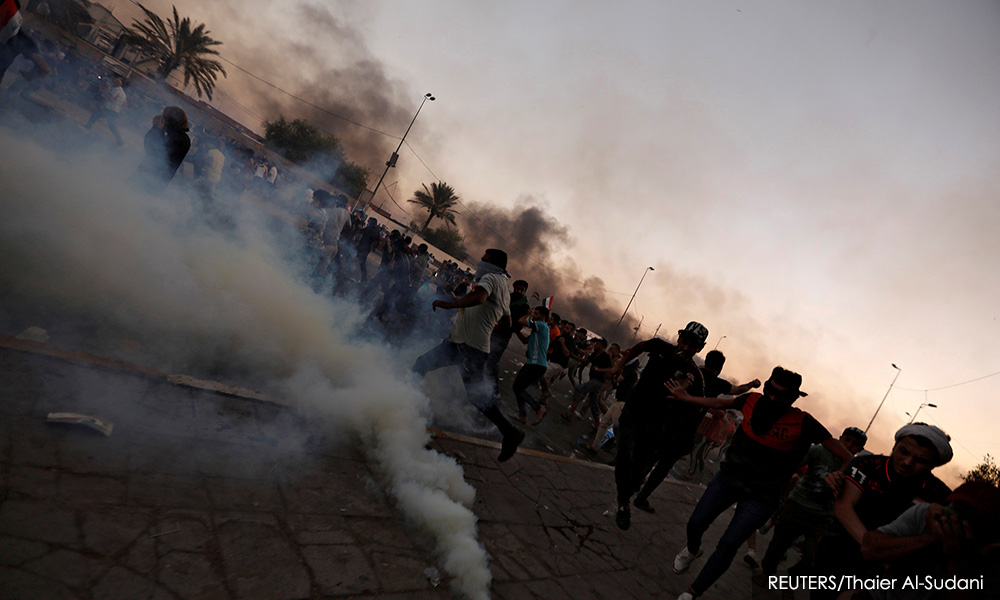 Pada hari ini dan seterusnya, harga minyak mentah Brent akan mencerminkan kekeliruan dan ketengangan ini, kerana itulah harga minyak se-tong akan dinaikkan daripada AS$68 kepada AS$70 sebelum jatuh dan berpotensi untuk naik semula.
Pasaran saham di seluruh dunia juga menyaksikan penurunan mendadak walaupun pemulihan mungkin berlaku kerana Iran setakat ini hanya mensasarkan dan menghadkan tindak balas mereka kepada Pangkalan Tentera AS sahaja. Iran juga mengeluarkan kenyataan bahawa tidak akan ada tindak balas susulan jika AS menghentikan pencerobohan unilateralnya.
Pengulas CNN seperti Fareed Zakaria yang mempunyai lulusan doktor falsafah di dalam bidang pemerintahan dari Universiti Harvard menganggap apa yang dilakukan oleh Trump adalah kesilapan yang memalukan.
China mengembangkan ekonominya untuk menguasai 10 ekonomi industri strategik dunia menjelang 2045, telah menjadi nombor satu di dalam emua sepuluh sektor tersebut, bermula daripada perdagangan digital sehingga kepada satelit ruang angkasa, manakala AS, semakin merosot dan terlibat pula dengan konflik baru, kali ini dengan Iran atau Persia.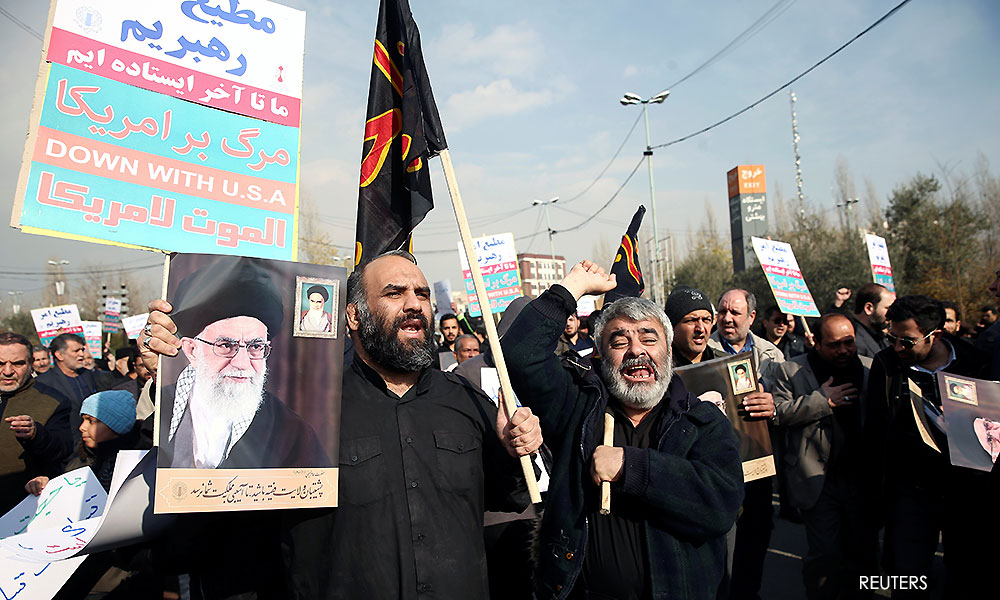 Tetapi sekali lagi, serangan ini juga telah menjadi asas kepada penyatuan pengundi Trump. Dengan kes pertuduhannya yang masih belum selesai, Trump perlu mengambil langkah ini untuk memastikan rakyat AS bersikap lebih nasionalis.
Cara terbaik untuk melakukannya adalah dengan terus menerus mencabar Iran. Malahan, Wall Street telah meningkat lebih 30 peratus minggu lepas. Dan ini adalah rekod kelima AS selepas beberapa kurun.
Sememangnya, Wall Street juga menguruskan stok dan pelbagai instrumen pelaburan bernilai AS$47 trillion. Dan pelaburan ini telah dimanfaatkan oleh separuh daripada penduduk Amerika menerusi skim persaraan ataupun skim insuran sosial.
Fakta kepada situasi yang berlaku ini adalah, AS dan Iran akan terus mengguna pakai semangat nasionalisme sebagai tirai kepada agenda domestik mereka, walaupun sebenarnya penguasaan ke atas MENA adalah impian sebenar mereka.
Bulan lepas, rakyat Iran berdemonstrasi ke atas ketidakupayaan kerajaan Teheran untuk menurunkan kos beban hidup yang tinggi. Teheran hidup di dalam ketakutan disebabkan kebimbangan akibat dibuang oleh rakyat mereka sendiri.
Walau bagaimanapun, apabila mereka terlibat dalam situasi yang agresif seperti ini, penunjuk perasaan mengalih perhatian kepada mempertahankan negaranya terhadap AS.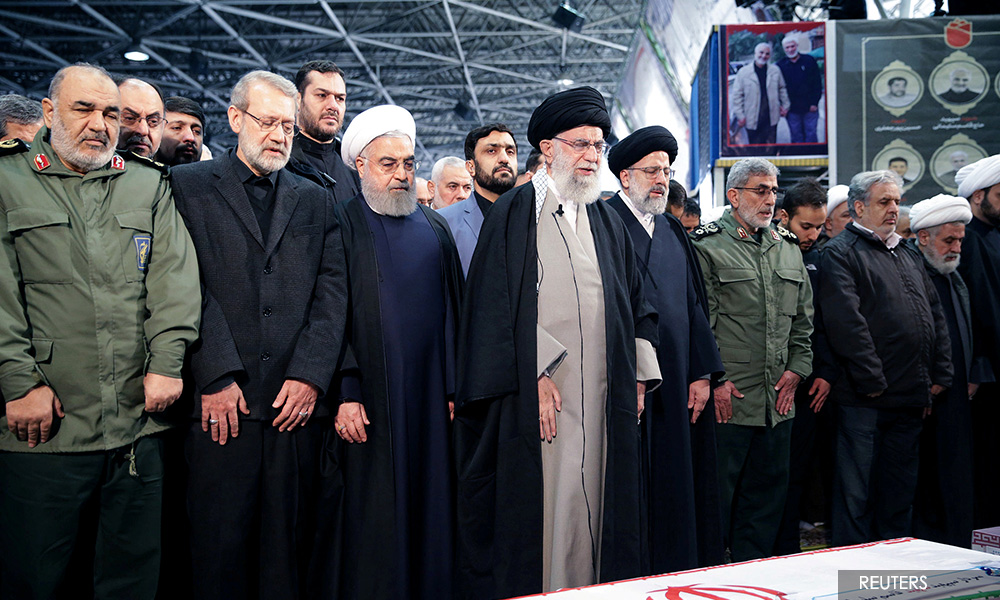 Memahami situasi yang berlaku di Teheran ini adalah lebih baik daripada tertanya-tanya sama ada AS dan Iran akan memulakan perang dunia atau tidak, walaupun ada kebarangkalian perkara ini boleh memulakan perang dunia.
Di dalam mana-mana peperangan, sebagaimana sejarah telah berulang kali menunjukkan, tidak akan ada pemenang, hanya kekalahan.
Dr. Rais Hussin merupakan Presiden & CEO EMIR Research, sebuah organisasi pemikir bebas yang berfokuskan kepada pencernaan saranan-saranan dasar strategik berteraskan penyelidikan yang terperinci, konsisten dan menyeluruh.
中文
刊登在:星洲网 (Sin Chew).
事实不会说谎,尽管事实是,战争出现了第一个伤亡者。当两方或多方开战时,他们要做的第一件事情就是就本身的真实意图或动机说谎。反对美国参与越南战争的美国参议员威廉<2027>福布莱特(William Fulbright)是最早了解这一点的人。因此,迄今,福布莱特奖学金是与罗德奖学金和杜鲁门奖学金齐名的,最负盛名的奖学金之一。很多大马人或非大马人都曾是福布莱特奖学金的受惠者,以在美国升学或造访美国。他们代表着相互理解与和平。
最近对伊朗圣城旅最高领袖的斩首令,让他们看似企图夺回耶路撒冷或圣地,实际上是特朗普总统冒险和威胁的侵略行为,因为后者是美国总司令,是他批准五角大楼杀害苏莱曼尼及其副手,以及真主党秘书长,这支民兵组织在中东和北非地区(MENA)拥有800多名民兵。
由于苏莱曼尼的声望很高,他在伊朗的支持率高达80%──自从在伊朗被誉为烈士以来,现在的支持率可能已经达到了95%──他的信徒和圣城旅发誓要发动300次复仇行动。
没有人知道由哈梅内伊、总统鲁哈尼以及圣城旅组成的伊朗什叶派会如何认同300次复仇行动是公平的报复之举。
但是,这个数字已经成为伊朗和西方媒体的主流声音,这意味着确实会有一些炮弹降落在美国大使馆,那里也被称为巴格达绿地,或,伊朗的美军基尔库克基地。诚然,这种以牙还牙的行动已经展开。
但是对于那些试图破译这是否是另一次世界大战的开始的人,他们在理解这种情况时应该更加谨慎。首先,自美国总统奥巴马时代以来,美国就一直在观察伊朗的行动。尽管伊朗支持阿萨德总统,这名对自己的人民发动了不止一次,而是多次化学战争的人,美国还是谨慎地签署了联合全面行动计划协议(JCPOA)。该协议目标是实现伊朗军事的无核化,这反过来对伊朗也有好处,伊朗对此表示同意并遵守,直到自恋的美国总统特朗普最近的侵略行动为止。
但当特朗普总统的团队注意到有800多名真主党民兵仍然在北非地区活跃、制造冲突、维持冲突、并试图保住像叙利亚这样的邪恶政权时──导致沙地阿拉伯和阿联酋(UAE)对抗也门胡塞组织──美国在2017年单方面决定退出联合全面行动计划协议,这让很多人包括其北约盟友感到恐惧和焦虑。
伊朗对美国撤出该协议感到愤怒,因为这意味着无限期的美国和全球经济制裁,总统鲁哈尼、哈梅内伊、以及圣城旅试图确保美国因违反该协议而受到惩罚;而欧盟,顺带一提,仍然支持该协议,因为欧洲国家从未真正将真主党或其800多名民兵视为威胁,这与特朗普政权的意见相左;为此,特朗普总统的女婿,犹太复兴主义者及亲以色列的库什纳,应该就是白宫里中东问题上的重要人物。
在未来几天和几周内,布兰特原油价格将反映出这些混乱和紧张局势,这就是为什么每桶石油价格在回落之前会徘徊在68到70美元之间,并有可能再次上涨。全球股市迄今也出现大幅下挫,尽管可能出现反弹,因为伊朗的报复行动仅限于美国军事目标。他们还发表声明说,如果美国停止单方面的侵略行为,他们就会停止进一步的报复行动。
对于像法里德扎卡利亚(Fareed Zakaria)这样拥有哈佛大学博士学位的CNN评论员来说,特朗普总统的所作所为几乎等同于"蠢事"。正如中国将在2045年在全球所有十大战略产业中占据主导地位,并随后在所有十大领域,从电子商务到太空卫星领域,占据了首位一样,美国正陷入另一场冲突,这次是伊朗或波斯。
但话说回来,这种侵略也巩固了特朗普的基本盘。此外,特朗普总统悬而未决的弹劾案也必让美国变得更加极端民族主义。最好的方法是正面挑战伊朗。毕竟,上周华尔街就持续增长超过30%。而这只是美国最近一个世纪取得的第五次记录。的确,华尔街持续管理著47万亿美元的股票和各种投资工具。通过退休和社会保险计划等一种或多种方式触及美国一半人口。事实是双方,即美国和伊朗,将继续使用民族主义作为达到本身国内目的的烟幕弹,即使掌控北非地区是他们的最终梦想。
就在上个月,伊朗人大规模抗议德黑兰无法降低生活费。德黑兰活在被自己人民抛弃的恐惧中。但是,当伊朗与美国交战时,这群示威者的注意力将集中在保护国家免受美国侵犯。理解了这种背景,比试图担心美国和伊朗是否会引发世界大战更为重要。尽管总是有任何升级为世界大战的可能性。而在任何战争之中,正如历史反复证明的那样,都没有赢家,只有输家。无论如何,这些叙事都是战后的人们所策划的!
莱斯福贤是EMIR Research的总裁兼首席执行官,EMIR Research是一个独立的智囊团,专注于根据严格的研究提出战略政策建议。