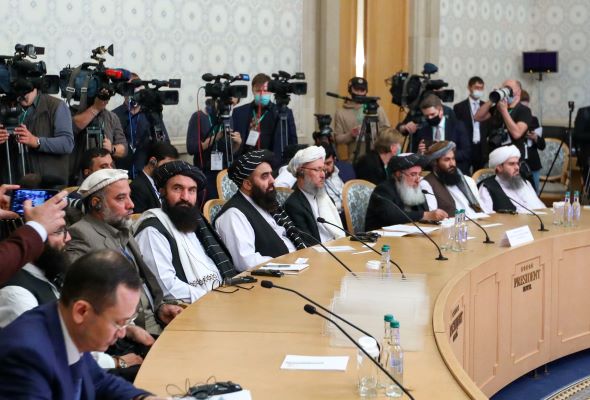 Englis
Published in Astro Awani & Asia News Today, image by Astro Awani.
As argued in EMIR Research article, "Engaging with the Taliban – a multi-dimensional analysis" (August 24), the first step towards engaging with the Taliban is to recognise their role as "liberator" of Afghanistan.
The Taliban view themselves (and are seen by many rural Afghans) as liberator from a) foreign occupation; b) a corrupt, weak and dysfunctional puppet-government especially more recently under Ashraf Ghani; and c) the local warlords.
The second step, as also argued in the article, is to reach out and help the Taliban – as they seek to secure recognition and legitimacy in the eyes of the international community.
An outward-looking Taliban signals a shift in its orientation and, therefore, bodes well for the future of Afghanistan even if the evolution is painfully slow.
The previous article also calls for Islamic and Muslim countries to play a greater and more pro-active role in the reconstruction of Afghanistan under the Taliban. In this, the countries to emulate are China and India.
Islamic and Muslim countries are crucial and pivotal in helping to influence the "internal" transformation of the Taliban as the current rulers of Afghanistan – in addition to the "external" dimension such as economic and socio-economic development.
China and India as the two key major powers "left standing" that are either Taliban-friendly or potentially so, respectively, may not have the same clout as Islamic and Muslim countries due to the extent that Islam plays in the worldview of the Taliban.
Whilst China is eager to engage in the reconstruction of Afghanistan which is a key country along the modern-day Silk Road route of the "One Belt, One Road" mega-project and for domestic security purposes (i.e., deny emboldened Uyghur separatists a safe haven and base by which to launch attacks on Xinjiang province), it has no strategic interest beyond that.
Too strong a Chinese influence in Afghanistan might result in regional instability – as China is also a close ally of Pakistan. India and Pakistan, to this day, remain regional nemesis and rivals on security and defence matters.
It's been said that the Taliban in the past has turned a blind eye or actively allowed foreign terrorist groups such as like Lashkar-e-Taiba (LeT), Harkat-ul-Jihad al-Islami and Jaish-e-Mohammed/JEM (which like the Taliban is from the Deobandi school originating from India) that targets India to operate freely.
Even Daesh (Isis) has a foothold in Afghanistan and apparently would like to establish the Khorasan Caliphate encompassing Central Asia and South Asia.
India is, therefore, worried that Afghanistan might be transformed into "another Pakistan", i.e., a security problem – with implications on the issue of Jammu-Kashmir and the wider domestic security.
On the other hand, Pakistan has traditionally worry about Afghanistan being turned into a "second front" (i.e., "another India) – with the ensuing security problem.
It behooves India to maintain and perhaps even increased its presence (especially in the form of construction projects, technical training, investments, trade) in a Taliban-ruled Afghanistan to counterbalance China.
Under the India-Afghanistan Strategic Partnership (2011) and over the course of twenty years, India's development assistance has seen the construction of roads, dams, electricity transmission lines and substations, schools and hospitals, etc. estimated to be worth well over USD3 billion.
In engaging with the Taliban and reconstructing Afghanistan, it's important to understand that Islam is the one and only unifying "force" – in a country that's 99% Muslim.
In a country already fragmented along disparate ethnic lines based on regions with strong tribal identity coupled with a deep urban-rural divide united only by religion, it makes sense to have a rigorous and very strict imposition of Syariah law to ensure cohesion and stability.
Therefore, any modernisation project to be applied to Afghanistan must take into account the role that Islam plays in keeping state and society together.
This means that the Taliban as the guardian and guarantor of the Islamic identity of Afghanistan – and no one else – must be in the driving seat of any reforms in keeping with the modernity. It has to be highlighted that any differences over the interpretation of Islam as the way of life between the Taliban and the hitherto Islamic Republic of Afghanistan are limited.
Realistically, the Westernised Afghanistan of the 1960s,1970s and 1980s will never make a comeback – at least not until the whole of state and society are ready or accepting.
One of the immediate priorities for the Taliban to demonstrate that it's no longer the same as before is, of course, to allow females to resume their way of life as under the old regime.
Towards that end, the OIC and Malaysia must press the Taliban to guarantee educational and employment freedom of Afghan females along other forms of social rights as also a matter of fundamental practicality.
Collectively, there should be an OIC envoy, either from the Women Development Organization (WDO) or Islamic Educational, Scientific and Cultural Organization (ISESCO), to engage and monitor the implementation and enforcement of the promise and guarantee by the Taliban leadership on the ground level by the rank-and-file. At the same time, the OIC envoy could discuss financial assistance and incentives related to female empowerment and development.
Malaysia can be at the forefront in promoting women empowerment and equality in Afghanistan.
Given that public finances could be constrained and that the US has denied access to assets held there with particular reference to the USD9 billion in reserves of the Afghan central bank as deposited with the New York Federal Reserve, an immediate international cash aid is needed.
Institutions such as World Bank and International Monetary Fund (IMF) should provide unconditional grant for the purpose of easing the cash flow of the Taliban administration – to pay the wages of the bureaucracy.
Others such as the Asian Development Bank (ADB) and Islamic Development Bank can provide financing and loans for repair and rebuilding works.
With India focussing on development on a multi-project and localised basis, China can re-prioritise on the "One Belt, One Road" transportation and communication network scheme and by inclusion the China-Pakistan Economic Corridor (CPEC) by accelerating its footprint under the original memorandum of understanding (MOU) signed in 2016.
Not least, China has also been eyeing Afghanistan's rich untapped mineral resources (such as lithium, copper, iron, gold, silver, gemstones, coal etc.) estimated to be at least USD1 trillion in value (see e.g. "As US exits Afghanistan, China eyes $1 trillion in minerals", Al-Jazeera, August 24).
China is expected to pour in money to restart the copper mine (5.52 million metric ton) project in Mes Aynak (southeast of Kabul) for which the China Metallurgical Group Corporation (MCC Group) won exploitation rights in 2007 together with the concomitant physical infrastructure such as railway lines and perhaps even a mineral processing plant.
India should now decisively make a quick move to establish rapport with the Taliban and secure its presence in Afghanistan on a firmer and sustainable footing. Especially since the Taliban has openly welcome Indian presence and given assurances for current projects to resume.
Indeed, the OIC, including Malaysia, must act swiftly to recognise the Taliban and assist Afghanistan to get back on its feet and normalise sooner rather than later.
And not least, co-opt and integrate country into the mainstream.
What's important is the opportunity afforded by the Taliban's "change of heart" towards the outside world and for which it now craves the recognition and acceptance.
As Professor Dato' Dr Hashim Kamali, the founding CEO of the International Institute of Advanced Islamic Studies (IAIS) said, "Malaysia will be interested in trade relations but political developments will take time. However, an early show of interest in recognition will make a big favourable impact on the Taliban" ("The Taliban's return and how Malaysia should respond", Malaysia Now, August 23).
Jason Loh Seong Wei is Head of Social, Law & Human Rights at EMIR Research, an independent think tank focussed on strategic policy recommendations based on rigorous research.
In this article