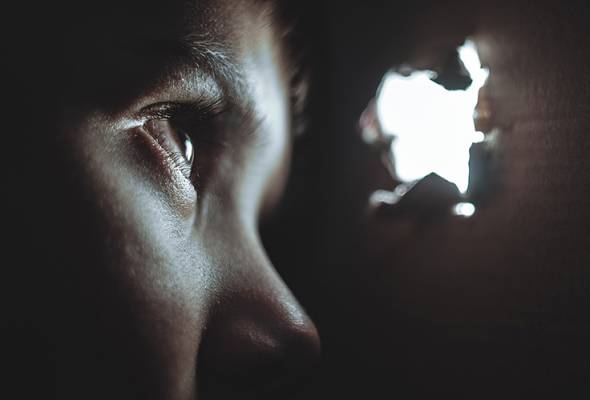 Englis
Published by AstroAwani & TheMalaysianInsight, image by AstroAwani.
With apparent moral decay worldwide, fears of various hidden atrocities become real. Among them, intrafamilial sexual abuse throws a terrifying shadow over households worldwide. Unnoticeably, a distressing number of individuals silently suffer from this form of abuse, particularly incest, behind closed doors with Malaysia not being spared from this serious societal problem.
Incest involves engaging in sexual activity with a person from one's immediate family or close relatives.
Most incest victims are minors, typically below the age of 18. Children being primary victims of this social disease further highlights the disturbing nature of this issue.
Based on a meta-analytical study by Stoltenborgh et al. (2011), one-third of detected child sexual abuse (CSA) cases were carried out by family members. On the other end, a report by the Children's Commissioner for England (2015) estimates that child sexual abuse in the family environment comprises up to two-thirds of all child sexual abuse cases.
Furthermore, these acts of incest are not limited to a specific gender as both males and females are bound to become victims. However, global research consistently indicates that girls face a higher vulnerability, with prevalence rates significantly higher than those observed in boys. For instance, Al-Asadi (2021) found that the number of females who experienced incest was significantly higher than males. The study revealed 1338 (40.52%) females, compared to 172 (5.2%) males were survivors of incest, indicating a nearly eightfold difference.
The prevalence of incest
Incest transcends different cultures and religions worldwide. It manifests in various forms, including parent-children incest, sibling incest, and extended-family incest, and can be found in both developed and developing nations including Malaysia.
For instance, nearly a decade ago in Australia, a disturbing case of intergenerational incest came to public attention, impacting the lives of 40 individuals within a single family. In the United States, the Center for Disease Control and Prevention (CDC) estimates that a staggering 91% of child sexual abuse cases involve incest. Similarly, in Turkey, of 737 sexual crime cases that occurred between 2013-2016, 57 cases (7.7%) involved incest.
Digging deeper into the issue in the Malaysian context, criminologist Shankar Durairaja revealed that, on average, 15 incest cases are reported to the police each month. He further highlighted that in 2019, a total of 300 cases were reported, followed by 259 cases in 2020 and 245 cases in 2021. As of March 2022, 55 incest cases have already been reported (see "Average of 15 incest cases reported each month: Criminologist," The Sun Daily, May 27, 2022).
Additionally, from January to June 2022, the Women, Family, and Community Development Ministry (MWFCD) already recorded approximately 127 cases of incest. Also, in a 2015 study conducted in Kelantan, it was found that incest prevalence is the second-highest sexual offence reported at the One Stop Crisis Centre (OSCC), HUSM, accounting for 27.3% of the total of 439 sexual offences.
Nonetheless, despite of widespread occurrence of incest worldwide, the true prevalence remains difficult to determine due to underreporting, making it a true sense "silent epidemic."
The "silent epidemic"
Behind closed doors, incest continues to occur due to the secrecy surrounding it. Rightfully deemed unacceptable social behaviour in most societies, incest, if occurred, becomes a well-kept secret.
Moreover, victims may hesitate to report such cases due to their relationship with the perpetrator or even their lack of awareness regarding the criminal nature of their experiences.
However, the onset of COVID-19 has brought this "silent epidemic" to the forefront, shedding light on its prevalence within families and the silent victimisation of children.
As noted by Siti Kamsiah Hassan, the principal assistant director of Bukit Aman's Sexual, Women, and Child Investigations Division, there has been an increase in reports of rape perpetrated by family members during the Movement Control Orders (MCO).
Additionally, recent trends indicate a concerning rise in reported cases in the media, with occurrences being reported almost every month.
For instance, in February, a 15-year-old teen committed incest with his sister (see "15-year-old charged with incest against sister, resulting in her pregnancy", New Straits Times, February 23, 2023).
Last month, a 33-year-old mother sexually abused her 12-year-old and 14-year-old sons (see "Mother charged with sexual assault on two sons, making child porn", The Star, May 15, 2023). Most recently, a 38-year-old father was accused of committing rape and sodomising his three children (see "Father charged with raping, sodomising his three children in Kuala Terengganu," New Straits Times, June 12, 2023).
This wave of revelations suggests the urgent need to deal with this deeply rooted problem in our society, which raises the critical question of why incest occurs. What are the underlying reasons behind its prevalence in our society?
Free & easy access to pornography
Firstly, the easy and unrestricted access to pornography which includes incestuous content is likely one of the significant causes of incest. There is widespread availability of sexual material in the mainstream media, driven by globalization, the expansion of the internet, and the existence of free-to-watch websites offering sexual content. With an estimate of over 500,000 websites and 370 million pages dedicated to explicit material as noted by Na'im Brundage, Parti Bangsa Malaysia (PBM) Youth Chief, the internet may play a pivotal role in facilitating the accessibility of incestuous content as well.
Moreover, the extent of the issue is reflected in Malaysia's ranking as the top Asian country and the fourth globally in terms of visits to pornography websites, as reported in a recent survey by Pornhub (see "Problematic Internet Pornography Use and Psychological Distress among Emerging Adults in Malaysia: Gender as a Moderator," International Journal of Environmental Research and Public Health, 2022).
Furthermore, based on a study, "Pornography consumption and sexual health among emerging adults from Malaysia: an observational study", Sex Health, 2023, between 60 and 70 per cent of Malaysians aged 18-30 years surveyed online (using convenience sample) reported positive attitudes toward pornography and just over 81 per cent reported lifetime intentional exposure to pornography.
Contributing to the problem, incest, in fact, emerges as one of the most popular themes in the porn industry.
In recent years, there has been a significant rise in the production and dissemination of incest-themed pornography, commonly referred to as "fauxcest", apparently, driven by an immense demand for such content. This surge in demand has led to the proliferation of fauxcest forums, potentially blurring the line between fantasy and reality.
Furthermore, globally featured TV shows and movies, particularly popular among younger audiences, also play a catalytic role in showcasing and normalizing incestuous relationships. For instance, the popular series Game of Thrones, often referred to as the most popular show of the last decade prominently features incestuous relationships, which can be intriguing enough for some viewers to explore it for themselves.
As said by HELP University Faculty of Behavioural Sciences, Education and Languages dean, Dr Gerard Louis, "When a child is exposed to something sexual, such as porn or any sexual show or scene, they will start to wonder what the act is about. This leads to some children wanting to explore more to satisfy their ever-growing need to understand,"
Hence, the easy access to pornography particularly incestuous content, its popularity, and the promotion of incestuous relationships in the global media contribute to the prevalence of incest.
Challenging living conditions
Families enduring challenging living conditions, such as lack of living space which leads to households being overcrowded for rooming and sleeping arrangements, may also contribute to incest.
A study found that in certain cases of incest, some children needed to share their beds with their siblings regardless of gender while in some such households, parents even slept in the same room with the children (see "The Well-Known Devil of Incest: It's All Begun Within the Family," Journal of Education and Social Sciences, 2022).
Relatedly, the presence of more individuals in the household setting can erode parental control over who is in the household and with whom their child spends time.
This loss of control and increased closeness to individuals within the household can significantly elevate the risk of child sexual abuse. The invasion of personal privacy among family members can further blur the boundaries and create an environment conducive to the occurrence of incestuous relationships.
As a result, this can expose the children to sexual activity and inappropriate behaviours.
Consistently, the research studies highlighted the alarming association between higher levels of household overcrowding and an increased risk of child sexual abuse, with statistics showing a 23%–46% rise in such cases in overcrowded households (see "Overcrowded housing: One of a constellation of vulnerabilities for child sexual abuse," Child Abuse and Neglect, 2019).
Therefore, children in impoverished communities face an increased risk of exposure to adult material, violence, and other undesirable situations within their homes, as these challenging living conditions often lack decent accommodation for rooming and sleeping.
In its upcoming article, EMIR Research will present comprehensive policy recommendations aimed at effectively addressing the issue of incest. The recommendations are designed to provide actionable strategies to tackle this pressing problem.
Ultimately, incest, a seriously troubling societal problem globally and in Malaysia, deserves our urgent attention and effective efforts to eliminate this truly "silent epidemic".
Farah Natasya is a Research Assistant at EMIR Research, an independent think tank focused on strategic policy recommendations based on rigorous research.
In this article