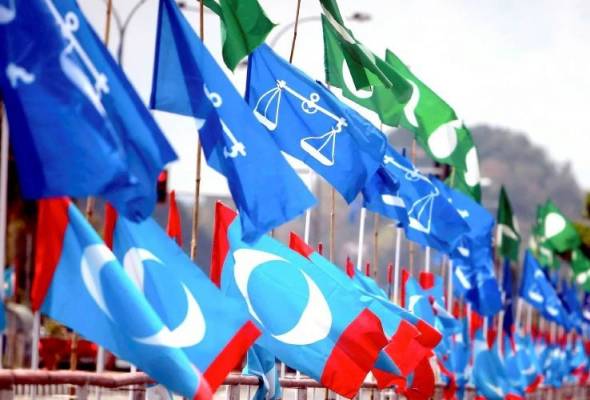 Englis
Published in Astro Awani & Asia News Today, image by Astro Awani.
The Malays who do not want to support Barisan Nasional (BN) have always been driven by the need for significant change. These Malays are seeking a serious alternative to the 60-years-old politics, ethnocentric narratives, and the inseparable perception of deep corruption culture plaguing BN.
Parti Keadilan Rakyat (PKR) struggled to shake off the BN machinery despite being the major alternative to UMNO, but the 1MDB scandal proved to be the last straw for many Malaysians, particularly Malays who were still on the fence. The Pakatan Harapan (PH) coalition, led by the unlikely yet potent duo of Tun Dr. Mahathir Mohamed and Datuk Seri Anwar Ibrahim proved formidable in swinging the Malay votes.
As the internal transformation of decades-old patronage politics and warlordism within UMNO was not deemed possible, Parti Pribumi Bersatu Malaysia (PPMB; Bersatu) emerged initially as the hope for a "new" UMNO. While Anwar led PH through PKR, Mahathir led PH through Bersatu. Although this split the Malay votes, it didn't matter then as both parties were in the same coalition.
By winning GE14, PH finally had its chance to bring about much-needed change, fulfil its manifesto, and execute crucial reforms. But series of events ultimately culminating in the Sheraton move resulted in Bersatu pulling out of PH, leading to the loss of parliamentary majority, Mahathir's untimely resignation, and collapsing the short-lived PH federal government.
This had left promises to be broken and voters feeling betrayed. For the Malays who "broke up" with their long relationship with UMNO-BN and went for the appealing and promising alternative in PH, this was the first heartbreak, so to speak.
Then came the leadership of Bersatu's Tan Sri Muhyiddin Yassin who became Malaysia's 8th prime minister under the newly-formed Perikatan Nasional (PN) coalition composed of Bersatu, PKR defectors or Azmin's faction, UMNO, MCA, MIC, PAS, and Gabungan Parti Sarawak (GPS).
The rise of the so-called "backdoor" government was the Malay's second heartbreak, as Bersatu and Azmin's PKR faction split the Malay votes even further.
Unfortunately, PN coalition partners helmed the Government during an unprecedented crisis defined by the Covid-19 pandemic, the ensuing socio-economic issues, and worsening political turmoil.
Muhyiddin stepped down after finally losing majority support in Parliament on August 3 when 11 UMNO Member of Parliament (MPs) pulled out from the PN government.
With UMNO's exit from PN and the formation of Mahathir's Parti Pejuang Tanah Air (Pejuang) not aligned with any coalition, the Malay votes are now even more divided. The existence of the Malaysian United Democratic Alliance (MUDA) also pulled a combination of Malays and non-Malays middle-age and youths from all sides.
Now, under Prime Minister Dato' Sri Ismail Sabri Yaakob's rule, it would appear UMNO is gaining traction and people see glimpses of the old grand BN machinery in operation again. This is the third heartbreak for the anti-UMNO Malays who wanted to see change ever since the fall of BN in the 14th General Election (GE14).
Malaysian Chinese have generally been united in their support for DAP even before 1MDB came under the spotlight. They are heartbroken too due to similar reasons, but at least they are united, and there is strength in unity.
On the other hand, the Malays have been taken for a rough ride, and are now more disunited than ever. Analogically speaking, Malays have faced three heartbreaks, and it's in many small pieces.
Even so, Malays are generally forgiving, sentimental, and can be over-patient. In the wake of consistent disappointments, some revert to familiarity when the alternative isn't a clear contrast or differentiator. As the saying goes, "better the Devil you know than the Devil you don't know". Thus, some Malays either retain their vote for UMNO-BN, or, explore other alternatives such as PN-Bersatu.
As mentioned by American author, poet, and civil rights activist Maya Angelou: "I've learned that people will forget what you said, people will forget what you did, but people will never forget how you made them feel". Angelou is generally correct, but people also have short memories, and feelings and memories are interconnected. Thus, they are always subject to recency bias.
Unfortunately for PKR, recency bias is real and Bersatu's efforts (effective or not) in managing the pandemic and host of socio-economic issues are fresher in the minds of Malaysians compared to what PKR was able to do in the short time PH was in power.
Since then, PH has made several critical errors that have blurred the distinction of the opposition and eroded PKR's influence on Malay voters. All the while, BN's image tainted by corruption scandals and court cases slowly gets put in the back seat.
Nevertheless, it would be still folly for BN and PN to feel at ease. Voter turnout and age group demographics had a significant influence on the outcome of the Melaka state election.
There is also a chance MUDA partners up with Pejuang and Parti Warisan Sabah (Warisan) in the future. Mahathir's established influence on the Malays should not be underestimated, and combining this with MUDA which may command a significant portion of Malay youth voters, this partnership may turn out to be formidable. Where PAS aligns is anybody's guess.
Either way, this works well for BN because the anti-UMNO Malay votes are split. It took the joint effort of Mahathir and Anwar to do this before, and it will take no less to do it again next time.
Malays and Bumiputeras make up over 60% of Malaysia's population, and when Malays are broken in many pieces, any ruling government of the day would constantly be wielding a slim majority at best, leading to perpetual political instability.
Ameen Kamal is the Head of Science & Technology at EMIR Research, an independent think tank focused on strategic policy recommendations based on rigorous research