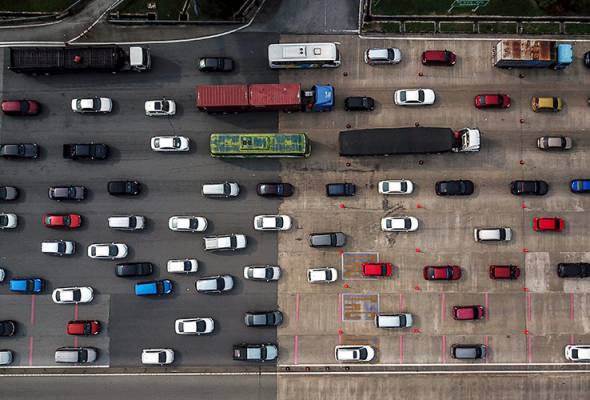 English
Published in Astro Awani, image by Astro Awani.
The Mass Rapid Transit 3 (MRT3) Circle Line project might be welcomed news for Klang Valley residents living in areas with limited access to public transportation facilities. However, as the first phase of operation is only set to begin six years later (i.e., 2028) and only fully operational by 2030, Kuala Lumpur would continue to face severe traffic congestion in the next few years. 
According to the MRT Corp Chief Executive Officer Zarif Hashim, the MRT3 Circle Line – a 50.8km circular alignment covering the perimeter of Kuala Lumpur – is designed to cover underserved areas such as Segambut Dalam, Taman Sri Sinar, Setapak, Pandan, Pantai Permai and Jalan Klang Lama.
When more people resumed working at their workplaces and gatherings became more regularised coupled with the reopening of international borders on April 1, traffic frequency and volume along major highways, expressways and strategic arteries nationwide are expected to increase even more.
And with people from other states driving to more urbanised states and cities for business or leisure trips, traffic congestion will worsen not only in Kuala Lumpur but also in cities such as Petaling Jaya, Georgetown, Johor Bahru, Kota Kinabalu and Kuching, for instance.
However, longer journey time, low on time performance (OTP), i.e., relating to punctuality and lack of safe pedestrian crossings which are linked to public transportation facilities such as stations are among the reasons that discourage or disincentivise commuters based in Klang Valley from transiting to public ridership for work or leisure.
Twitter user Faizal Hamssin complained in his tweet on March 14 that he had to drive due to the infrequent train times. Many regular public transport users in Klang Valley are left with no choice but to wait for at least 15 to 20 minutes to board the MRT.
Although the Penang state government has provided unlimited free bus service for the convenience of low-income groups in recent years, some still choose to travel on their own vehicles due to the concern of waiting and journey time.
Other popular destinations such as Johor Bahru, Kota Kinabalu and Kuching also experience similar situations. When more people originally outside of the conurbations of Johor Bahru, Kota Kinabalu and Kuching move to these cities, there will be a further increase in car ridership – worsening the traffic congestion.
As it is, the public transportation issue is not new in Malaysia.
A few years ago, World Bank stated in its Economic Monitor Report 2015 that road congestion became worse in cities all over Malaysia. Nonetheless, the existing public transportation networks are not sufficient to cater to the travel needs of Malaysians.
Rising price of the Rapid KL unlimited travel pass from RM30 to RM50 per month effective from January 1 might further disincentivise residents in the Klang Valley from adopting public transportation via the Light Rail Transit (LRT), MRT, KL Monorail and bus rapid transit (BRT) services.
And as there are lesser e-hailing drivers during the Ramadan period, this has triggered a price hike, particularly for Grab – a commonly used e-hailing service by Malaysians. If the price increment continues, more Malaysian would prefer to purchase their own cars over adopting e-hailing services or public transportation.
Usually, a one-way trip from Pudu to Bukit Damansara only costs RM10 at 9.30pm. However, an 18-minute spanning 7km journey could now cost RM22 – a whopping increase of 120%.
On March 16, the government allowed the fourth round of Employees Provident Fund (EPF) withdrawals to provide additional financial relief, especially among contributors from the lower-income bracket who are still struggling to recover from over two years of economic losses from the pandemic.
Hence, there is a possibility that some Malaysians might choose to withdraw an additional RM10,000 from the EPF for the purpose of purchasing cars or motorcycles. Such a phenomenon is worrying as when EPF contributors exhaust all of their savings, this could mean that they would fall deeper into poverty and debt.
If additional expenditure is required to pay off car loan monthly instalments, they might not even be able to afford daily necessities to sustain their living.
Therefore, to enable urban Malaysians to enjoy a more efficient and effective public transportation system, EMIR Research has several policies to recommend to the current administration:
Work with city councils to install pedestrian walkways or cycling pathways around the public transportation (inclusive of bus, train and railway) stations. By promoting not more than 15-minute walking or cycling distance from the public transportation stations to nearby shops, parks, leisure facilities and residential areas, people can access public transportation facilities with ease;
Enhance coordination between the federal government and state governments in Selangor, Penang, Johor, Sabah and Sarawak in public transportation planning policies. Initiatives include increasing car-free zones, increasing the frequency of public transportation service and improving both car and motorcycle parking access. Prioritising walking, cycling, shared vehicles alongside public transportation would help to reduce carbon footprint in highly urbanised areas;
The Ministry of Science, Technology & Innovation Malaysia (MOSTI) should spearhead the initiative in collaboration with the Ministry of Transport (MOT) to promote the adoption of artificial intelligence (AI) in the ticketing system, parking system, bus route or schedule system, terminal operating system and related digital applications;
Conduct periodic reviews (i.e., once in three months) of all short-, medium- and long-term public transportation plans and ensure all strategies are implemented within the specific time frames. The MOT should collaborate with the Ministry of Housing and Local Government Malaysia via the Department of Town and Country Planning (PLANMalaysia), the Commonwealth Association of Planners, local city councils and Think City, etc. to ensure seamless and regular connectivity in all residential, commercial and industrial areas;
Allocate funding to conduct research and development (R&D) in sustainable public transportation infrastructure which can be replicated in all urbanised regions across the nation;
Organise regular townhall sessions (i.e., at least once a month) to gather feedback among citizens who usually commute by public transportation. Local city councils could work with MRT Corp and Prasarana to gather and work on the feedback regarding public transportation service delivery.
Install more streetlights, road signs and CCTV cameras to promote safety and comfort for the public transportation users who are commuting at night – discouraging criminal activities and accidents; and
Require rigorous government oversight mechanisms to ensure every ringgit of public money spent to finance the current MRT3 project and other public transportation projects is used transparently.
Also, the government should review the current MRT3 construction project timeline.
As suggested by the Master Builders Association Malaysia (MBAM), the MRT3 construction ideally should begin by the third quarter of this year (Q322) to capitalise on the continuity of the supply chain from MRT2 (also known as the Putrajaya Line).
When the construction starts earlier, the MRT3 project could be fully operational two years earlier than the initial timeline (i.e., 2028) rather than later (i.e., 2030).
While the government is trying to improve the existing public transportation networks and facilities, the rakyat also must shift their mindset by adopting and adapting to public transportation. When they realise how time- and cost-effective it is to commute via public transport, they could slowly reduce the usage of privately-owned vehicles, boosting Malaysia's public transportation ridership.
With lesser cars and motorcycles travelling across the highways and roads on the back of increased public ridership, this would help to reduce air pollution, energy consumption and traffic congestion altogether. Malaysians living in urban areas also could enjoy a higher quality of life, promoting overall liveability and happiness.
Amanda Yeo is Research Analyst at EMIR Research, an independent think tank focused on strategic policy recommendations based on rigorous research.
In this article