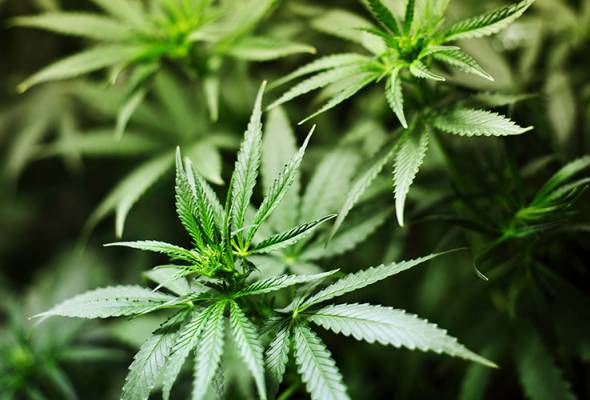 English
Published in Astro Awani, image by Astro Awani.
In 2020, the 63rd Session of the Commission on Narcotic Drugs of the United Nations (UN) voted to drop cannabis and cannabis resin from Schedule IV of the Single Convention on Narcotic Drugs (1961). This "demotion" meant that cannabis is no longer considered to be among the 'most dangerous drugs' category.
When cannabis is used interchangeably with marijuana, it specifically refers to cannabis products that are made from the dried flowers, leaves, stems and seeds of the cannabis plant. And it is in this context that the medicinal and health use of cannabis is promoted.
However, the then Prime Minister of Malaysia Tan Sri Muhyiddin Yassin said the government would maintain its status on cannabis and related drugs as they bring harm to the community. It was not until November 29, 2021 did the issue crop up again when Muar MP YB Syed Saddiq highlighted and championed the medicinal and therapeutic use of cannabis/marijuana in Parliament.
Health Perspective
The main argument against the legalisation of marijuana lies in its supposedly or ostensible health effects/implications.
But in a country where 90% of lung cancer patients are smokers ("Lung cancer in Malaysia", Journal of Thoracic Oncology, Vol. 15 No. 3:317-323), is marijuana really that more harmful?
According to a joint collaboration study by University of California San Francisco (UCSF) and the University of Alabama, they found that low to moderate use of marijuana is less harmful to users' lungs when compared to the exposure to tobacco.
It was found that air flow rate inside the lungs increased rather than decreased when smoking tobacco.
The use of medical marijuana as an alternative treatment to conventional medicine has been widely accepted in over 40 countries. A study by the Institute of Public Health, Florida A&M University, saw that medical marijuana is mainly used for the treatment of chronic pain, multiple sclerosis, and inflammatory bowel disease by providing relief and, henceforth, improving users' quality of life without the dependency on painkillers.
The positive effects of taking medical marijuana includes but are not limited to reducing anxiety, eliminating opioid use, improving sleep, addressing post-traumatic stress disorder (PTSD), improving pain management, and stimulating appetite.
Whereas common side effects of marijuana consumption include changes in blood pressure (both low and high cases have been reported) and increases in heart rate, dizziness or drowsiness, facial flushing, false sense of well-being stupor, feeling of being "high", ecstasy, laughing, etc. And there are also reports of users suffering from nausea.
Although the usage of marijuana for medical purposes does have its side effects similar to other conventional medicine, when compared to the relief it provides patients with, these would be considered minor.
Economical Perspective
Thailand had been notorious for having very strict laws for drug-related offences. However, in 2018, Thailand became the first country in Southeast Asia to legalise the use of cannabis for medicinal purposes.
In January 2022, the country took a step further by delisting cannabis with THC (tetrahydrocannabinol – a component inside cannabis – and the main psychoactive component that induces the 'high' feeling) levels of below 0.2%. Hence, Thailand legalised the recreational use of cannabis within this range.
Thailand which was badly hit by the global pandemic is seeking ways to jumpstart its tourism sector – and this can be partly driven by the recreational use of marijuana. It is expected that around 27.7 million tourists will come into Thailand for the purpose of health and wellness. The country's recreational cannabis market has the potential to be worth USD424 million by 2024.
Creating a designated area for recreational use of marijuana could potentially see the birth of a "New Amsterdam" in Southeast Asia.
Lebanon has also legalised the cultivation, distribution, sale, and consumption of cannabis.
The country has one of the world's largest illegal hashish (drug made by compressing parts of the cannabis plant) farms. This thriving illicit industry has been a mainstay in the Lebanese economy for generations.
By legalising and regularising the use cannabis, the Lebanese government is looking to reap monetary gains from the industry. Lebanon has the potential to become the largest exporter of cannabis, which could bring in an estimated USD1 billion. This could help to rejuvenate what is a currently ailing economy suffering from forex shortages and the concomitant of a depressed currency.
Malaysian Context
The step forward for Malaysia in regards to this issue may not necessarily be to legalise cannabis immediately, but to first decriminalise it under the certain conditions.
On 22 March 2022, the Communications and Multimedia Deputy Minister Datuk Zahidi Zainul stated that a memorandum on the medical use of kratom and cannabis is to be handed to the Prime Minister for discussions on the legalisation of the substances.
To demand legalisation directly without sufficient domestic clinical trials might be too big of a step for the government.
As an alternative, EMIR Research would like to suggest that the (conditional) decriminalisation of cannabis for medicinal purposes should be the first step, instead.
Decriminalisation would mean that cannabis would still be prohibited by law. However, the legal system would no longer prosecute or criminalise a person in possession or using it under certain circumstances.
The decriminalisation of medicinal cannabis would enable Malaysia to tap into a USD20.73 billion global market (Verified Market Research) which would help to boost the country's revenue post-Covid 19.
Health Minister Khairy Jamaluddin has already stated that the importation and distribution of cannabis products for medicinal purposes is permissible according to the Dangerous Drugs Act 1952. Specifically, it means that as a matter of requirement, the product must be registered by the Drug Control Authority and that importation, as well as wholesale sales of the product, are carried out by licensed importers and sellers respectively.
The retail sale or supply of the product for the medical treatment of certain patients can only be done by a medical practitioner registered under the Medical Act 1971 to the patient, or by a registered pharmacist with a Type A license to certain individuals based on prescriptions issued by a registered medical practitioner.
However, what is to stop Malaysia from producing and cultivating our own cannabis products when we have the resources to do so?
By integrating cannabis farming with the already existing and thriving kratom farms in Kelantan and Kedah, there is potential to uplift the rural economy by giving access to what is a very lucrative industry.
We just need an effective regulatory framework to oversee and manage the production of these produce.
In 1996, California became one of the first states to legalise medical marijuana. It is estimated that between USD700 million and USD1.3 billion worth of medical cannabis is now being sold yearly, bringing sales taxes of between USD58 million and USD105 million into the state coffers.
The decriminalisation of medical cannabis now would ensue in the creation of a new diversified income stream with scope for our own local industries especially healthcare, pharmaceutical as well as tourism (medical) to flourish and thrive.
Jason Loh Seong Wei and Rosihan Addin are part of the research team of EMIR Research, an independent think tank focused on strategic policy recommendations based on rigorous research.
In this article