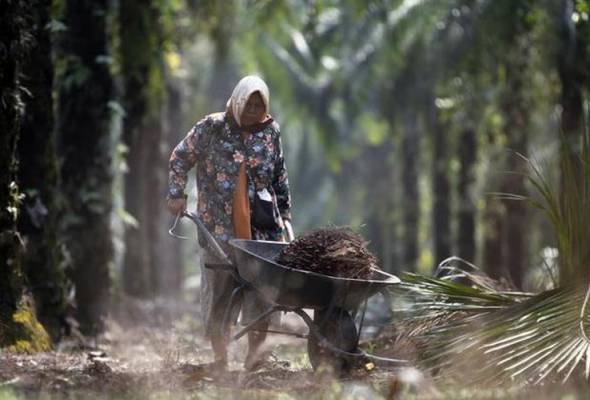 English
Published in Astro Awani, MYsinchew & Business Today, image by Astro Awani.
It is said that one of the negative effects of mechanisation – the introduction of machines or automatic devices into a process, activity, or place – in farming will result in a smaller workforce, hence contributing to an increase in unemployment.
But this is not so in the plantation industry. Mechanisation in the oil palm industry for the past few years in the area of fruit harvesting has seen increased productivity, resulting in an increase in oil extraction rate.
And this could also solve the triple problems of unemployment, underemployment and too much reliance on foreign labour.
The key lies in oil palm loose fruits (LF) scattered on the ground which is one sign the fresh fruit bunches (FFB) on the tree is ready to be harvested. Palm oil fruit grows in dense bunches known as FFB.
LF are also scattered when the bunches fall to the ground during the harvesting operation which involves cutting the FFB, and these need to be collected together to maximise the oil content during processing.
In the past, LF were left in the field due to the perception of their small size, hence, not worth the effort to be collected. It is not that they are not collected at all but the efforts to collect them are lukewarm and not serious enough because the focus is on harvesting the bigger FFB on the palm tree.
But in line with the adage that small is beautiful and precious, and based on many research findings, most detached LF which are from the outer diameter of the FFB contain the maximum level of oil content, up to 40% of palm oil compared to 35% and 29% respectively of the middle and inner region of the bunch.
According to one study, the loss measured in term of oil extraction rate (OER) are significant if LF are not collected and processed – a reduction on OER by between 0.37% to 0.92%, depending on the age of the oil palm tree, if 20 LF per palm are not collected.
In monetary term, a plantation company would make on the average an additional RM 30 million in net profit if estate workers collect six LF per palm. Hence, many plantations have now made it a point to ensure that all LF are collected from the field to maximise their profits.
And here's where mechanisation comes in to increase the number of LF collected per hectare, which will have a profound change in the landscape of LF palm harvesting which has remained pretty much the same even after a century since oil palm was first planted commercially in Malaysia.
For a very long time the collection is done manually by hand picking or by using a raking device and the LF are eventually placed into a bag or directly into a container or trailer. This involves frequent bending movement which is a bad posture for the body resulting in backache to the worker.
To worsen matters, debris that accumulate together with the LF contribute to a lower OER as the trash will absorb oil during processing. Hence, there is a need to remove the debris before the LF are sent for processing.
Hence, the mechanisation drive also gives rise to the invention of cleaning or segregating machines to separate the debris from the LF.
To minimise or eliminate all these problems and to increase the collection productivity, various tools and machines, from a simple mechanical picking mechanism to vacuum-type collecting machines using suction technology were developed in the past few years.
And the motorised versions of this picking mechanism have also made their appearance in some plantations, making the collection process of LF more efficient by providing greater output per hectare.
These machines are locally produced which more often than not is the result of collaboration among industry players, academic and research institutes, and the Malaysian Palm Oil Board.
Thus, it is not really a great surprise although a fantastic achievement when FGV Holdings Bhd, for instance, in a filing with Bursa Malaysia on Aug 30, said its plantation sector registered a higher profit of RM421.63 million in the second quarter of this year compared to the RM105.58 million loss recorded in the corresponding quarter in 2020.
This is on the back of an increased OER oil achieved at 20.12% compared to 20.05% for the same time period.
All this means there is now a great opportunity to minimise the dependency on foreign labour by roping in unemployed and underemployed local youths with a new skillset on how to harvest palm fruits using the invented machines.
But they need to undergo training for this new skillset with certification. Along with the certified skills, there must be a rebranding of their job designation and description to reflect that they are not merely fruit pluckers or collectors because they now need to know new things like how to operate the new machines, assemble them, dismantle them and basic servicing of the machines.
A palm harvesting specialist sounds a good name change, along with a train and emplacement scheme that pays RM2,000 for three months, and RM3,000 after the internship is over.
With hard work, and an inventive mind, the youths recruited can look forward to an income of RM5,000 based on tonnage.
And this development is not limited to the LF alone. With a simple invention known as the flexible titanium rod, harvesting of about 500 FFB on a 32-hectare plantation takes only two hours for one worker, compared to the old method of using an aluminium rod with a knife attached at its end which requires 20 workers for the same sized plantation.
These are the incentives that will bait local rural youths and also the youths of the urban poor who are mostly unemployed or underemployed currently including fresh graduates to take up the call for a gainful employment in a respectable job with decent pay.
In a recent article, Emir Research has pointed out how underemployment has become a structural challenge because it is not being taken into account in the formal sector of the economy.
One way to manage this is to channel the underemployed to the formal sector so that the matter of their employment or unemployment can become straightforward.
With the price of palm oil on the high – average crude palm oil (CPO) price of RM3,268 per tonne against RM2,453 per tonne previously – the timing is right for the plantation industry to introduce this scheme to help the transition of those from the informal sector to the more visible formal sector of the economy.
These changes would also have a trickle-down effect on the small-scale plantation famers and estate owners which will benefit them.
With the recent focus concentrated towards the unmanned collection of the LF, the skillsets of these youths can further be upgraded and upskilled a year or two with the knowledge of robotics and drones where some experts are saying that this will be the future landscape of oil palm harvesting.
Perhaps an institute of palm harvesting technology should be set up to guide these youths for a rewarding and fulfilling career pathway trajectory that will also benefit the palm industry, and the nation in term of achieving the status of a high technology and high-income nation.
Jamari Mohtar is Director, Media & Communications at EMIR Research, a think tank focused on strategic policy recommendations based on rigorous research.
Bahasa Malaysia
Diterbitkan di MalaysiaNow & SARAWAKVOICE.
Satu kesan negatif penjenteraan – pengenalan mesin atau peranti automatik ke dalam proses, aktiviti, atau tempat – dalam pertanian akan menghasilkan tenaga kerja yang lebih kecil sehingga menyumbang kepada peningkatan pengangguran.
Tetapi ini tidak berlaku dalam industri perladangan. Penjenteraan dalam industri kelapa sawit selama beberapa tahun terakhir dalam bidang penuaian buah telah menyaksikan peningkatan daya penghasilan yang telah meningkatkan kadar perahan minyak.
Dan ini juga boleh dapat membantu menyelesaikan tiga masalah – pengangguran, pekerjaan tidak sepenuhnya (underemployment) dan terlalu bergantung pada buruh asing.
Fenomena pekerjaan tidak sepenuhnya terbit dari definisi pekerja Jabatan Perangkaan Malaysia merangkumi individu yang bekerja hanya satu jam seminggu dan individu yang mungkin merupakan pekerja tanpa gaji di perusahaan keluarga. Ada juga yang mungkin masih bekerja di gerai makanan tetapi menghadapi kekurangan pendapatan.
Kunci menangani tiga masalah ini terletak pada buah sawit relai (LF) yang bertaburan di tanah yang merupakan salah satu tanda buah kelapa sawit bertandan (FFB) di pokok sudah ranup untuk dituai. Buah kelapa sawit tumbuh dalam tandan tebal yang dikenali sebagai FFB.
LF juga jatuh bertaburan ke tanah semasa operasi penuaian yang melibatkan penebasan FFB, dan ini perlu dikumpulkan bersama untuk memaksimumkan kandungan minyak semasa pemprosesan.
Pada masa lalu, LF ditinggalkan saja kerana tanggapan bahawa ukurannya yang kecil, maka tidak berbaloi usaha mengumpulkannya. Namun, ini tidak bermakna ia langsung tidak dikumpulkan sama sekali tetapi usaha tersebut tidak cukup serius kerana fokusnya adalah menuai FFB yang lebih besar pada pokok kelapa sawit.
Tetapi sejajar dengan kata-kata hikmah bahawa kecil itu indah dan berharga, dan berdasarkan banyak penemuan penyelidikan, kebanyakan LF yang jatuh berguguran di tanah datang dari diameter luar tandan FFB yang mempunyai paras maksimum kandungan minyak sehingga 40% minyak sawit dibandingkan dengan 35% dan 29% masing-masing dari kawasan tengah dan dalaman tandan FFB.
Menurut satu kajian, kerugian yang diukur dari segi kadar perahan minyak (OER) adalah signifikan jika LF tidak dikumpulkan dan diproses – pengurangan OER antara 0.37% hingga 0.92%, bergantung pada usia pokok kelapa sawit, jika 20 LF setiap sawit tidak dikumpulkan.
Dari segi kewangan pula, syarikat perladangan akan meraih purata tambahan keuntungan bersih sebanyak RM 30 juta jika pekerja ladang mengumpulkan enam LF setiap sawit. Oleh itu, banyak ladang sekarang ini memastikan usaha mengumpulkan LF di ladang satu keutamaan penting demi memaksimumkan keuntungan mereka.
Dan di sinilah penjenteraan muncul sebagai satu inovasi untuk meningkatkan jumlah LF yang dikumpulkan setiap hektar, yang akan membawa perubahan mendalam dalam landskap penuaian buah sawit relai LF kerana cara penuaiannya tidak banyak berubah setelah satu abad kelapa sawit pertama kali ditanam secara komersial di Malaysia.
Buat sekian lamanya, pengumpulan dilakukan secara manual dengan tangan atau alat penyapu yang kemudian LF itu dimasukkan ke dalam beg atau langsung ke dalam bekas atau treler. Ini melibatkan pergerakan kerap membongkok yang merupakan postur badan yang buruk sehingga menyebabkan para pekerja mengalami sakit belakang.
Memburukkan lagi keadaan, sampah sarap yang terkumpul bersama LF boleh menyebabkan OER yang lebih rendah kerana sampah sarap itu akan menyerap minyak semasa diproses. Oleh itu, terdapat keperluan penting membuangnya sebelum LF dihantar untuk pemprosesan.
Lantaran itu, penjenteraan juga membawa kepada inovasi mencipta mesin pembersihan atau jentera pengasing untuk memisahkan sampah sarap itu dari LF.
Untuk mengurang atau menghilangkan sama sekali semua masalah ini dan untuk meningkatkan produktiviti pengumpulan, pelbagai alat dan mesin, dari mekanisme pemungutan mekanikal yang mudah hingga ke mesin pengumpul jenis vakum menggunakan teknologi sedutan dikembangkan dalam beberapa tahun terakhir.
Dan versi bermotor mekanisme pemungutan ini juga telah muncul di beberapa ladang, menjadikan proses pengumpulan LF lebih efisien dengan pengeluaran lebih besar setiap hektar.
Mesin-mesin ini dibuat dalam negeri yang biasanya hasil kerjasama di kalangan pemain industri, institusi akademik dan penyelidikan, dan Lembaga Minyak Sawit Malaysia.
Oleh itu, ia bukanlah satu kejutan besar meskipun pencapaian yang luar biasa apabila FGV Holdings Bhd, misalnya, dalam pengajuan kepada Bursa Malaysia pada 30 Ogos, mengatakan sektor perladangannya mencatatkan keuntungan lebih tinggi sebanyak RM421.63 juta pada suku kedua tahun ini berbanding kerugian RM105.58 juta yang dicatatkan pada suku sama 2020.
Ini disebabkan peningkatan kadar perahan minyak 20.12% berbanding 20.05% untuk tempoh masa yang sama.
Semua ini bermaksud sekarang inilah peluang besar untuk mengurangkan kebergantungan pada buruh asing dengan mengikat para belia setempat yang menganggur atau bekerja tidak sepenuhnya dengan keterampilan kemahiran baru tentang tatacara menuai buah sawit menggunakan mesin yang diciptakan.
Tetapi mereka perlu menjalani latihan untuk kemahiran baru ini dengan perakuan. Bersama dengan kemahiran yang diperakui, perlu juga ada penjenamaan semula penetapan jawatan dan deskripsi kerja bagi mencerminkan mereka bukan sekadar pemetik atau pengumpul buah kerana mereka kini perlu mengetahui perkara baru seperti kaedah penggunaan mesin, pemasangan dan penyimpanannya serta pengetahuan asas servis mesin.
Pakar penuaian sawit merupakan perubahan nama jawatan yang baik, bersama dengan skim latihan dan penempatan yang menawarkan gaji RM2,000 selama tiga bulan, dan RM3,000 setelah tamat latihan.
Dengan bekerja keras dan berbekalkan minda yang inventif, para belia yang diambil menyertai skim ini boleh menjana pendapatan RM5,000 berdasarkan jumlah tan buah sawit yang dikumpul.
Dan ini tidak terhad kepada LF sahaja. Dengan penciptaan peralatan mudah dikenali sebagai galah titanium fleksibel, penuaian sekitar 500 FFB di ladang seluas 32 hektar hanya memerlukan dua jam untuk seorang pekerja, berbanding dengan kaedah lama menggunakan galah aluminium dengan pisau yang terpasang pada hujungnya yang memerlukan 20 pekerja untuk ladang yang sama saiz.
Ini semua adalah insentif yang boleh mendorong belia luar bandar dan juga belia miskin dari bandar yang kini ramai menganggur atau tiada pekerjaan tetap termasuk graduan baru untuk mendapatkan pekerjaan yang baik dengan gaji munasabah.
Dalam sebuah artikel baru-baru ini, Emir Research telah menunjukkan bagaimana pekerjaan tidak sepenuhnya telah menjadi satu cabaran struktur kerana tidak diambil kira dalam sektor ekonomi formal.
Satu cara menanganinya adalah dengan menyalurkan pekerja yang tidak bekerja sepenuhnya ke sektor formal sehingga masalah pekerjaan atau pengangguran mereka menjadi mudah digarap.
Dengan harga minyak sawit pada paras agak tinggi – harga minyak sawit mentah (CPO) RM3,268 satu tan berbanding RM2,453 satu tan sebelumnya – ini adalah masa yang tepat bagi industri perladangan mengenalkan skim ini untuk membantu peralihan mereka dari sektor informal ke sektor formal ekonomi negara.
Perubahan ini juga boleh dimanfaatkan pemilik ladang berskala kecil yang akan menguntungkan mereka.
Dengan fokus baru-baru ini tertumpu pada pengumpulan LF tanpa kendalian manusia, kemahiran para pemuda ini dapat terus ditingkatkan dan dinaiktaraf dalam setahun dua dengan pengetahuan canggih mengenai robotik dan teknologi drone di mana beberapa pakar mengatakan bahawa ini akan menjadi landskap baharu penuaian kelapa sawit di masa mendatang.
Mungkin sebuah institusi teknologi penuaian sawit harus ditubuhkan bagi membimbing para belia ini demi menempuh tangga kerjaya yang bermanfaat dan memuaskan yang juga akan memberi manfaat kepada industri sawit, dan negara dari segi pencapaian status negara berteknologi dan berpendapatan tinggi.
Jamari Mohtar adalah Pengarah, Media & Komunikasi di EMIR Research, sebuah organisasi pemikir bebas yang berfokuskan kepada pencernaan saranan-saranan dasar strategik berteraskan penyelidikan yang terperinci, konsisten dan menyeluruh.