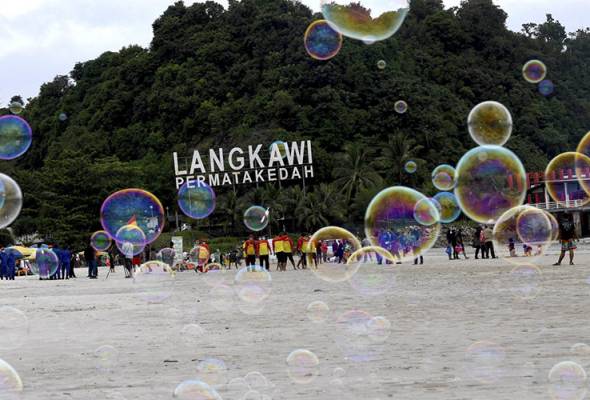 Englis
Published in Astro Awani, Asia News Today & New Straits Times, image by Astro Awani.
On Oct 4, one of the stories that made the headline of the local news media was "Langkawi tourism bubble: 149 Covid-19 positive cases detected". Now, if I plan to go to Langkawi for a holiday, I will be deterred from doing so, going by such a headline because it is a three-digit infection.
If the valuable lesson in inter-state travel learnt from the Sabah state election last year is fully grasped, then it should be seen that problem really started when the daily infection then moved to a three-digit level, and ballooning into a four-digit level late last year and a five-digit level this year.
And it does not help matter that on the same day too, another headline graced the news media: "Popular Langkawi hotel temporarily closed after over 50 staff, family members test positive for Covid-19".
Although an office colleague said 149 positive-tested cases against a total of more than 38,000 domestic tourist arrivals in Langkawi was only about 0.39% of positive cases, still in absolute term it is a three-digit infection which will scare away any Mat, Minah and Bedah would-be tourists (the English proverb of Tom, Dick and Harry will connote foreign tourists are allowed to visit the holiday spot when at the moment they are not).
But after reading both articles from start to end, there is really no cause for alarm. The first article is referring to those would-be tourists of Langkawi who were positive-tested at the various entry points to Langkawi. They had not reached the various Langkawi resorts yet. In other words, they had not yet become tourists and that's why the phrase, "would-be tourists".
These 149 would-be tourists who were positive-tested were the result of an excellent SOP which requires all domestic would-be tourists to be screened and tested at the doorsteps of Langkawi figuratively speaking. They were all sent home to be isolated and put under Home Surveillance Order (HSO) to be quarantined.
This is a massive endeavour that must be complimented as it involved the screening and testing of a total of 40,458 people, of which 34,038 were screened at seven airport entry points and 6,420 others via entry points of ferry services in Kuala Perlis and Kuala Kedah using the RTK Antigen test.
These people are not at the tourism bubble, rather they are just approaching the outer side of the bubble and hence, any reporting on their infections should not be explicitly stated as a tourism bubble infection, as such reporting is a form of disservice to the tourism industry which was badly affected by the pandemic, and wanting to rise again from the ashes of devastation wreaked by the virus.
The fact is as of today (Oct 7), there is only one infection among the tourist arrivals in Langkawi which is a very good news that will spur more tourist arrivals in the months ahead so that the target of 400,000 tourist arrivals in Langkawi by year end set by the Ministry of Tourism, Arts and Culture could be met.
According to Tourism, Arts and Culture Minister Nancy Shukri, the Langkawi travel bubble has recorded more than 38,000 arrivals, with an excess of RM15 million received in tourism receipts, since its reopening for domestic visitors on Sep 16.
As for the second article, the fact that it is a workplace cluster and not the travel bubble cluster must be emphasised in the heading as a form of reassurance to the public that all is well with the travel bubble.
Of course, in this case, the domestic tourists who stayed in the affected hotel might be infected but the story did explain that all the identified close contacts have undergone Covid-19 screening and had been placed under a HSO for 10 days, and the authorities had managed to control and contain the transmission of the virus. But you don't get this crucial information by reading the headline.
Lest I would be accused of sweating over the small stuff, or making a mountain out of a molehill, the fact is in this era of time moving at a speed of lightning, people don't have the time to read news articles or for that matter any article in full. They would read the headings first and form a first impression of what the article is all about based on the headings.
For an important topic such as Covid-19 or anything associated with it such as a travel bubble or adoption of an endemic strategy, it is imperative that the heading captures the essence of the story clearly, otherwise all the efforts towards improving public health or the recovery of the economy will be unconsciously "sabotaged" by such headlines.
So, what really constitutes a travel bubble infection or cluster? The concise answer is it must be among the tourists who were in the thick of the action to enjoy their holidays at Langkawi who were infected, or they contracted the virus within 14 days of their returning home.
And it is indeed very reassuring and a sign of good things to come for the recovery of the tourism industry when as of today the tourism bubble infection still remains at one when more than 38,000 had already visited the island since the pilot project on the travel bubble in Langkawi began on Sep 16.
What's more, it is also very reassuring that this also implies that all parties – from the authorities, hotel and tour operators, enforcement officers and the tourists themselves – are very serious and working hard in ensuring SOP compliance is at a very high level.
If this high compliance level can be replicated at the national level, Malaysia would transit quickly to the endemic phase. These are the reassurances that one hopes to see in the news headlines.
Jamari Mohtar is Director, Media & Communications at EMIR Research, a think tank focused on strategic policy recommendations based on rigorous research.
In this article