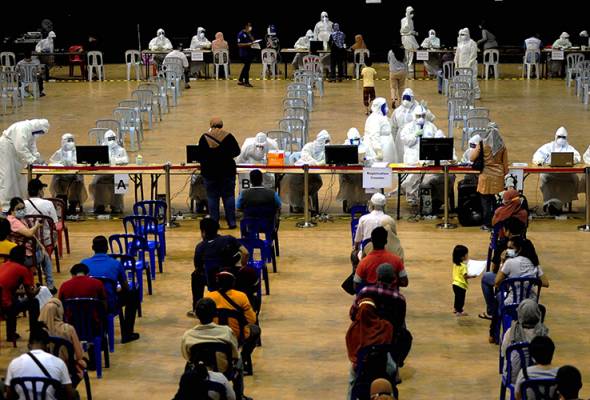 English
Published in Sinar Harian, image by Astro Awani.
GO for targeted Enhanced Movement Control Order (EMCO) based on data and science with crystal clear Standard Operating Procedures (SOPs), well communicated in simple language to ALL. If it is a RED area, go for EMCO for 21 days with the followings:
Loan moratorium for 3 months;
Renters protections at least 2 months;
Wage subsidy for 3 months;
Direct cash transfer for 2 months to the deserving B40s.
AND important to:
Revamp current process for SOPs;
Crystal clear communication to ALL
Increase capacity & speed for testing through Federal and State Government cooperation;
New contact tracing system that enables data sharing amongst critical stakeholders both at Federal and the State.
Vaccinate as many with 1st dose through collaborative efforts between Federal and State governments;
Enable public private partnership, empower GPs as they are the gatekeepers for a health system
No politics from anyone. Just pandemic and economic management for ALL.
Then we will have a chance to fight Covid19.
Dr Rais Hussin is President and Chief Executive Officer at EMIR Research, an independent think tank focused on strategic policy recommendations based on rigorous research.

Bahasa Malaysi
Diterbitkan di Astro Awani.
SITUASI COVID-19 yang semakin meruncing menyaksikan pelbagai pihak mengeluarkan saranan dan cadangan untuk menangani situasi berkenaan.
Terbaharu, Presiden dan Ketua Pegawai Eksekutif EMIR Research, Datuk Wira Dr. Rais Hussin Mohamed Ariff, menggariskan beberapa cadangan pengurusan pandemik COVID-19 termasuk Perintah Kawalan Pergerakan Diperketatkan (PKPD) dilaksanakan berdasarkan data dan sains dengan SOP yang jelas, serta bahasa yang ringkas dan mudah difahami semua pihak.
Dalam kenyataan malam tadi, beliau berkata, jika sesebuah kawasan itu diklasifikasikan sebagai zon merah, maka ia perlu dikenakan PKPD selama 21 hari dengan:
Moratorium pinjaman selama tiga bulan.
Perlindungan sewaan selama sekurang-kurangnya dua bulan.
Subsidi upah selama tiga bulan.
Bantuan tunai kepada golongan B40 selama dua bulan.
Ubah suai semula SOP ketika ini.
Komunikasi jelas dengan semua pihak.
Tingkat kapasiti dan kepantasan saringan melalui kerjasama dengan semua kerajaan negeri.
Sistem pengesanan kontak rapat yang membolehkan perkongsian data antara pihak berkepentingan di peringkat kerajaan Persekutuan dan negeri.
Pemvaksinan dos pertama terhadap seramai mungkin individu dengan kerjasama kerajaan Persekutuan dan negeri.
Memudahkan perkongsian awam dan swasta, perkasakan pengamal perubatan kerana mereka adalah penjaga kepada sistem perubatan.
Jangan berpolitik. Beri tumpuan terhadap pandemik dan pengurusan ekonomi untuk semua.
Dr Rais Hussin merupakan Presiden dan Ketua Pegawai Eksekutif di EMIR Research, sebuah organisasi pemikir bebas yang berfokuskan kepada pencernaan saranan-saranan dasar strategik berteraskan penyelidikan yang terperinci, konsisten dan menyeluruh.