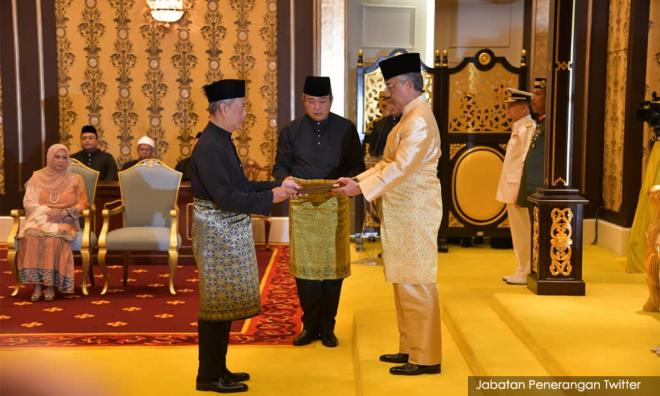 English
Published by Malaysiakini, Malay Mail, Free Malaysia Today, & New Straits Times, images from Malaysiakini.
The UK-based newspaper The Guardian in its March 3 editorial has brazenly and mischievously depicted the appointment of Muhyiddin Yassin as the eighth prime minister of Malaysia by the Yang di-Pertuan Agong as a royal coup.
The editorial, The Guardian view on a royal coup: A king overturns a historic election, breathtakingly and speciously claimed that the Malaysian monarchy took advantage of the recent political turmoil to engineer its own coup that went against the people's mandate at the last general election.
Either the editors of the newspaper are ignorant of the workings of Malaysia's constitutional monarchy along with their ignorance of the Malaysian Federal Constitution, or they have some hidden agenda against the King and Muhyiddin.
Firstly, the crisis was never constitutional. It was purely political. The King Sultan Abdullah Sultan Ahmad Shah is above politics under the Malaysian system of governance and had to step in to resolve a political crisis that was unprecedented in Malaysia's history.
When former prime minister Dr Mahathir Mohamed precipitated a political crisis by submitting his resignation to the palace on Monday, Feb 24, Sultan Abdullah, accepted his resignation and appointed him as the interim prime minister. There is nothing unconstitutional in this.
Of course, when Mahathir resigned, the whole cabinet under him also ceased to exist. So, for a while, Malaysia was without a government although she had an interim prime minister.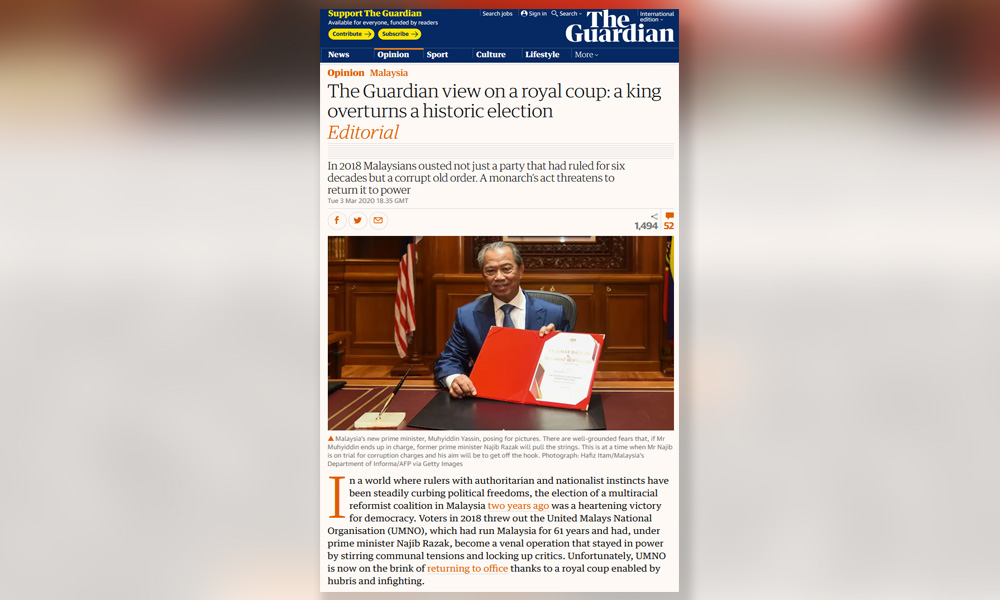 The King in his wisdom realised that it is not good for Malaysia not to have a government for a prolonged period of time and thus, he set about to resolve this by interviewing all 222 parliamentarians on who they think should lead the government.
This is provided for under Article 43(2)(a) of the Federal Constitution which explicitly provides for the King to appoint as Prime Minister a member of the Dewan Rakyat (House of Representatives) someone who he thinks commands the confidence of the majority in the House.
This simply means a member of parliament who gained the support of at least 112 MPs.
Beginning Tuesday, Feb 25, the King undertook the painstaking and meticulous task of ascertaining and verifying the support of every single MP.
He interviewed individual MPs regarding support for the names put forward as the candidate for Malaysia's eighth prime minister.
On Friday, Feb 28, on the basis of these interviews, the palace issued a statement that the king has not come to a decision on who in his opinion gained the confidence of the majority of the parliamentarians to form a new government.
"The palace will liaise with the leaders of the political parties who have representatives in the Dewan Rakyat to give them an opportunity to nominate a member of the Dewan Rakyat as the next prime minister," the statement added.
Finally, on the next day, Feb 29, the palace issued another statement which said that it received a list of nominees of future prime ministers from heads of political parties and independent representatives of the Dewan Rakyat.
"After receiving representation from all the leaders of the political party representing their party and the independent MPs, in the opinion of His Majesty, the Member of Parliament who has the confidence of the majority of the Dewan Rakyat is Tan Sri Muhyiddin Yassin, Member of Parliament for Pagoh (P143)," added the statement.
Thus, it is simply perplexing and baffling that The Guardian editorial chose a very mischievous and inaccurate heading to publish its story.
And the irony is that the rest of the editorial including the angle proper confirms the laughable nature of the title.
Secondly, nowhere in the editorial does it make any effort to justify let alone explain as to why it thinks that the Agong's action in by-passing Mahathir and appointing Muhyiddin as the eighth prime minister instead should be taken seriously, if at all.
The editorial simply assumes and injects the claim after what is a mere repetition or rehash of the facts surrounding the political intrigue and manoeuvrings.
In conclusion, not only is the title entirely misguided and is not in sync with the angle of the rest of the editorial, there is no analysis done as to how and why the political imbroglio and brouhaha could do nothing better than to invite and incur the constitutional intervention (not interference, mind you) of the king.
Jamari Mohtar and Jason Loh Seong Wei are part of the research team at EMIR Research, an independent think tank focused on strategic policy recommendations based on rigorous research.
Bahasa Melayu
Diterbitkan di The Malaysian Insight.
Akhbar The Guardian yang berpangkalan di UK dalam rencana pengarangnya pada 3 Mac dengan berani dan jahatnya telah menggambarkan pelantikan Tan Sri Muhyiddin Yassin sebagai Perdana Menteri Malaysia kelapan oleh Yang di-Pertuan Agong (Raja Malaysia) sebagai rampasan kuasa oleh pihak Istana.
Rencana pengarang yang bertajuk, "Pandangan Guardian terhadap kudeta istana: Seorang raja membatalkan pemilihan bersejarah," dengan cara sembrono dan penuh tipu daya mendakwa bahawa Duli Yang Maha Mulia, Sri Paduka Baginda Yang di-Pertuan Agong telah mengambil kesempatan daripada pergolakan politik baru-baru ini untuk merampas kuasa – bertentangan dengan mandat rakyat yang diputuskan pada pilihan raya yang lalu.
Ini jelas mencerminkan kejahilan para editornya mengenai sistem Raja Berperlembagaan yang diamalkan Malaysia bersama kejahilan mereka mengenai Perlembagaan Federal atau mereka mempunyai beberapa agenda tersembunyi terhadap Raja dan Muhyiddin.
Perlu ditegaskan kemelut yang dihadapi Malaysia bukanlah satu krisis perlembagaan. Ia semata-mata krisis politik. Raja dalam sistem tadbir urus Malaysia berada di atas politik, lantaran itulah Sultan Abdullah Ri'ayatuddin Al-Mustafa Billah Shah, terpaksa melangkah untuk menyelesaikan krisis politik yang berlaku buat pertama kalinya dalam sejarah Malaysia.
Kemelut politik dicetuskan apabila mantan Perdana Menteri Tun Mahathir Mohamed menyerahkan surat peletakan jawatannya ke Istana pada hari Isnin, 24 Februari. Sultan Abdullah menerima peletakan jawatannya dan kemudian melantiknya sebagai Perdana Menteri interim. Dalam hal ini, tiada apa-apa yang bertentangan dengan perlembagaan.
Sudah tentu apabila Mahathir meletak jawatan, Kabinet di bawah pimpinannya juga tidak lagi wujud. Oleh itu, untuk sementara waktu, Malaysia tidak mempunyai kerajaan walaupun ia mempunyai Perdana Menteri sementara.
Sultan Abdullah dalam kebijaksanaannya menyedari bahawa adalah tidak baik bagi Malaysia untuk tidak mempunyai kerajaan untuk tempoh masa yang agak lama, lantas beliau beriltizam menyelesaikan kemelut politik tersebut dengan menemuramah semua 222 anggota parlimen mengenai siapa yang mereka fikir harus memimpin kerajaan.
Ini diperuntukkan di bawah Perkara 43 (2) (a) Perlembagaan Persekutuan yang secara eksplisit memperuntukkan Raja untuk melantik sebagai Perdana Menteri seorang anggota Dewan Rakyat yang pada pendapatnya memperolehi keyakinan majoriti dalam Dewan.
Ini bermakna seorang anggota parlimen yang mendapat sokongan sekurang-kurangnya 112 Ahli Parlimen.
Bermula Selasa, 25 Februari, Sultan Abdullah telah menemuramah dengan penuh teliti bagi memasti dan mengesahkan sokongan setiap Ahli Parlimen kepada individu di kalangan mereka yang bakal menjadi Perdana Menteri.
Beliau menemubual semua Ahli Parlimen secara individu mengenai sokongan mereka untuk nama-nama yang dikemukakan sebagai calon Perdana Menteri Malaysia kelapan.
Pada hari Jumaat 28 Februari, berdasarkan wawancara tersebut, pihak Istana mengeluarkan kenyataan bahawa Sultan Abdullah belum dapat membuat keputusan tentang siapa yang pada pendapatnya memperoleh keyakinan majoriti ahli parlimen untuk membentuk kerajaan baru.
"Istana akan berhubung dengan para pemimpin parti politik yang mempunyai wakil di Dewan Rakyat untuk memberi mereka kesempatan untuk mencalonkan seorang anggota Dewan Rakyat sebagai Perdana Menteri yang akan datang," kata kenyataan itu lagi.
Akhirnya, pada keesokan harinya, 29 Februari, pihak Istana mengeluarkan satu lagi kenyataan bahawa ia telah menerima senarai pencalonan perdana menteri masa depan dari ketua-ketua parti politik dan wakil bebas Dewan Rakyat.
"Setelah menerima perwakilan dari semua pemimpin parti politik yang mewakili parti mereka dan Ahli Parlimen Bebas, pada pendapat Yang di-Pertuan Agong, Ahli Parlimen yang mempunyai keyakinan majoriti daripada Dewan Rakyat adalah Tan Sri Muhyiddin Yassin, Ahli Parlimen untuk Pagoh (P143)," tambah kenyataan itu lagi.
Oleh itu, ia hanya membingungkan apabila rencana pengarang The Guardian memilih tajuk yang sangat jahat dan tidak tepat untuk menerbitkan kisahnya.
Dan ironinya adalah rencana pengarang itu termasuk sudut beritanya sekaligus mengesahkan tajuk berita yang menjadi bahan lawak!
Kedua, dalam rencana pengarang itu jelas tiada usaha untuk menerangkan dengan serius mengapa ia berpendapat tindakan Yang di-Pertuan Agong itu seolah-olah membelakangkan Tun Dr Mahathir dalam pelantikan Tan Sri Muhyiddin Yassin sebagai Perdana Menteri ke-8.
Kesimpulannya, bukan sahaja tajuk rencana benar-benar tidak tepat dan tidak selaras dengan sudut berita keseluruhan rencana, malahan tidak ada analisis yang dilakukan tentang bagaimana dan mengapa kemelut politik itu tidak dapat melakukan yang lebih baik daripada mengundang dan menanggung campur tangan perlembagaan oleh pihak Istana.
Jamari Mohtar dan Jason Loh Seong Wei adalah sebahagian daripada pasukan penyelidikan di EMIR Research, sebuah tangki pemikir bebas yang memberi tumpuan kepada cadangan dasar strategik berdasarkan penyelidikan yang ketat.
In this article