English
Published in BusinessToday, image by BusinessToday.
Although Covid-19 cases are decreasing in the Klang Valley, some are still hesitant to go out and enjoy some form of normalcy after experiencing lockdown for more than four months. Some food & beverage (F&B) outlets still ban the dine-in option and continues to opt for take away or delivery only. As many are still in the observant mode, the dine-in crowd is still relatively lesser than normally.
As of Sep 19, Klang Valley accounted for less than a quarter (i.e., 16.2%) of the Covid-19 cases. Out of 14,954 cases, Selangor and Kuala Lumpur (KL) recorded 2,028 (i.e., 13.6%) and 383 cases (i.e., 2.6%), respectively.
Such a figure is lower than last month, whereby more than one third (i.e., 35.8%) of cases were recorded in the Klang Valley as of Aug 16.
The rising number of Covid-19 cases in other states such as Sabah, Johor, Sarawak, Penang, Kelantan and Perak can prevent Malaysia from moving towards full economic recovery.
As of Sep 19, Sarawak recorded the highest number of Covid-19 cases (i.e., 2,707 out of 14,954), followed by Johor (1,948), Kelantan (1,420), Sabah (1,356), Penang (1,259) and Perak (1,222).
Therefore, the continuous spike of Covid-19 cases in other Malaysian states has led Fitch Solutions to revise Malaysia's 2021 GDP growth to 0% from its earlier estimate of 4.9%.
Despite the numerous stimulus packages to ease the financial burden of Malaysians during the pandemic for over a year, the rising cost of living and loss of jobs have caused more individuals to find it hard to cope with the essential expenses (i.e., shelter, food and utilities). More businesses are barely able to stay afloat.
Up till June 2021, Malaysia spent a total of RM530 billion in eight stimulus packages such as: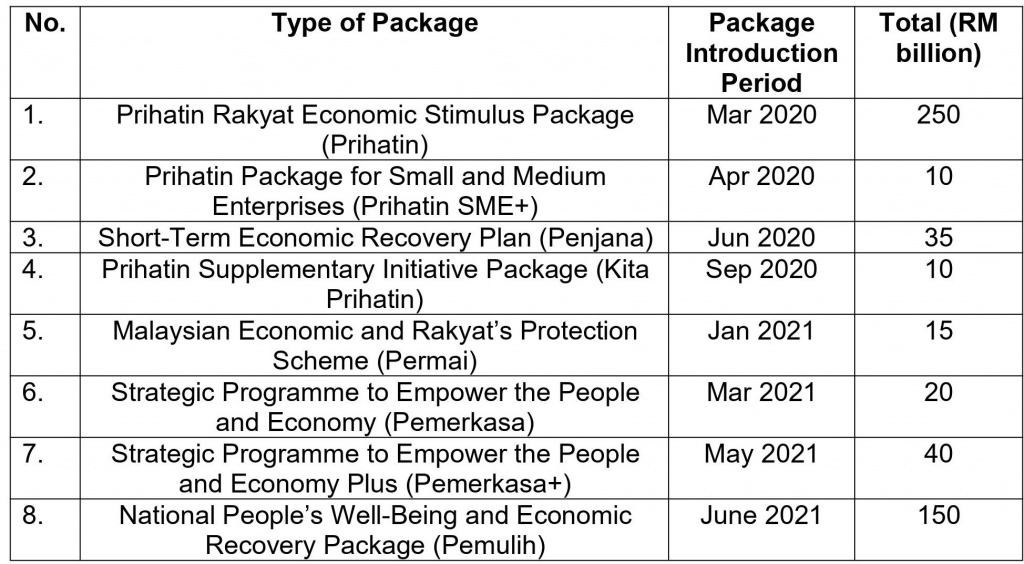 Although up to 10 million recipients will benefit from the Special Covid-19 Aid (BKC) effective from this month, some Malaysians felt that it might not be sufficient for them to alleviate their financial burden.
As mentioned by Shazwan Azmil on "Govt cash aid receives mixed feelings from recipients," (The Sun Daily, September 3, 2021), he indicated that a one-off payment of RM100 under BKC is not sufficient for him to cover his monthly petrol expenses. He added that his monthly grocery bill is already more than RM100.
BKC payments are as follows:

In addition, only 47.2% (i.e., RM249.98 billion) out of RM530 bilion under the eight stimulus packages has been disbursed, according to the written parliamentary reply from Finance Minister Tengku Zafrul Aziz to Pulai MP Salahuddin Ayub.
The percentage of the disbursement against the original allocations made for each stimulus package is as follows:
For the Prihatin and Prihatin SME+ packages announced in 2020, 65% (i.e., RM167.9 billion) of the RM260 billion allocation had been paid out.
The Penjana package, worth RM35 billion, saw 57% (i.e., RM19.8 billion) of the allocation spent.
The Kita Prihatin package saw 95% (i.e., RM9.5 billion) of its RM10 billion allocation disbursed, the highest proportion of any of the aid packages to date.
67.4% (i.e., RM10.11 billion) of the RM15 billion set aside for the Permai package had been distributed.
The Pemerkasa package saw only 17.3% (i.e., RM3.45 billion) of its RM20 billion allocation paid out. The Pemerkasa+ package had 85.1% (i.e., RM34.04 billion) of its RM40 billion allocation distributed.
The Pemulih package, worth RM150 billion, saw 3.45% of its total allocation channelled, or RM5.18 billion.
Therefore, for the government to meet the needs of the rakyat accordingly, EMIR Research has several policy recommendations for the current administration to look into:
1. Increase direct fiscal injection from the current RM83 billion to RM150 billion to further stimulate thcountry's economy (EMIR Research calls on govt to hike Malaysia's direct fiscal injection to RM150b, Malay Mail, August 3, 2021).
Such an initiative can be implemented together with the proposed measure of increasing the debt ceiling to 65% of GDP to save lives, preserve livelihoods and prevent permanent damage to the economy. By assisting rakyat during this difficult time, the rakyat could utilise government assistance to cover essential expenses besides paying off household and business debt;
2. Organise door-to-door visits to understand the needs and problems of the citizens, particularly among the low-income groups, in addition to providing psychological first aid-based helplines for them to express their psychosocial concerns;
3. Integrate food and nutrition-focused programmes with different transfer modalities such as in-kind, cash or vouchers into social protection systems.
Women and children from low-income households, in particular, can use food vouchers to buy food. Such an initiative would ensure everyone has the ability to cover their essential spending and enjoy healthy food;
4. Use the white flag campaign reflected from the Kita Jaga Malaysia's website as the determinant, initiating outreach programmes with the private sector to help hard-hit sectors, low-income and vulnerable groups weathering through the storm.
The government could work with several non-governmental organisations (NGOs) such as Food Aid Foundation, The Lost Food Project and Pasar Grub, distributing leftover but consumable food or lower quality fruits and vegetables to the B40 and hardcore poor communities who are the most vulnerable to food insecurity.
To ease the aid delivery, the government should mark and include all the B40 and hardcore poor families onto the map, especially those who are living in interior and squatter areas; and
5. Execute a targeted social welfare assistance system with a single cross-agency Social Protection Database (PDPS) immediately, ensuring the social assistance could reach the most vulnerable segment of the society.
To reiterate, unprecedented times require unprecedented measures.
By advocating the spirit of "Keluarga Malaysia", the new administration led by current Prime Minister Datuk Seri Ismail Sabri Yaakob should do more in working together with businesses and households to further expedite the recovery from the prolonged lockdown measures.
Amanda Yeo is Research Analyst at EMIR Research, an independent think tank focused on strategic policy recommendations based on rigorous research.
In this article