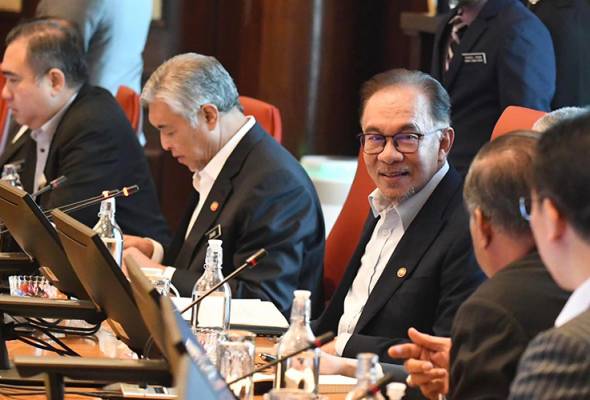 English
Published by Malay Mail, Astro Awani, Newswav & Daily Express, image by Astro Awani.
Coming up with the list of cabinet members isn't straightforward. It is a tough balancing act of various competing factors such as politics, principles, merits, public opinion, popular expectations, private sector lobby and pressures from various groups with interest.
Each factor would have to be scored and weighted, with the ultimate objective of ensuring stability and successful policy implementation.
As what was rumoured to be an intensely-lobbied position, and as a crucial portfolio in shaping Malaysia's policy direction, it's optimal that Prime Minister Datuk Seri Anwar Ibrahim takes on the finance minister position as well.
This may or may not be ideal but surely the circumstances are not. There is no way to make everyone happy and that shouldn't be his ultimate goal either.
Anwar's first steps should resonate with necessity and hitting the ground running, instead of obvious favouritism or susceptibility to lobbying, both of which would also garner backlash in a political climate that is sensitive and volatile. In any case, this is a portfolio he is familiar with.
Helming the finance portfolio allows Anwar to have the first view of the current state of things in depth and unfiltered. This also allows Anwar to set in the leadership style, tone, pace, visions and missions, and lay down key principles when handling Malaysia's financial and fiscal issues.
This is a necessary step in setting the overall direction, before passing this to someone else in the future, if that ever happens.
This is where YB Rafizi Ramli's positioning as economic affairs minister also makes sense given the circumstances. Economics and finance are practically inseparable, especially when it comes to national policies. Thus, the current setup ensures, or rather, requires Anwar and Rafizi to keep tabs on each other.
It's risky, as both individuals are viewed as strong characters and are leaders of the same political party. The potential for great synergy carries within it the potential for chaos, which is reminiscent of the relationship between Anwar and Tun Dr Mahathir.
Similarly, any friction between Anwar and Rafizi could have repercussions beyond the cabinet, and even beyond the current timeframe. They should be aware that their relationship will be the target of many with ill intent towards the current government.
If the personal and professional dynamic goes well, it would be a huge boon for the administration, and consequently, for Malaysia. Rafizi should be considered as economics minister and/or perhaps deputy finance minister, to ensure economic directions are always aligned with the finance ministry, and vice versa.
Rafizi is well-acquainted with finance, and this is the perfect training ground for him to have a deeper understanding and exposure to economics and finance at the national level, and therefore, a strategically-sound position for someone seen as a potential successor to Anwar.
The position of deputy prime minister for Datuk Seri Dr Ahmad Zahid Hamidi was also expected, and though it isn't favourable in removing the potential conflict of interest, it is understandable and perhaps even necessary for Anwar to keep his administration intact.
Not doing so may risk the fall of the government, and Anwar may see the rise of Perikatan Nasional as the bigger threat.
In the larger scheme of things, this is a choice between cooperation with a few individuals, versus the potential nationwide rise of polar opposites in the political spectrum.
There is also the potential upside in the close cooperation between parties within Pakatan Harapan and Barisan Nasional to forge a bond, understanding, and mutual respect that could pave the way for internal reforms by all sides towards a greater form of partnership.
Perhaps a grand coalition in the future, but let's not get ahead of ourselves.
Aside from Zahid, the appointment of YB Senator Tengku Datuk Seri Utama Zafrul Tengku Abdul Aziz also raised questions from various groups. Nevertheless, it proves that Tengku Zafrul has strong enough influence to still be positioned in the cabinet.
Perhaps Anwar sees something in him or values his experience, but if not, then it is likely the case of Anwar accepting something or someone against his own wishes because he has no other way when weighing the pros and cons or upon analysing cost-benefits.
Tengku Zafrul isn't only well-linked among Malay elites, but also among royalties. Cables don't get much thicker than that, and keep in mind that this is a government endorsed by the royal institution.
Either way, beyond politics, perhaps there is wisdom in Anwar's appointment of Zafrul as trades minister. Firstly, assuming that Tengku Zafrul isn't Anwar's default preference, then it is strategic to keep him close, rather than on the other side of the table.
Secondly, in the interest of favourable trade arrangements, market access and bringing in foreign direct investments, there is a potential advantage in putting the face of a former banker and former finance minister as a national representative in an increasingly globalised world that is seen by many to be run by elites in politics, financial institutions, corporations, and the banking sector.
If Anwar has no choice but to give Tengku Zafrul a position (but not the finance position), then the trade ministry is probably the only one that makes the most sense to Anwar.
In any case, trade policies should always align with the overall economic and financial policy of the nation. Unfortunately, politics does not guarantee this.
In corporations, departments that are considered "profit-centres" are often looked up to, compared to "cost-centres". This is a poor practical use of the terminology as both groups have a crucial role to play in an organisation, but that's another topic.
Coming back to the "profit-centre competition" analogy, there might be competition between Rafizi and Zafrul to see who can bring the biggest economic benefit to Malaysia.
Competition is good, so long it is healthy and so long as profit-centres don't start to dictate cost-centres and other departments. That is, the hierarchy of command starts to be blurred.
As how economics and finance are inseparable, trade and foreign relations are also closely intertwined.
Though Tengku Zafrul's trade policies will have to align with the nation's economy and finances, Tengku Zafrul's close counterpart, in this case, would be Foreign Minister Senator Datuk Seri Dr Zambry Abdul Kadir.
Thus, Anwar will have to ensure "camps" are not established in his administration. The drafting of the coalition agreement, as stated by Dr Zambry to be signed soon by the ruling parties, must ensure that such internal threats are mitigated.
As for others that many deem to be more qualified to hold cabinet positions— especially when considering the number of seats won or just the fact that a candidate won—it is important to give some time to the newly minted prime minister.
Stability is the prerequisite to ensure Anwar can fulfil his visions. That is the nature of circumstances when a coalition did not win a simple majority—sacrifices will have to be made.
Understand that this is also the time when Anwar will get to see the reaction of the people around him. It will give him a clue about who's holding on to principles and who is behaving beyond their personal interest.
Political cues equivalent to sulking like a child or showing a tantrum because you were not given a seat at the table and you will be remembered precisely as that. On the other hand, behave magnanimously and both the administration and the people will remember.
Ideally, one shouldn't think about personal gains. But, if that's a lot to ask even for most people, what more for career politicians?
Knowing typical politician behaviour, it is advisable that these people give some time to Anwar and know that there are still deputy minister positions, and leadership positions elsewhere.
As elected Members of Parliament, even without ministerial positions, they have ongoing (heavy) responsibilities and duties towards their respective constituencies and collectively for the nation, playing their respective roles in parliament for the people.
Don't let personal interest and ego get in the way.
Finally, there are those who may be seeking to create discord and give a short lifespan to Anwar's administration. As such, the government must be aware of the threat from others that could be looking to exploit the unhappiness or frustration of certain people in the current government.
Those who did not get positions and those who were against the BN-PH partnership and the like could be prime targets for those seeking to destabilise and ultimately break the current government.
If Anwar can hold this government together, then it might just give PH-BN the internal reforms it requires to reshape itself to be the new mega coalition that is truly for all.
A tall order, but a worthwhile challenge.
Ameen Kamal is the Head of Science and Technology at EMIR Research, an independent think tank focused on strategic policy recommendations based on rigorous research.