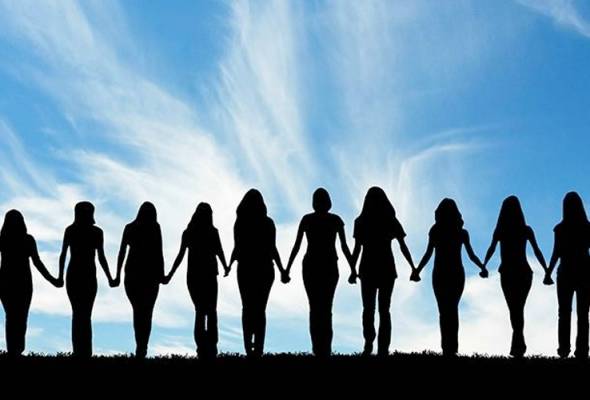 English
Published in Astro Awani, Asia News Today and Focus Malaysia, image by Astro Awani.
The Covid-19 pandemic over the two years has heightened and intensified exposure to the vulnerability of Malaysian women and girls on such issues as mental health, domestic violence, period poverty, limited or inflexible occupational arrangements, and socio-economic empowerment. 
Although the government, corporate sector, and non-governmental organisations (NGOs) have been playing their respective roles through awareness programmes and campaigns, the gender gap still persists in Malaysia.
As shown by the World Economic Forum (WEF) in its Global Gender Gap Report 2021, Malaysia ranked 112 out of 156 countries in the 2021 Global Gender Gap Index (GGI), with an overall score of 0.676.
Notwithstanding, we scored well in the "Educational Attainment" and "Health and Survival" categories – at 0.994 and 0.972, respectively. However, the nation scored moderately in the "Economic Participation and Opportunity" category at 0.638. In terms of the "Political Empowerment" category, we scored poorly at 0.102 only.
In addition, the Malaysia Gender Gap Index (MGGI) – an index that examines on the basis of the methodology of the GGI and the latest data available at the Department of Statistics Malaysia (DOSM) – shows that in the sub-indexes such as "Educational Attainment" and "Health and Survival", we scored remarkably well at 1.059 and 0.956, respectively in 2020.
Most importantly, education attainment among Malaysian women is higher than among men.
Higher education attainment among Malaysian women compared to men coincides with the finding from WEF, whereby the female enrolment rate in tertiary education was 49.9% compared with 40.7% for men in 2021.
However, a lower labour force participation rate (LFPR) among women has contributed to a lower score of 0.738 for the "Economic Participation and Opportunity" sub-index. In 2020, Malaysia's women LFPR consisted of only 55.3%, which is lower than nearby ASEAN neighbouring countries such as Singapore (69.7%) and Thailand (66.8%).
A limited number of women representatives in ministerial positions and Parliament has led to the "Political Empowerment" sub-index only scoring 0.1. It aligns with the findings from WEF, whereby the women in parliament and ministerial positions only consisted of 14.9% and 16.1%, respectively in 2021.
Moreover, the work-from-home (WFH) arrangements during the Covid-19 pandemic has disproportionately increased the share of childcare, housework, cooking and grocery shopping among working parents. Such a scenario is especially true among working women who have had to bear most of the family responsibilities compared to men besides fulfilling their employers' expectations in a WFH environment.
The ongoing stress from family responsibilities and the high-pressure environment of confinement has contributed to a rise in domestic violence during the pandemic. Working parents became riled or frustrated with each other easily.
Women, Family and Community Development Minister Datuk Seri Rina Harun revealed in September 2021 that 9,015 police reports came under domestic violence since the lockdown measures for the Covid-19 pandemic started in March 2020.
Also, the long isolation from prolonged lockdown measures has caused more Malaysians to fall into mental health problems. Some of them chose to commit crimes to survive or take the tragic step of committing suicide as a way to end their miserable lives.
Out of 1,708 suicide cases between Jan 2019 and May 2021, 83.5% (1,427) involved women.
EMIR Research has written an article whereby single mothers, in particular, are a socially and economically vulnerable group who are susceptible to committing suicide when they become so desperate arising from the lack of financial capability to provide for their children.
Aside from the vulnerability of the healthcare system in Malaysia, the Covid-19 pandemic has further exposed the issue of period poverty.
Many hardcore poor and B40 female-headed households face inadequate or poor access to safe and hygienic use of sanitary products due to financial constraints.
With no extra money to spend out of their pocket, many young girls and women had to use tattered clothes, coconut husks, used newspapers and even banana leaves as their alternative replacement to unaffordable sanitary products.
When they do not have proper access to menstruation products, they could barely concentrate on their studies or work during the menstruation period. Eventually, this might result in more young girls dropping out of school or women being out of work (in the long run).
Notwithstanding, the current administration's effort to provide more Local Social Support Centres for domestic violence victims and basic personal hygiene kits to 130,000 B40 female teenagers under Budget 2022 is laudable.
However, there is still a critical need to intensify the advocacy and promotion of women issues – so that men could have a clearer idea of what women are facing (and vice versa).
We should emphasise and prioritise exposure via education – both parental and formally. Parents are the eminent role models to educate their kids about gender differences which starts as soon as they are born – whereas teachers could play a pivotal role later on.
Based on the article by CNN titled "How to teach children about gender equality" on October 2, 2017, children between the age of 2 to 6 start to recognise stereotypes about toys, skills and activities that are typically associated with each gender. In contrast, kids between the age of 7 to 10 start to develop some understanding whereby men are deemed to be the "aggressive" type and women are supposedly "emotional".
To address Malaysia's gender gap effectively, schools have to equip teachers to teach a variety of education modules at the primary, secondary and tertiary levels.
Hence, EMIR Research would like to recommend that the Ministry of Education Malaysia (MOE) emphasise:
Sexual and reproductive health education
Education providers could educate boys and girls from a young age (i.e., at the age of 10 onwards) by including topics like reproductive health, substance abuse, emotion management, family, relationships, diseases and safety.
Sexual and reproductive health education could reduce the risk of the human immunodeficiency virus (HIV), sexually transmitted diseases (STDs), unintended pregnancies, child marriage, and sexual violence and abuse. It also enables girls and boys to understand themselves biologically and empowers them to speak up when they experience the violation of sexual boundaries.
There will be greater awareness at the community and societal level when boys and girls engage with sexual and reproductive health issues/topics through the formal schooling environment as well as the wider regular social encounters.
Science, Technology, Reading, Engineering, Arts and Mathematics (STREAM) education
Former Education Minister YB Maszlee Malik indicated in his earlier statement in March 2021 that it is crucial to increase the interest among students in STEM (Science, Technology, Engineering and Mathematics), expand access to learning STEM subjects and evolve STEM to STREAM.
However, this STREAM education initiative has to come alongside appropriate digital devices and connectivity. Students without digital devices or Internet accessibility could not upgrade themselves with necessary digital, reading and technical skills, thereby diminishing their chance to find decent jobs with decent pay after graduation.
Moral education
Moral education may define as helping children to acquire a set of beliefs and values regarding what is right and wrong. Teachers could organise regular family visits, especially to underprivileged communities, to inquire and check on the well-being of students under their care. This should ensure that values that are passed on is further reinforced and impressed upon by the interaction between the primary role model (parents) with the secondary role model (teachers) in front of the students. Students that have developed the right attitude and emotional quotient (EQ) would stand a higher chance to be hired after graduation and also could contribute to nation-building at the same time.
Civic education
Civic education could be defined as the provision of information and learning experiences to equip and empower citizens to participate in the democratic processes. By incorporating civic education into the curriculum, students would come to properly understand and appreciate their rights and responsibilities as citizens – which is part and parcel of the wider nation-building process. When they reach the age of voting, they will have the ability to make a better choice on which political party or candidate to vote for. They would also be aware of how their vote affects the electoral outcome.
To summarise, MOE could work closely with the Ministry of Women, Family and Community Development Malaysia (MWFCD), civil societies and corporate sector to educate Malaysians on gender issues comprehensively and holistically.
When men and women could pay more attention to issues affecting the other gender, they would view them as national issues that will affect the life of every ordinary Malaysian.
Amanda Yeo is Research Analyst at EMIR Research, an independent think tank focused on strategic policy recommendations based on rigorous research.
In this article