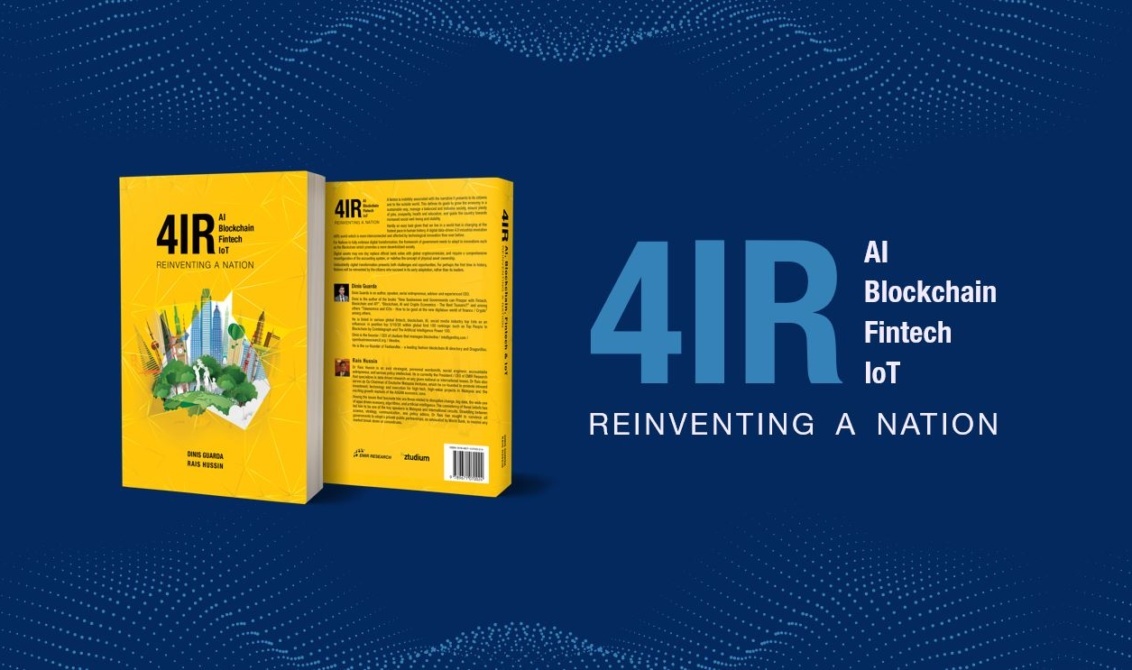 EMIR Research's official media release:
English
Book launch of a Malaysian author to be held at premier events in two European cities
Malaysian Datuk Wira Dr. Rais Hussin, co-author of a book, 4IR – Reinventing A Nation, has the rare privilege of having his book launched at two premier events in Frankfurt and London within days of each launch.
On Oct 16, Education Minister Dr. Maszlee Malik will launch the book at the Frankfurt International Book Fair 2019. The four-day event is the most important trade show for books, media and publishing of the year. It will bring forward the novelties in publishing. Over 7,300 exhibitors, 286,000 visitors and nearly 10,000 journalists took part in the previous year.
A day earlier on Oct 15 in London, the book would also be launched at another premier event, the CC Forum London Investment in Blockchain and Artificial Intelligence (AI), which connects global thought leaders, policymakers, investors, blockchain and AI startups from all over the world for a 3-day top content event.
The Forum is 100% dedicated to blockchain and AI and its revolutionary impact on each sphere of human activities.
Dr. Rais Hussin is an avid fan of frontier technologies like AI, Blockchain, Financial Technology (FinTech), and Internet of Things (IoT), and is very passionate when he talks about how these technologies will bring about disruptive changes to the whole landscape on how we go about doing things presently.
Currently, he is the President/CEO of EMIR Research that specialises in data driven research on any given national or international issues. He also serves as Co-Chairman of Deutsche Malaysia Ventures, which he co-founded to promote inbound investment, technology and execution for high-tech, high-value projects in Malaysia and the exciting growth markets of the ASEAN economic zone.
Together with renowned author Dinis Guarda who is an author, speaker, serial entrepreneur and experienced CEO, Dr. Rais Hussin has co-written the book which is an eye opener for anyone especially policymakers and politicians who have the interest of the nation at heart.
This is because for nations to fully embrace digital transformation brought about by the convergence of these frontier technologies via their interoperability with one another, the framework of government needs to adapt to innovations such as the Blockchain which promotes a more decentralised society.
There is no doubt at all, as this book will show you with many examples, that digital transformation, especially in the form of 4.0 Industrial Revolution, presents both challenges and opportunities.
As argued and elucidated in this book, for the first time in history, we could perhaps witness the emergence of an epoch where nations will be reinvented by the citizens who succeed in the early adaptation and adoption of these frontier technologies, rather than their leaders.
In their quote that appears in the beginning of the book, the authors succinctly say: "The next 10 to 50 years will be the most disruptive in the history of humanity, and nations and all of us need to be prepared, learn, re-skill and walk the talk."
"This book is for our children, families and nations and you, to show that there are a lot of ways to make the world, nations a better place. To create a narrative where we and you, tell and are leading the story."
4IR AI Blockchain Fintech IoT – Reinventing a Nation
Price: RM69.90 (Paperback) / RM89.90 (Hardcover)
Shipping fee is not included
Order Now: [email protected]
More info >
Dr. Rais Hussin is President & CEO of EMIR Research, an independent think tank focused on strategic policy recommendations based on rigorous research.
In this article