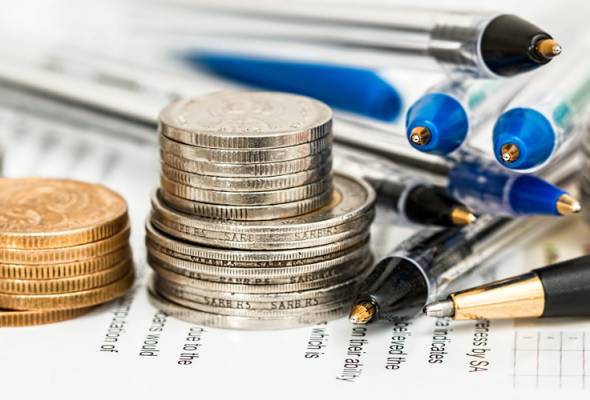 Englis
Published in Astro Awani, image by Astro Awani.
Although Malaysia had revised its national poor household income average used to measure poverty known as the Poverty Line Income (PLI) from RM980 to RM2,208 (according to the updated 2019 methodology by the Economic Planning Unit/EPU, Prime Minister's Department), the impact from this remains to be concretely translated into reality.
Many appear to be excluded from the welfare schemes as the government is adopting the old PLI methodology (i.e., RM980) for aid distribution. For example, they either receive a one-off payment that only could last for one to three months or did not even receive any cash or vouchers to help them tide over the Covid-19-induced crisis.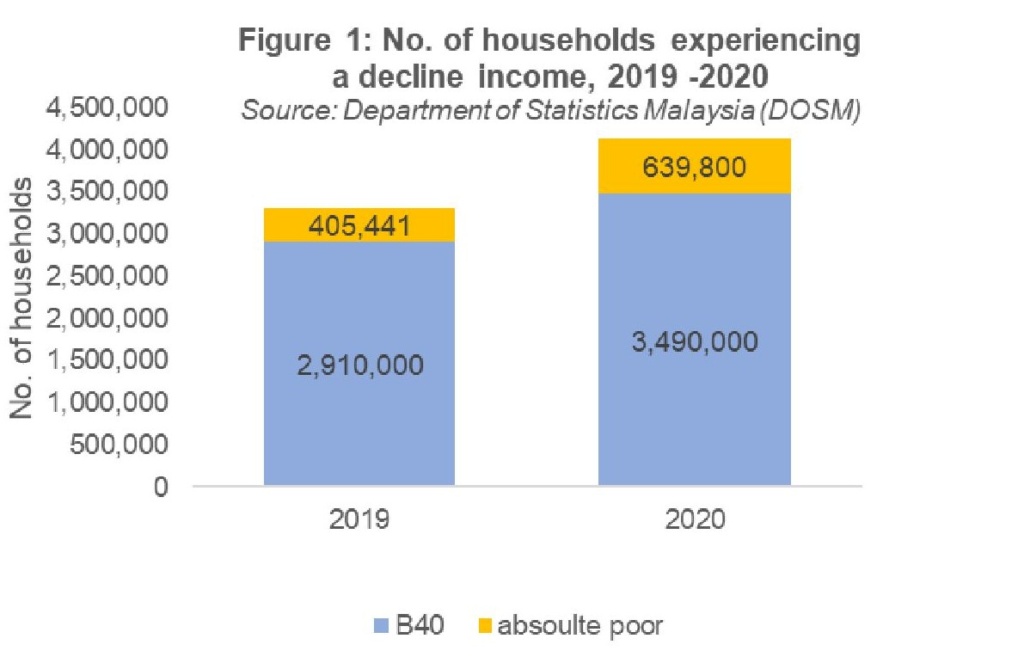 The logic behind the PLI is underpinned by reference to the total monthly household income needed "to meet the minimum nutritional food and non-food requirements" (p. 40, Chapter Two: "Poverty and Nutrition" – SDG 1 & SDG 2 – in Malaysia National Voluntary Review 2021). A household is, therefore, considered poor if his or her income falls below RM 2,208 as based on the 2019 methodology.
Prime Minister Dato' Sri Ismail Sabri Yaakob has confirmed that around 580,000 households which were initially in the middle 40% (M40) category have slipped into the bottom 40% (B40) category (Figure 1). This represents 20% of households from the M40 – with income between RM4,850 and RM10,959 – that have moved to the B40.
According to the Department of Statistics (DOSM)'s Household Income Estimates and Incidence of Poverty Report (2020), within the B40, an additional 12.5 per cent of households now have income less than RM2,500.
Based on the Twelfth Malaysia Plan (12MP) – Chapter 5: Addressing Poverty and Building an Inclusive Society (p. 5-23):
405,441 households are categorised as absolute poor, i.e., households earning less than the PLI of RM2,208;
27,158 households are categorised as hardcore poor, i.e., households earning less than RM1,169 (food PLI);
Around 2.91 million households earning an income less than RM 4,849 and are categorised as B40; and
Around 2.91 million households earning an income between RM 4,850 to RM 10,959 are categorised as M40.
Compared to the updated methodology, the previous 2005 methodology was purely based on the minimum food requirements of each household member and 106 non-food items, according to the spending patterns of the country's bottom 20% (B20) in DOSM's 2004/2005 Household Income and Expenditure survey.
In contrast, the current methodology emphasises optimum food intake and healthy eating, aside from 146 non-food items from the B20 households' spending pattern in DOSM's 2019 Household Income and Expenditure survey.
The recommended food servings include fish, poultry, red meat, cereal, bread, rice, eggs, vegetables and milk.
Clothing and shoes, housing, fuel and utilities, furniture, transport and communications, education and health, for instance, are the non-food items that were included in the latest methodology.
Malaysia has also established the Multidimensional Poverty Index (MPI) to measure non-monetary poverty more inclusively since 2016.
However, World Bank Malaysia revealed in its recently published policy note that the current version of the MPI only provides information about "… the bottom 3 percent, completely missing most of the B40" (p. 24, "Multidimensional Poverty in Malaysia: Improving Measurement and Policies in the 2020s").
The MPI measures poverty from four dimensions, namely Education, Health, Living Standards and Income as shown in Table 1.
Table 1: Structure of Malaysia's MPI (2015 – present)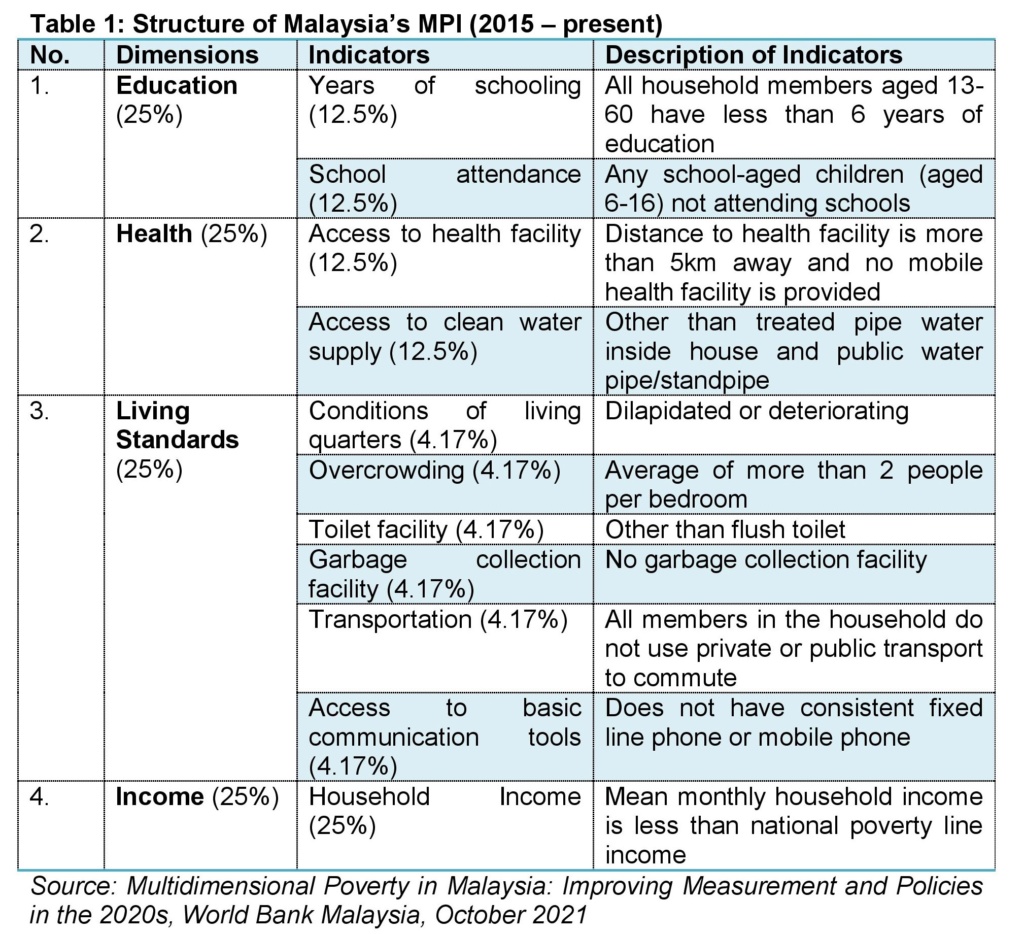 Source: Multidimensional Poverty in Malaysia: Improving Measurement and Policies in the 2020s, World Bank Malaysia, October 2021
Due to loss of jobs and income, the hardcore poor and B40 households would prioritise spending on basic needs (i.e., food, water and shelter) – over clothing, education and health etc. – to cope with the rising cost of living.
Bakul Prihatin Negara was implemented to address deficiencies in the diet and nutritional needs of poor households. A typical food basket would contain rice, salt, sugar, flour, vermicelli, soy sauce, canned sardines, biscuits and coffee. However, the basket should have also included eggs, fruits and vegetables and essential items such as baby diapers, milk formula, sanitary napkins and household pharmaceutical necessities (such as Panadol) – for a more balanced provision.
For some of the self-employed who are not e-hailing drivers and delivery riders, the movement restrictions have constrained their ability to go out and earn daily wages to survive.
Even though the government introduced numerous stimulus packages for the self-employed, it is limited to one-off assistance that covers full-time e-hailing drivers and taxi drivers only. Other than that, the aid is generic that covers the wider recipient target groups.
And as self-employed, they are typically neither not automatically covered by work-related social protection (i.e., health insurance and EPF) nor entitled to certain employment benefits (i.e., paid vacations and sick leave).
But the self-employed and those in the gig economy can now contribute to the EPF under the Voluntary Contribution with Retirement Incentive (i-Saraan), whereas housewives can enjoy EPF's facility under i-Suri.
However, according to a survey by Unicef Malaysia that is captured in its "Families on the Edge" (Issue 4, 2021), 45% of employed heads of households are not registered with EPF and Socso. The situation is 50% for female heads of households and 92% for disabled heads of households.
EMIR Research would like to propose the following brief policy recommendations – to further provide support for the lower income groups and the poor:
Expand the MPI to include a new dimension, i.e., pension or retirement protection.
In addition, add new indicators under Living Standards such as internet access (e.g., wifi technology coupled with broadband connectivity). Internet access should by now regarded as a constitutional (if ever-so implicitly) and basic right.
Indicators under Living Standards should also be expanded to include – by default – government quarters and government flats such as the Projek Perumahan Rakyat (PPR) whether the unit is rented or (privately) owned.
Increase the statutory retirement age to 65 – as part of the plan for the accumulation of retirement savings.
Introduce a Basic State Pension (BSP) targeted at the B40 – employed (private sector) and self-employed – conditional on outstanding EPF accounts by retirement age being below a certain amount. The BSP (to be paid out monthly as the name implies) could be funded by general taxation.
Otherwise, the pre-existing Bantuan Warga Emas (BWE) could be expanded and reoriented to be more comprehensive and universal in coverage – both in terms of payment and recipients.
Or implement a compulsory contributory social insurance pension (SIP) scheme that pays out a deferred annuity (monthly payment) indexed to future inflation, as proposed by Khazanah Research Institute (KRI).
In summary, it is high time that we also move beyond the current MPI as well as over-reliance on the EPF (as an indispensable and eminent pillar of our socio-economic structure though it is).
Lastly, the government should adopt the current PLI methodology for its welfare cash disbursement and distribution.
Jason Loh and Amanda Yeo are part of the research team of EMIR Research, an independent think tank focused on strategic policy recommendations based on rigorous research.
In this article