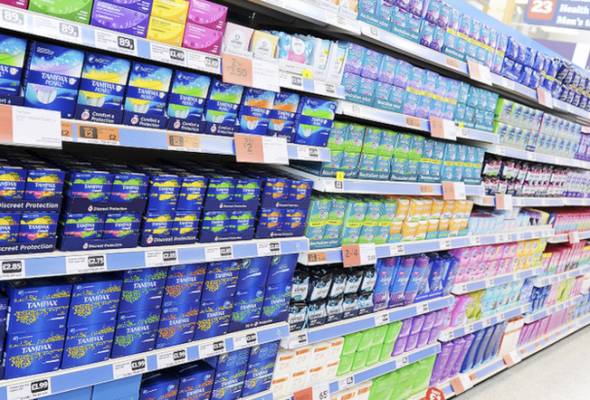 English
Published in Astro Awani & Asia News Today & New Straits Times, image by Astro Awani.
Twitter posts on period poverty has once again garnered attention among Malaysians recently. One particular tweet stood out because the Twitter user @thaarshny had gone inside a 99 Speedmart to buy sanitary pads right after she became aware that a girl who stood outside the grocery store could not afford to purchase for period usage.
But first, what is period poverty?
It refers to a lack of access to safe and hygienic use of sanitary products due to financial constraints. Period poverty not only exists in wealthy nations like the UK and US, but it also happens in developing countries like Malaysia.
Such a scenario has become an acute reality over a year of the country's lockdowns and movement restrictions arising from the Covid-19 pandemic – further exposing the issue of period poverty aside from the vulnerability of the healthcare system in Malaysia.
However, limited data specifically on period poverty in Malaysia has prevented several organisations such as the National Population and Family Development Board of Malaysia (LPPKN) and Women's Aid Organisation (WAO) from assisting marginalised girls and women with the proper aid and assistance.
Therefore, there is an increasing fear the ongoing financial distress arising from the impact of Covid-19 would result in more young girls and women falling into mental depression and illness. And eventually, some of them might be forced to commit crimes to survive or choose suicide as the way to end their miserable lives.
Such a scenario resonates especially with the hardcore poor and B40 female-headed households in the urban areas, who cannot afford to put food on the table on a regular and sustainable basis. With no extra money to spend out of their own pocket, many of them view sanitary products such as pads and tampons as luxuries.
In Malaysia, an average pack of 16 sanitary pads costs RM10; a package of 16 tampons costs RM28.
With the loss of jobs and income, they would prioritise spending on basic needs (i.e., food, water and shelter) – over menstrual hygiene – to cope with the rising cost of living in the urban areas.
Without proper sanitary products, many young girls and women had to use tattered clothes, coconut husks, newspapers and even banana leaves in place of unaffordable sanitary products.
Based on the article "500 days of lockdown and the impact on Malaysia's women and girls" (Malay Mail, August 4, 2021) by the United Nations Population Fund (UNFPA) Malaysia, constrained finances and pre-existing social barriers in Malaysia would limit women and girls' access to menstrual hygiene supplies.
When they do not have proper access to menstruation products, they could not concentrate on their studies or work during the menstruation period. Their worry about menstrual leaks or period pain leads them to stay at home instead of going to school or work during the menstruation period.
If this problem persists, this eventually might result in more young girls dropping out of school or women being out of work in the long run. Low education attainment also might hinder their ability to earn a living for themselves and their families, lowering their self-esteem.
In addition, unhygienic methods in dealing with menstruation (i.e., no clean water and toilet facilities) could cause more marginalised women and girls exposed to infections such as urinary tract and yeast infections.
Despite the growing economic uncertainty and prolonged lockdown undermining efforts to tackle gender equality, the government should address the health and well-being of marginalised women and girls to reduce the adverse effects arising from period poverty.
Following are some policy recommendations for the new administration to look into:
Conducting a specific study on period poverty by asking marginalised girls and women two questions.
First: "In the past 12 months, have you struggled to afford sanitary products?" followed by the next question, "Do you struggle to afford sanitary products every month?".
It is crucial to follow up with those respondents who report any past-year period poverty or period poverty every month with the question: "Have you used other products because you did not have enough money to purchase sanitary products?".
2. Providing more resources for soup kitchens and non-governmental organisations (NGOs) to assist marginalised, underserved women and girls by including sanitary pads besides eggs, fruits and vegetables as well as baby formulas.
By taking into account the needs of the most vulnerable segment in society as part of the social welfare assistance programme, individuals who could not make ends meet would not be forced to steal to survive or commit suicide to end their problems.
3. Organising door-to-door visits to understand the needs and problems among the vulnerable communities besides providing psychological first aid-based helplines for marginalised women and girls to express their psychosocial concerns. Community grassroots could work with social workers, counsellors, psychiatrists and clinical psychologists to address early symptoms of depression among young girls and women who suffer from period poverty.
4. Encouraging girls and women from marginalised communities to make, use and sell hygienic handmade sanitary products. Not only this measure would ensure vulnerable girls and women have accessibility to sanitary products, but it also could guarantee economic livelihoods.
5. Including comprehensive sexual education into the school curriculum. Education providers could educate girls from a young age (i.e., at the age of 10 onwards) on menstrual processes and how to maintain menstrual hygiene. By engaging boys and girls about menstruation through school teachings and everyday conversations, there will be greater awareness on the community and societal level.
6. Investing in quality, accessible, affordable and gender-responsive community services, including psychosocial support. For instance, the government could mark and include all the B40 female-headed households onto their map, especially those who live in the interior and squatter areas. NGOs and social workers also could help vulnerable girls and women to fill out the paperwork required for certain social benefits (i.e., receiving free sanitary pads).
7. Modifying policy initiatives from countries like Scotland and New Zealand who have passed laws mandating free sanitary products for women and girls who need them. For instance, The Period Products (Free Provision) (Scotland) Act (2021) makes it a legal duty for local authorities to ensure that free items like tampons and sanitary pads are available and distributed to those in need.
In a nutshell, in advocating the well-being of young girls and women in Malaysia, the new federal administration must first identify the root causes of period poverty. This together with the relevant data and information would lead to policies and programmes making sanitary products more accessible and affordable to all women and girls in Malaysia.
Amanda Yeo is Research Analyst at EMIR Research, an independent think tank focused on strategic policy recommendations based on rigorous research.
In this article