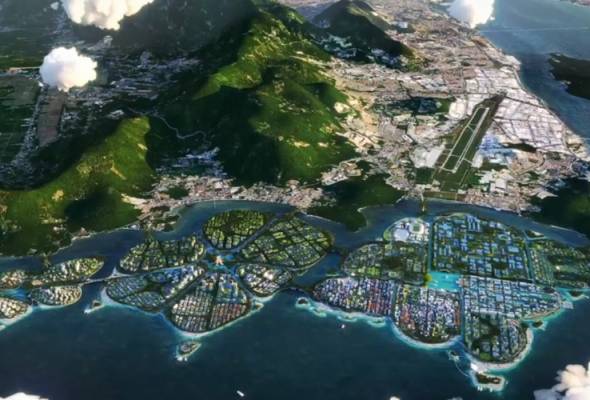 Englis
Published by Astro Awani & BusinessToday, image by Astro Awani.
Located in the northern part of the Straits of Malacca, Penang Island ("Pearl of the Orient") is renowned for its wide array of local mouth-watering delicacies, picturesque tropical sceneries and sandy beaches. Penang – as a leading state in Malaysia – is also an eminent preferred destination for investors and expatriates as well as home to a highly-skilled workforce.
As a highly industrialised economy, the northern state also boasts of a high standard of living for its residents, lower rate of poverty and a welfare regime comparable to a developed nation status. Under the Pakatan Harapan (PH) administration, Penang continues to experience sustained economic growth and rapid development in infrastructure, urbanisation and industrialisation.
The Penang state government (via the Penang Infrastructure Corporation/PIC) is now embarking on an ambitious vision to take the state on to the next stage in urban and industrial development (and re-development) – by accommodating the projected increase in the population (including expatriate and foreign migrant) on the island and enhance the island's positioning as a global electrical and electronics (E&E) manufacturing hub ("Silicon Valley of the East") alongside the Penang Transport Masterplan (PTMP) to partly relieve/ease and disperse traffic congestion in the form of the Penang South Islands (PSI) project.
It has to be highlighted that the PSI project is also integral and critical as a revenue base and stream for the Penang state government (due to a fiscal imbalance in federal-state relations and neo-centralisation in the recent years) via the sale of newly created land, especially as a funding module for the PTMP.
PSI consists of three islands (A, B, and C) which together will constitute 4,500 acres (1,821 hectares) in total (see Figure 1).
Island A (also known as Silicon Island) as the main island will be a smart city playing host to a green technology park (powered by 100% renewable energy to reduce carbon emissions) for high-technology manufacturing, research and development (R&D) hubs and digital platforms. The PSI also aims to boost Penang's appeal as a world class tourist destination.
The buildings and infrastructures will be built upon three meters above sea level to prevent flooding during high tides.
As it is, PSI is to be created by land reclamation on the southern shore of Penang Island – that has been contracted to the Gamuda-led SRS Consortium and originally expected to start in the November 2022 once the Environmental Impact Assessment (EIA) is granted. However, to date, the Department of Environment (DOE) continues to review the EIA which is actually a fresh one re-submitted by the Penang state government due to some technicalities.
In aligning with the Penang 2030 Vision of becoming a smart city, the Penang state government is expecting the PSI to be completed by 2050.
As reported in The Star article, "Modern day Penang reclamations" (December 5, 2021), reclamation projects on Penang Island begun in the early 19th century by the British administration. For example, "the heritage clan jetties … stand on land reclaimed for the [original] purpose of harbour trade activities …".
As the article reminded, not forgetting too is "the setting up of the Bayan Lepas Free Industrial Zone in the early 1970s which led to the reclamation of the bay area north of Batu Maung on the south-east coast". And "the island's reclaimed land increased from 0.4sqkm in 1960 to 9.5sqkm in 2015".
Therefore, this isn't something new for Penangites.
One of the main areas of the southern shore of Penang Island that's affected is the fishing settlement of Permatang Damar Laut (for Island A).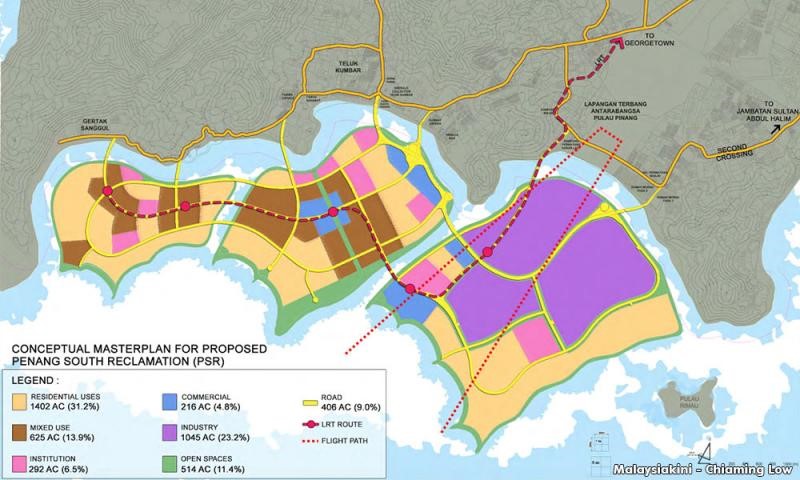 Fgure 1
Source: Malaysiakini
However, many are up in arms over the PSI project over what they see as massive land reclamation which will impact livelihoods and the environment.
Opposition comprises of three major groups, i.e., fishermen, civil society (especially Penang Forum) and politicians (see, e.g., "We'll do whatever it takes to stop Penang South Reclamation: NGO", The Vibes, February 6, 2021).
Prominent examples cited of the negative impact of land reclamation are the Sri Tanjung Project (STP) in Tanjong Tokong and the Melaka Gateway project.
One specific issue that needs highlighting is the apprehension of the fishermen in the affected areas.
The purported destruction of the environment and rich marine ecosystem on and off the southern coastal areas, respectively, include "the landing and nesting grounds of endangered species of turtles such as Olive Ridley and Green turtles".
The project is said to negatively impact 5000 fishermen and destroy marine catch landings of about "51,184 metric [tonnes[ worth about RM525 million a year. It'll also affect 511 aquaculture farms that produce 54,742 metric tonnes of fish output worth about RM1.67 billion a year" ("Penang wants it but do Penangites? Explaining the contentious PSR project", Malay Mail, June 15, 2021).
Noise pollution and pollutants from dredging activities (such as heavy metals) can alter sediment composition and cause siltation, i.e., water pollution. In turn, these would disturb the eco-system and habitat of marine life, including the benthic zone or sea bottom (e.g., "Impact of Coastal Reclamation in Malaysia", Friends of the Earth/SAM).
In addition, the reclamation work, at least (i.e., other than the removal of a buffer zone such as such as mangroves and mudflats – environmentally sensitive areas/ESAS – once the project is completed), will cause flooding to worsen in the southern coast. The islands too could be vulnerable and at heightened risk to flooding.
Professor Emeritus Dr Hans-Dieter Evers of the Institute of Malaysian and International Studies (IKMAS), Universiti Kebangsaan Malaysia (UKM), who's a planning specialist has warned that Penang is susceptible to major flooding within 20 to 40 years once the PSI is completed ("PSR puts Penang in danger", New Straits Times, July 20, 2019).
Taking a worst-case scenario into consideration – flooding of Teluk Kumbar (as one of the areas affected by the PSI project) by one to two metres may occur between 2040 and 2060.
This would also be partly contributed by "overspill" of flood waters from the artificial islands themselves (given the small distances and presumably lack of water catchments areas as well as natural barriers such as hills) as they "gush" towards the main Penang Island.
At the same time, Dr Evers has further warned of high-rises at extreme risk of collapse due to ground instability caused by flood waters.
Already many of these low-lying areas around Bayan Lepas are prone to flooding during the monsoon season ("Several areas in Penang hit by flash floods following continuous rain" (The Sun Daily, September 24, 2022). Other than flooding, there will also be the concomitant possibility of losing the coastal areas around Bayan Lepas in the long-term.
The irony is that land reclamation and, in particular, for the purpose of creating artificial islands that's meant to expand the coastline or create new land has instead resulted in coastal erosion (see, "Coastal erosion in Penang prompts calls for fresh hydrology study", The Sun Daily, February 4, 2022).
A similar situation has occurred in Manila Bay. The Philippines is using the same method of dumping and fill based on hydraulic sand fill with PVD (prefabricated vertical drains) and surcharge as ground treatment (as in the PSI project – where 190 million cubic meters of fill material comprising sand and rock comprising 85% of the land reclamation works are expected to be dumped into the sea).
Due to the lack of mangroves and sea walls, the land in the Manila Bay area have experienced subsidence.
Other than the Social Impact Management Plan (SIMP), the Penang state government via PIC have also come up with an Environmental Management Plan (EMP) and mitigation measures in its EIA report (see, "Evaluation of Impacts and Pollution Prevention and Mitigation Measures", Executive Summary and also "Understanding the EIA and mitigation for reclamations", The Star, May 28, 2022).
Measures include planting mangroves, deploying artificial reefs and fish aggregating devices, releasing fish and prawn fries, building eco-shorelines (under a project-specific PSI Ecology Offset Master Plan (PEOM) to minimise the impact on the marine environment).
Disposal of dredged materials will be conducted by barges tracked under a Dredging and Disposal Management System (DDMS).
EMIR Research would like to now add with the following recommendations – targeted at the post-development scenario stage vis-à-vis flooding:
A) Protection Strategy
Construction of a series of polders (as artificial water catchment areas) as a buffer for the artificial islands – first line of defence.
2. Construction of concrete "hold the line", i.e., revetments, seawalls and breakwater (in addition to mangrove swamp – natural) – second line of defence (see, "Coastal Structures as Beach Erosion Control and Sea Level Rise Adaptation in Malaysia: A Review", Water, 2021).
B) Accommodation Strategy
3. Earmarking water catchment and wetlands areas together with the construction of canals/waterways in all three artificial islands – third line of defence. Both water catchments and canals/waterways will also enhance the (aesthetics of the) landscape of the artificial islands and boost eco-tourism there.
C) Absorption Strategy
4. Focus should be given on the refilling of seabed with seagrass – which can diminish the force of tidal wave.
Other forms of eco-engineering also include:
D) Regeneration Strategy
5. Encouraging the use of bio-rocks to promote the creation of artificial reefs (in addition to the reef balls).
The latest mega-project in South Korea – the Busan Floating City – deploys bio-rocks to enhance the growth of coral reefs (see, "Inside the world's first climate resilient floating city in South Korea", GovInsider, May 5, 2022). It has been successfully implemented all over the world.
According to the Global Reef Alliance (GRA), bio-rock technology "is an innovative process originally invented in 1976 … to produce natural building materials in the sea. [Bio-rocks] … [can] grow [sustainably], get stronger with age, and are self-repairing". It's otherwise known as "mineral accretion technology", "seacrete", or "seament".
Bio-rock technology should effectively apply to limestone breakwaters (among others) to protect islands and coastal areas (from erosion and rising sea levels) and can be powered by solar and ocean energy.
In conclusion, in addition to the EIA (including PEOM), EMP and SIMP, much more can be done to mitigate the environmental impact of the PSI project, enhance the rehabilitation of the marine life and mudflats as well as protect against major or disastrous flooding.
Jason Loh and Jachintha Joyce are part of the research team at EMIR Research, an independent think tank focused on strategic policy recommendations based on rigorous research.