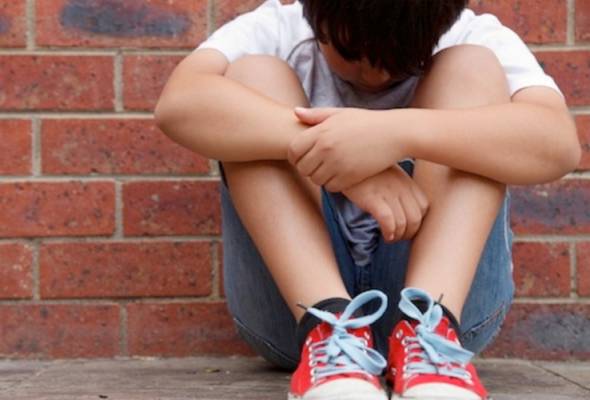 English
Published by Astro Awani, image by Astro Awani.
Mental health is fast emerging as a critical policy issue. This is not least due to the fact that children, just like an adult, struggle with mental health issues too.
Millions of children around the globe have mental health concerns ranging from mood disorders such as anxiety and depression to behavioural anomalies such as temper tantrums and attention deficit hyperactivity disorder (ADHD).
The World Health Organization (WHO) reported that globally, it is estimated 1 in 7 children (aged 10-19 years) experience some kind of mental health issues.
A study conducted by researchers from the Children's Health Policy team involving the US, UK, Canada and Australia, among the targeted countries, found that the overall prevalence of childhood mental disorder was 12.7%, and that the most common mental disorders were anxiety (5.2%), ADHD (3.7%), oppositional defiant disorder (e.g., argumentative behaviour) (3.3%), substance abuse (e.g., problematic use of alcohol or cannabis) (2.3%), conduct disorder (1.3%), and depression (1.3%).
Untreated or undiagnosed mental health problem can distort children's functioning at home, school or in the community.
Without treatment, children with mental health issues are at risk of learning failure or loss, unhealthy dependence on social services and even suicide.
According to the National Health Mobility Survey 2019 (NHMS), 424,000 children in Malaysia have mental health problems.
Of particular concern is that 1 in 20 children (aged 5-9 years) and 1 in 8 children (aged 10-19 years) are believed to suffer from mental health disorder. This is clearly not much different from the wider global trend of mental health among young people as reported by WHO.
This is confirmed in the 2019 study conducted by the Institute for Health Metrics and Evaluation (IHME) based on the Global Burden of Disease (GBD) quantitative tool and as reported in the United Nations Children's Fund (UNICEF)'s "Strengthening mental health and psychosocial support [MHPSS]: Systems and services for children and adolescents in East Asia and Pacific Region" (August 29, 2022).
In quoting from the IHME GBD study, the UNICEF's MHPSS report highlighted that "children and adolescents aged 0-18 years in Malaysia experience a substantial burden of poor mental health". It also indicated "that mental disorders and self-harm account for 19 per cent of the total burden of disease among 10 to 19-year-olds. Among younger adolescents and children aged 5–14 years, mental disorders are the leading cause of poor health, with conduct disorder, anxiety disorder and depression alone accounting for 12 per cent of the total burden of disease … and 1 in 20 children aged 5-9 are estimated to have a mental disorder (including developmental disorder)" (p. 25).
What is more concerning is many did not come forward to seek help or that they were neglected/overlooked/undetected as per the Malaysian Child and Adolescent Psychiatry Association (MyCAPs) and, therefore, underprioritised.
In general, this is due to children's mental health not being given the serious attention it deserves.
Poor mental health in children can be caused by both internal and external factors/ determinants. In turn, both of these factors are "configured" and "filtered" from within the "world" or immediate ecosystem of the child himself or herself involving the parents, siblings and extended family.
Domestic violence and child neglect are some of the major contributing drivers. Children who witness or fall prey to emotional, physical or sexual abuse are at higher risks of mental health problems including anxiety and depression.
MyCAP has urged that, by right, "… the prevention of mental health problems should start as early as infancy, with parents playing a vital role in ensuring their children's mental well-being through the provision of quality and favourable environments" ("424,000 children in Malaysia grappling with mental health problems", Free Malaysia Today, April 18, 2022).
The Covid-19 pandemic has only exacerbated and aggravated the mental health situation in the country including children's by putting more psychological strain and pressure due to the prolonged lockdowns, deprivation of social activities, loss of learning hours, and even lack of access to the digital tools that facilitates online learning and education in many cases, etc.
According to Hushim Salleh, counselling consultant and motivational speaker, he noticed that the number of people coming to him for counselling increased during the pandemic ("Mental health concerns continue despite shift towards endemic phase", MalaysiaNow, August 11, 2022).
The American Psychological Association (APA) and WHO have recommended a ratio of one psychiatrist to 10,000 people. However, as of February 2022, there were only 479 registered psychiatrists, slight increment from 2018 (410 psychiatrists) in Malaysia.
Our population is about 32.7 million as recorded in the Current Population Estimates Malaysia 2022 report of the Department of Statistics (DOSM).
The country, therefore, currently lacks sufficient number of psychiatrists to provide professional services for the mental health needs of Malaysians. The ratio between psychiatrists with the general population is merely 1:68,267 people.
Furthermore, according to psychiatrist Dr Gayathri K. Kumarasuriar and Head of the Psychiatry and Mental Health Department Dr Nurulwafa Hussain, both at Melaka Hospital, public hospitals have insufficient occupational therapists in the management of mental health especially specialists in child and adolescent care ("Budget 2023 Cuts for Psychiatry Services, Health Education, Peka B40", Code Blue, October 8, 2022).
As of October 2022, there were only 25 child and adolescent specialist psychiatrists registered in the National Specialist Register (NSR) under the Medical (Amendment) Act 2012.
In terms of psychologists, the ideal ratio in the Malaysian context is 1:5,000. Currently, there is a shortage of clinical psychologists where the ratio is at 1:109,000, with about 200-300 registered with the Malaysian Society of Clinical Psychology (MSCP).
As for counselling psychologists, the then Pakatan Harapan administration had set a target of 11000 counsellors by 2020. The ambition was to have one professional counsellor for every 2,945 Malaysians then.
According to former Deputy Prime Minister and ex-Minister for Women, Family and Community Development (MWFCD) Datuk Seri Dr Wan Azizah Wan Ismail, there were a total of 8,039 counsellors registered with the Malaysian Board of Counsellors, or one counsellor for every 4,030 Malaysians in 2018.
Despite efforts made by MOH and the growing awareness of mental health issues, substantial gaps in diagnosis and treatment still remains as are the availability and access to professional services and, not least, affordability (especially for the lower-income groups).
As highlighted by Galen Centre for Health and Social Policy CEO Azrul Mohd Khalib, (in relation to the Budget 2023), there should have been more allocation to go towards increasing the number of psychiatrists, psychologists and other mental health professionals, instead of constructing a new building – the National Centre of Excellence for Mental Health which received allocation of RM34 million.
Furthermore, the government should take note of the spread of psychiatrists as there is a need for a more balanced distribution, especially for rural and semi-rural areas.
According to a journal article entitled, "Mental disorders in Malaysia: an increase in lifetime prevalence" (British Journal of Psychiatry, vol. 18, Issue 4, 2021), Kuala Lumpur has the highest concentration with a ratio of 5.24 psychiatrists per 100,000 population followed by Putrajaya at 3.38 per 100,000 population.
Rural states such as Kedah and Sabah have the lowest number of psychiatrists which is 0.55 per 100,000 people and 0.54 per 100,000 people, respectively.
Hence, there should be a more "equitable" access to professional services as an intensive focus which is also part of the wider effort to bridge the regional gap and promote a more inclusive developmental agenda across the spectrum (social, socio-economic, economic welfare).
As for non-medical professionals, the government should strive to ensure that every school with a pupil should have at least 2 certified counsellors just to focus on the mental well-being of students.
Besides that, it is important to note that because of the limited involvement of the end users – parents, guardians, children – in the formulation and evaluation of the mental health programmes, this can lead to less than satisfactory treatment outcomes and impacts. In turn, this allows for the mental health issues to persist with no definitive solutions in view.
Shifting the paradigm from "provider-centric" to "user-centric" may be a fundamental first step in enhancing and strengthening intended outcomes – by enabling and empowering user involvement.
The professional relationship between provider and user should be more balanced and less constrained by pre-conceived notions (which results in over-reliance).
This allow the user to have the mental autonomy (which in itself is a "breakthrough" and hence progress) in overcoming mental health issues through self-help applications like meditation, acquiring a hobby, intensifying social interactions, physical activities like exercises and nature walks, etc.
This calls for a mental health programme that is not only tailor-suited to each individual user but also flexibility and openness and encouragement by the provider towards autonomous or self-help applications of the treatment as alluded to.
EMIR Research, in echoing the UNICEF's MHPSS report, would like to also call for
The expansion of specialised clinical (i.e., centre-based – hospitals, clinics) services for children and adolescents, including residential (i.e., on site) care. 
This entails strategic public-private partnerships (PPPs) between the MOH and the private healthcare sector – so that referrals can be done on a more regularised and formalised basis. It means that the mental healthcare can be treated on par with conventional healthcare.
Majority of specialised psychiatrists (with sub-specialisation qualifications) are based in the private healthcare sector, which receives a lower percentage of patients compared with the public health sector.
This group of specialised mental health experts was identified as being important for improving the accessibility of mental healthcare, as well as providing training and support to other health providers.
2. Strategic collaboration between school-based counsellors and other staff involved in social services with psychiatrists and psychologists. The former should be regularly trained by the latter on the use of screening tools and diagnosis as well as practical treatments steps or measures.
3. Strategic partnership between the MOH and MWFCD together with stakeholder NGOs to provide free face-to-face counselling sessions targeting needy children aged 10 years and above.
The government must intensify the effort in making children's mental health care and well-being a policy priority.
Farah Natasya is Research Assistant at EMIR Research, an independent think tank focused on strategic policy recommendations based on rigorous research.
In this article