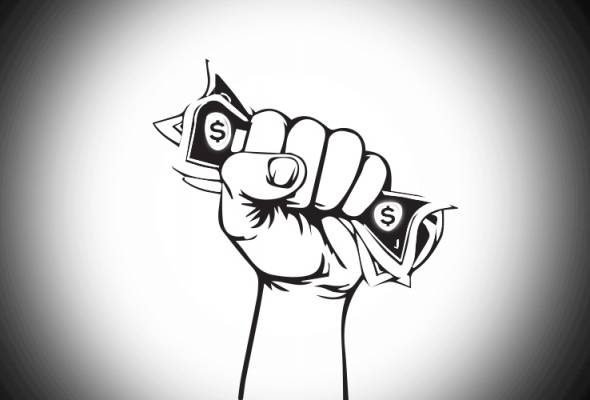 English
Published in Astro Awani and Asia News Today, image by Astro Awani.
Certain quarters raised concerns on the appointment of Datin Dian Lee Cheng Ling as a member of the Malaysian United Democratic Alliance's (Muda) central executive committee.
A reasonable concern, but while we are on that topic and in the same spirit, shall we make a comprehensive review of key members in UMNO? Or perhaps DAP? Or any parties for that matter. Let's see if any parties can escape having members with "questionable" links.
Just for the Johor state elections, there are 239 candidates and there are thousands of political party members. Individual evaluations and background checks, while necessary, can be greatly subjective. Not to mention faces in politics keep changing.
Thus, we need regulatory mechanisms to control the "ins and outs" of the money trail, so that potential risks associated with an individual's personal links and chances of colluding with businesses for monetary gains are greatly reduced—addressing the greatest enabler of power abuse and corruption.
Specifically, this means controlling the source and amount of incoming funds, and how it is being spent. Underlying this is transparency, which can only be enforced through legislative, institutional, and party reforms.
As mentioned in EMIR Research's earlier article "Will anyone commit to enacting political financing laws?" dated March 3, 2021, Malaysia requires reforms on many fronts, but depowering the influence of money on politics would be on top of the priority list. Without enacting the reforms needed, we can expect money to still dictate the shape of Malaysia's political landscape, ultimately jeopardising Malaysia's future.
Table 1 shows key political financing principles, synthesised from various sources such as Transparency International, the Institute for Democracy and Economic Affairs (IDEAS), and publications by Edmund Terence Gomez and Joseph Tong.
Specific laws that require amendments to support political financing principles include Election Offences Act 1954, Elections Acts 1958, and Societies Act 1966.
Institutions that need to be reformed so that these laws can be meaningfully enforced include the Elections Commission, Registrar of Societies, and the Attorney General's Chambers.
These institutions face three general weaknesses: 1) may be under significant political influence due to the appointment mechanisms for high-ranking members; 2) may not be fully autonomous due to their reporting structure and sources of funding; and 3) are not sufficiently empowered (legislatively or structurally) to monitor, enforce, and/or prosecute (Table 2).
In short, these institutions are neither properly independent nor sufficiently empowered to provide the necessary checks and balances.
Although these legislative and institutional reforms are well beyond the current situation and Malaysians would be fortunate enough if we could enact even half of these recommendations, it's always easier to find loopholes than to patch them. Therefore, things can always slip through the cracks.
Thus, we need mechanisms to monitor the effectiveness of these measures at the individual level, such as asset declaration (Figure 3).
As shown in Table 3, comprehensive asset declaration mechanisms complement political financing regulations for a robust ecosystem that significantly depowers the influence of money and power in politics.
However, at present, there are no specific laws to legally mandate asset declaration, and the MACC is but a repository of this information. It needs to be legally empowered to autonomously investigate declarations (which may require other related people to declare assets) and prosecute potential violators.
As recommended by the MACC itself, specific laws need to be enforced immediately to make it mandatory not only for Members of Parliament, but to all members of the administration and senior public officers including officers in government-owned and government-linked companies, and government investment companies to make comprehensive asset declarations.
These should be extended to political party members and election candidates, including their family members, trustees, and other potential proxies to complement political financing regulations.
Furthermore, as with the revelations from the "Pandora Papers", the law should include offshore funds to ensure assets are not under-declared and prevent illegal outflows.
That said, for these laws to be effective, the MACC (and other relevant organisations) needs to be made fully independent i.e., not parked under a ministry but answerable to Parliament and empowered with its own funding. Various issues surrounding the MACC and its officers are proof of this necessity.
When politics become a lot less lucrative and much more transparent, "project chasers" that parasitically associate themselves with any political parties so long as they get lucrative projects in return are filtered out of the ecosystem. These are opportunistic lobbyists with no principles or genuine allegiance.
Such an ecosystem wouldn't be an appealing landscape for money-driven career politicians either, making them less likely to cling to power, and attracting only those sincere enough to serve the public. This is fundamental to put Malaysia back on track.
In summary, proper political funding and asset declaration ecosystem sever the irresistible ties between money and politics, disincentivise the pursuit of self-interest among leaders, and allow people to be evaluated based on their deeds, regardless of their lineage and connections.
Ameen Kamal is the head of Science & Technology at EMIR Research, an independent think tank focused on strategic policy recommendations based on rigorous research