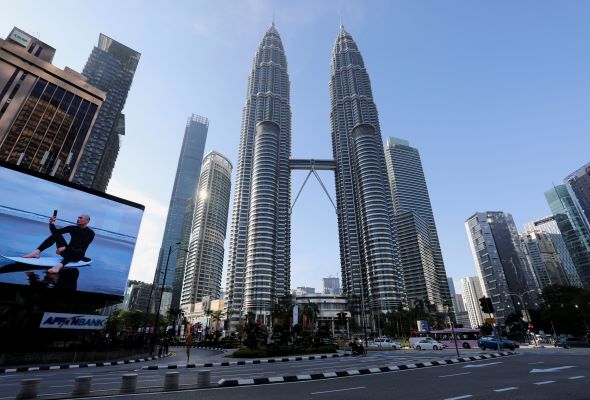 English
Published in Astro Awani, Business Today & theSundaily, image by Astro Awani.
An EMIR Research article, "Simultaneous containment and controlled reopening through tech-powered mass testing" (July 15) had articulated the case for a balance between strict lockdowns and full relaxation of movement restrictions to be achieved through a technology-powered mass testing, tracing and isolation.
Another EMIR Research article – "Combining full and targeted lockdowns – in tandem" (July 15) – called for the bifurcation of areas (under the movement control order (MCO) into industrial and non-industrial categories. In other words, the industrial zones will be "ring-fenced" and de-coupled from the wider districts to allow for targeted lockdowns.
At the same time, this would set in place the resumption of operations by the non-essential industries.
In his latest statement on July 21, President of the Federation of Malaysian Manufacturers (FMM) Tan Sri Soh Thian Lai had called for "non-essential" industries to be reopened but on 50% capacity, unlike the current 60% for essential industries as per the Ministry of International Trade & Industry (Miti) regulation ("FMM: Let manufacturing industries in non-essential sectors open at 50%", Focus Malaysia, July 21).
The Japanese Chamber of Trade & Industry Malaysia (Jactim) and the Japan External Trade Organization (Jetro)'s 4-point statement for the Prime Minister Tan Sri Muhyiddin Yassin on July 6 had called for all of its industries to be allowed to operate with a minimum of 10% capacity (as was the case last year under MCO 1.0) and resumption of manufacturing-related supply chain activities, among others.
In addition, the Malaysian-German Chamber of Commerce and Industry (AHK) on July 8 have also similarly called upon the Prime Minister to allow for the resumption of the wider supply chain.
Whereas, the Malaysian Dutch Business Council (MDBC) on July 10 wrote to the Menteri Besar of Johor YAB Datuk Hasni Mohamad to urge him to allow manufacturing activities by all compliant companies as previously audited.
In the logistics sector, there's a parallel in the exemption given for handling of imported non-essential goods and cargo for export and import purposes in areas under the enhanced movement control order (EMCO) which were allowed from July 15 to July 17 by the National Security Council (NSC) through Transport Minister Datuk Seri Dr Wee Ka Siong. Approval letters for employees from logistics companies are processed and issued under the Logistics Industry Information System (Smile) in coordination with Miti.
EMIR Research supports the call for the reopening of non-essential industries but which is conditional upon testing – if vaccination hasn't been applied.
Beyond that, there should be regular/frequent testing e.g., weekly or bi-weekly including for workers (factories, construction sites) who have been vaccinated.
We, therefore, propose that the reopening of the wider economy be executed on the back of the expansion of (targeted) testing – for regulatory approval – and in tandem with the acceleration of our vaccination rollout.
This is also partly in line with calls to ramp up testing as made by e.g., YB Tony Pua (MP for Damansara) and economics spokesperson for the Democratic Action Party (DAP) who has proposed for a National Testing Plan as well as YB Kelvin Yii (MP for Bandar Kuching) and health spokesperson for the DAP.
Linking testing to reopening provides the regulatory incentive for non-essential industries (together with other non-essential businesses) that will also expedite the testing and screening regime to enable:
the halt of the spread of community transmission and development of clusters with the tracing and isolating;
critical data to be gathered on the actual spread/magnitude of transmission for risk analysis under the Hotspot Identification for Dynamic Engagement (Hide) system; and
early diagnosis and treatment to prevent possibility of higher severity.
It can be integrated with the National Recovery Plan (NRP) by adding supplementary targets/metrics for the industries and redefining "essential" industries as now applying at a micro-level, i.e., in reference to individual factories and workplaces (rather than sectors and sub-sectors as such).
For example, a factory or business considered non-essential can apply to be considered essential upon confirmation of the testing result by polymerase chain reaction (PCR) tests which, again, is the sole responsibility of the business concerned.
After all, the government has pragmatically allowed modifications to the NRP by loosening the restrictions for Phases 1 and 2.
However, all social activities must continue to be regulated and subject to conditions and restrictions as per the NRP phases and targets/metrics.
For non-industrial businesses, EMIR Research calls for, among others:
expediting the dine-in allowance for those who have been fully vaccinated – but the rule of two per table is to continue;
applying the above allowance for barbers and hairdressers under pre-existing standard operating procedures (SOPs), including limits to number of customers and based on appointments;
establishing of more testing centres for walk-ins; and
either tax deductibles or double tax deductions for non-industrial businesses in relation to purchase of self-test kits.
The federal government must continue to rigorously and consistently monitor for SOP non-compliance.
The Selangor state government must do its part too as it has the power to shut down errant factories under the Prevention and Control of Infectious Diseases 1988 (Act 342). This follows amendments to Act 342 by the Emergency (Prevention and Control of Infectious Diseases) (Amendment) Ordinance 2021 (see e.g., "Power to close factories – do the local authorities have it?", Hafiz Hassan, Malay Mail, July 16, 2021) and confirmed by the Housing & Local Government Minister YB Zuraida Kamaruddin.
Like our vaccination strategy, we should also be focussing on a certain number of testing and screening targets that's well above our current levels of an average of 100,000 plus tests since the commencement of MCO 3.0.
EMIR Research has recommended in its "Exit Strategy Building Block – Part 1" (June 17) that we should currently maintain a daily Covid-19 test intensity of between 150,000 to 175,000 until the positivity rate falls below five per cent. The Ministry of Health (MOH)'s own reported target was between 150,000 to 200,000 daily tests.
EMIR Research has been consistent in calling for greater transparency and consistency of our testing figures in "Malaysia needs to accelerate COVID-19 testing" (June 11).
And while the number and percentage of serious cases, intensive care unit (ICU) admissions, and number of cases belonging to Category 3 to 5 cases are critical and indispensable, nonetheless, these alone don't tell us about the cumulative effects of previous/pre-existing cases and the possible progression from Categories 1 & 2 to Categories 3 to 5 ("Experts: Covid-19 severity data could be misleading without better context", Malaysiakini, July 19, 2021). And the ICU utilisation period can last up to two months on average for Categories 4 & 5 patients.
To conclude, this isn't call for premature easing or ending of the lockdown or movement restrictions.
Even the World Health Organization (WHO)'s emergencies head Michael Ryan has on July 7 cautioned countries against lifting measures that will end up "losing the gains made".
India is a case in point where premature reopening last December ("Why does India have so many COVID cases?", Dr Amir Khan, Al-Jazeera, April 25, 2021) has led to the current surge compounded by the Delta and Delta Plus variants (see, e.g., "Why India's Second COVID Surge Is So Much Worse Than the First", Shekhar Chandra, Scientific American, June 9, 2021). In fact, it's been suggested that India is actually under-reporting its infection cases by ten times (see e.g., India's true pandemic death toll is likely to be well over 3 million, a new study finds", by Karan Deep Singh, New York Times, July 20, 2021).
Last but not least, the government – as the centre of command – is urged to continuously coordinate and consult with all stakeholders, including listening to regular feedback so that, if need be, the policies or policy implementation can be modified or readjusted to suit the evolving dynamics. This includes also experts from the Malaysian Medical Association (MMA) and Federation of Private Medical Practitioners' Association (FPMPAM), among others.
Jason Loh Seong Wei is Head of Social, Law & Human Rights at EMIR Research, an independent think tank focussed on strategic policy recommendations based on rigorous research.