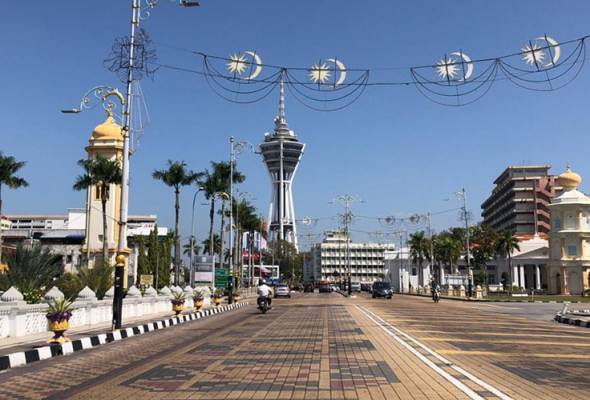 Englis
Published by BusinessToday & AstroAwani, image by AstroAwani.
Coming Saturday, the six states in the peninsular, namely Kedah, Kelantan, Terengganu, Negeri Sembilan, Selangor, and Penang, will be running for their state election.
Specifically, the 2023 Kedah state election will witness 36 seats contested by candidates from the Pakatan Harapan – Barisan Nasional (PH-BN) coalition, facing Perikatan Nasional (PN) and several independent candidates.
Based on data by the Election Commission (EC), currently, Kedah has 1,585,085 eligible voters, and the majority of these are youths of age 18 to 29 years, comprising 29.05% (460,468) voters.
Until the last general election (GE14), Kedah had been in a "tug of war" state between UMNO and PAS. However, Mukhriz Mahathir succeeded in building the state administration while running under the Pakatan Harapan banner. PAS, however, assumed control after the "Sheraton Move".
The crucial issues involving Kedah include labour market insecurity, poor clean water resource management, widespread deforestation, youth migration, and escalating poverty among semi-skilled and unskilled employees in rural areas.
Both coalitions have addressed parts of these issues in their manifestos.
PN aims to provide 100,000 competitive jobs in Kedah within 30 years (2053), highlighting that they can only generate about 3, 000 jobs yearly in the state with more than 2 million population according to the census 2020!
On the other hand, besides highlighting the visions and goals for the Kedah farmers, the PH-BN coalition has kickstarted their voyage on making "Kedah Great Again" by focusing on the core of Kedah, the agriculture industry.
The PH-BN alliance has thus far concentrated on improving the farmers' socioeconomic conditions by empowering and giving them more authority and aid/assistance, particularly in Kedah's agricultural heartland.
The fine and dandy manifestos and work done by the PH-BN coalition for the past seven months have pulled the attention of the older generation, while the young voters are leaning more towards PN.
It is worth emphasising, based on the recent 2022 poverty in Malaysia report by DOSM, Kedah recorded the highest incidences of absolute poverty in the peninsular after Kelantan. The absolute poverty rate of Kedah in 2019 was 8.8%, and in 2022 it increased to 9.0%, which was above the absolute poverty line in Malaysia at 8.4% in 2022.
According to DOSM, over the three decades the unemployment rate of Kedah has only decreased by 0.1%—the unemployment rate was 4.5% in 1990 and 4.4% in 2020.
In addition, as of 2022, Baling, Sik and Pendang are among the three poorest districts in Kedah. Compared to Langkawi's median income of RM5,250 Baling recorded a median income of RM3,400, followed by Sik (RM3,703) and Pendang (RM3,801) (DOSM, 2022)
Consistently, the latest report by The World Bank, "Catching Up: Inclusive Recovery & Growth for Lagging States", indicates that Kedah, Perlis, Kelantan, Sabah and Sarawak have the lowest average income and highest incidences of poverty.
It seems that Sanusi's assertion of transforming Kedah into "The Greater Kedah" is mere political rhetoric, as he has been unable to enhance his own district (Sik).
Known as the "rice bowl" or "Negeri Jelapang Padi" of the country, Kedah produces about 44%, or 914,000, of the 2.356 million tonnes of rice grown nationwide, according to the Agriculture and Food Security Ministry (KPKM).
According to the International Trade Administration (ITA), Malaysia's agricultural industry is among the most promising and lucrative with modern agri-tech applications.
However, politicians have yet to fully recognise its potential for growth and contribution to the state, national and global economy.
The paradigm shifts
Adding fuel to the fire, the caretaker Menteri Besar, Sanusi previously called to convert 20% of all paddy land in Kedah into industrial zones, ostensibly to boost state revenue and help the people escape poverty which appears to be more of a populistic use of "buzz words" without proper backing by data, science, and technology.
With this strategy, many farmers will be forced to stop their businesses, which would lower rice yield. Due to the current shortage in domestic output, Malaysia imports 30% of its rice, and this recent Kedah state policy development will further increase national dependency on imports.
Over the course of 35 years, the contribution of our Agriculture industry towards the GDP has a significant drop, whereby in 1985 it was 20.3%, followed by 10.1% (2016) and 7.4% (2020).
More recently, the incumbent has informed that Kedah will move towards an industrialised state.
However, the latest poverty statistics released by DOSM indicate that, shockingly, the supposedly heavily industrialised district, Kulim, with whooping employment standing at 64.7% and unemployment at 2.3%, is the third highest high-poverty district in Kedah (11.4%), after Baling (14.4 %) and Kuala Muda (13.8%).
The likelihood of developing Kedah into an industrialised zone creates an imminent risk for the state government, as investors favour Penang due to its skilled labour, robust supply chain, infrastructure, and strong state government backing, compared to Kedah.
In addition, 76% of Kedah's land is Malay Reserve Land, making it less appealing to investors due to restrictions and bankability.
Therefore, Kedah should prioritise developing its organic local community first by enhancing its agricultural industry with the modern agri-tech, which is known for turning agriculture into a lucrative business while empowering many small farmers (see "4IR enabled farmers: Solving national food security"by EMIR Research, 2021) and gearing the state, and Malaysia as a whole, towards a high-income nation.
Meanwhile, in the longer term, this would also naturally increase Kedah's industrialisation level!
The above is especially pertinent in the context of the Malaysia Madani.
Here are a few suggestions for restoring Kedah's greatness through its agricultural sector.
Cultivating interest and empowering rural and young farmers in the agriculture industry
Malaysia faces challenges in involving youths in the agriculture industry as global crises prompt other countries worldwide to explore ways to involve them.
As of May 2023, data from DOSM reported that the unemployment rate of unemployment was 3.5 per cent (584, 600), and 448,600 people from this (nearly 77%) are youths aged 15 to 30 years (see "Labour force statistics report", DOSM, May 2023).
Thus, generating lucrative and enthralling employment opportunities for youths in the agriculture industry is both essential and challenging for the state and federal government.
As highlighted by EMIR Research, making Agri sexy for the youth again and a particular focus on smallholder farmers is one of the significant trends shaping successful national food security strategies globally (see "Reinventing Malaysian Food Security Framework—Part 1, EMIR Research, December 12, 2022).
Based on EMIR Research's food security model, this can be implemented through:
Short-term strategies – Upskilling and reskilling are essential for short-term strategies in urban farming, alternative fertilisers, soil conditioning, agritech tools, marketing, and supply chain management.
Medium-term strategies – Mix-and-match academic culture enables students from one discipline to minor in or adopt a different field, exposing them to short-term measures.
Long-term strategies – educate elementary and secondary students in agritech, farming, and animal husbandry, exposing them to lucrative industries and imparting fundamental knowledge.
The 2023 employee wages statistics by (DOSM) indicate that agriculture was the least-performing industry in the first quarter of 2023. In March, the median wage of workers in this industry earned RM 2,022, in February, the wages decreased to RM 1,845 and to RM1,900 in March.
Research also indicates it is necessary to make agriculture more dynamic and appealing compared to its present state to increase the involvement of youths.
The involvement of local graduates in the Kedah state agriculture industry is crucial to boost the sector's position, currently the third largest contributor to the national GDP in 2022 at 11%.
Diversifying plantation and product market of agricultural products.
The agriculture industry is experiencing a surge in demand and higher costs for inputs such as pesticides and fertilisers. The depreciation of the Malaysian Ringgit and the occurrence of El Nino have led to extreme droughts and floods, impacting countries like India. This has resulted in increased demand, rising prices, and reduced global food supply.
Research indicates, when the price of fertilisers is increased by 1%, the overall production of rice and corn is decreased.
FGV Holdings estimated in 2020 that feed accounts for 60%-70% of Malaysian livestock rearing costs, making poultry and fresh ingredients expensive.
According to MARDI, Malaysia imports 3.5 million tons (RM 5 billion) of corn annually.
More recently, KPKM planned to establish grain corn cultivation as an alternative to bran for livestock feed, aiming to reduce reliance on imported fertilisers.
Although corn is Malaysia's preferred livestock feed, EMIR Research recommends sorghum cultivation as an alternative to corn for animal feed.
Sorghum is a profitable, high-protein livestock feed and can be used to produce diverse human foods like cereal and bread. There is also a high profitability margin due to low production costs, higher yields, and a vast market.
Sorghum cultivators include India and African countries, among others.
Sorghum is an example of a profitable agriculture plantation, with diverse options available.
Providing critical infrastructure and services for moving food around from farm to market
Critical infrastructure in agriculture includes continuous water and power supply, transportation of inputs and finished goods, and high-quality pesticides, fertilisers, and chemicals for crop production.
Farmers have been feeling the pinch of climate change in recent years; however, many are unaware of the adaptation measures that may be implemented to reduce risk in this industry.
One of the challenges to climate change adaptation in Kedah, according to research involving farmers in the Muda Agriculture Development Authority (MADA), is the absence of government assistance (21.5%), followed by high adaptation costs (16.75%) and a lack of knowledge about the issue (13.75%) (see "Perception of Climate Change and the Adaptation Strategies and Capacities of the Rice Farmers in Kedah, Malaysia", Environment and Urbanization ASIA, 10(1), 99-115, 2019)
One alternative the federal government can consider is installing a solar-powered irrigation technology system that provides reliable water and energy supply for crops, benefiting rural and off-grid agricultural settings.
Additionally, this raises agricultural output and offers impoverished farmers, particularly those in rural regions, a cost-effective answer. This will be a wise investment in the agricultural sector since Malaysia has scorching weather almost all year round.
Africa is among the region that has widely adopted this technology.
Lack of automation and technological adoption hinder our agricultural growth, with poor labourer involvement and poor agricultural involvement being significant drawbacks.
It cannot be denied that every federal government that comes to power after the general elections focuses solely on resettling farmers' debt instead of genuinely empowering them, which is now more crucial to address!
As an alternative to providing aid assistance and paying off the debts of these farmers as a short-term strategic relief plan, the state and federal government should focus on building and investing in infrastructures that will benefit small and young farmers.
Focusing on merely providing monetary support does not address the real problem of our farmers.
In conclusion, Kedah must re-calibrate and re-focus on growing the state's agricultural industry, making it an agro-economic state and a powerhouse supplier of agricultural products domestically and internationally.
The impending state election provides an ideal chance for political parties and coalitions to explore realistic proposals, focusing on the agriculture industry of Kedah. Dr Rais Hussin & Jachintha Joyce are part of the research team of EMIR Research, an independent think tank focused on strategic policy recommendations based on rigorous research.